Top 50 Black Gate Posts in February
Top 50 Black Gate Posts in February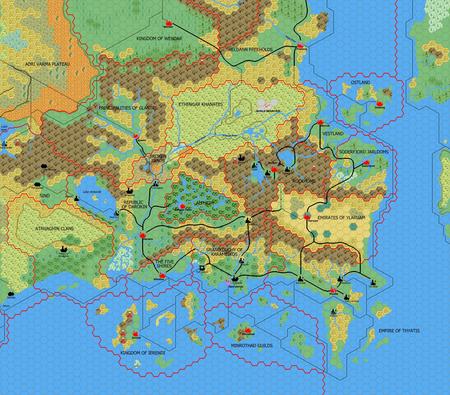 Last month we had a look at the Top 80 Black Gate Posts of 2014, our most popular articles for all of last year.
The most popular blog posts from February include several that are guaranteed to make the Top 80 Black Gate Posts of 2015, as they garnered enough traffic last month alone to rival those near the top of our 2014 list. At the top of the heap was "The Known World D&D Setting: A Secret History," Lawrence Schick's fascinating reminiscence of the early fantasy world he created with Tom Moldvay that became the basis for TSR's famed Known World campaign setting.
Second on the February list was Howard Andrew Jones' report on the Star Trek Continues Kickstarter, "Star Trek Kickstarter Warps Ahead," which more than doubled its $100,000 goal and secured enough funding to make two more episodes of this excellent fan-made series.
Third on the list was M Harold Page's advice for aspiring novelists, "Writing: Why You Shouldn't Tinker With the Beginning Until You've Written to the End."
The distinguished Mr. Page had a good month, also claiming the fourth spot with "Hitchhiker's Guide to Edmond Hamilton: Who did Douglas Adams Really Read?" And rounding out the Top Five for February was Marie Bilodeau, with her look back at classic video games like Final Fantasy II and Dragon Warrior, "Seven Lessons I Learned from RPG Games of Yore."
The complete list of Top Articles for February follows. Below that , I've also broken out the most popular blog categories for the month.
The complete Top 50 Black Gate posts in February were:
The top categories last month were:
The Top 8o Black Gate blog posts in 2014 are here, and you can see all 111 posts we made in the month of February here.