February Short Story Roundup
February Short Story Roundup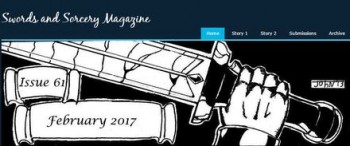 Another month, another roundup of solid swords & sorcery short fiction for your enjoyment. Follow along for a look at February's offerings.
Swords and Sorcery Magazine Issue 61 kicks off its sixth year of publication with a bang; actually, a pair of bangs. The first little explosion comes in the form of a group of friends making stupid decisions in Tom Lavin's "Trouble in the Viscount Tavern." Deon surprises his friends Tenny and Ruald with a strange book left behind by an inn guest. Though its cover advertises it as Giselder Farnbrak's Herbs and Homely Cooking, inside are spells. Despite misgivings from Deon, the others start to read some out loud for a lark. Lavin's description of the resulting horrors is bone-chilling.
In the second tale, "The Ghost Stone" by Debra Young, Kamau brings his ailing sister, Anawe, to a different healer than the one she specified, with life-threatening results:
Tausele came out of the shadowed corner carrying something in his hands that glowed in a color Kamau had never seen before.

"Ja'a o jua le'le!" Holding his hands over the fire, the shaman's voice rose and fell rhythmically with the intonation of sorcerous syllables. The flames leapt, drew the glow from Tausele's hands and subsided, burning green with the strange color trembling in its midst.

"What is that?" Kamau pointed.

"Her soul," said Tausele, flames flickering in his eyes.
His sister held prisoner, Kamau is forced to journey into the netherworld and fetch the dzomba, or ghost stone. To retrieve it he will have to overcome its demon protectors. Young tells the young warrior's ensuing adventure with vim and vigor.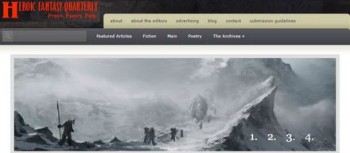 Heroic Fantasy Quarterly's Issue 31 practically bursts at its virtual seams with four stories, two poems, and some sharp artwork. The ominous-looking banner artwork, titled "Dangerous Journey," is by Jereme.
The opening tale, "Thokmay," by Dennis Mombauer, is set in a Tibet-like land of snow-covered mountains and monasteries. To prove his worth to his monastery, young Thokmay is given a dangerous mission:
"Go to the monastery of Dobzha, young Thokmay, find the outcast and bring back our treasure: but do not touch it. Do not listen to him, do not reason with him, do not fall under him."
Upon entering his quarry's lair, Thokmay and the two soldiers accompanying him are plunged into a maze of illusion and mysteries where time seems to loop around and back and forth. This is a weirdly creepy story with some splendidly dark images:
Vultures circled over the balconies and upper terraces of Dobzha, appearing from the whirling snow and vanishing again. Two men had been stretched with ropes outside, hanging in the air, exsanguinating from slit throats–and Thokmay glimpsed a masked figure below them, staring without eyes, a featureless blur of a face.
I found the underlining of passages to indicate they were Thokmay's memories to be distracting, but not enough to undermine this inspired bit of craziness.
In Aidan Doyle's "The Thing Without Color," set in a Japanese-style world, enchanted weapons are cured by encasing them in ice deep within caverns. Akamiko, an aged "sword writer," travels to the northern edge of the empire to retrieve a katana for the emperor. Sword writers are magic-wielding individuals. Those who plant the swords in the ice are called sword farmers.
Her mission to secure the sword puts her in the path of some unpleasant individuals: someone who has held a grudge against her for twenty-six years, and also the monster of the title. There was enough to Akamiko, and some tantalizing hints about the larger universe of the story, that I'd be curious about more tales by Doyle.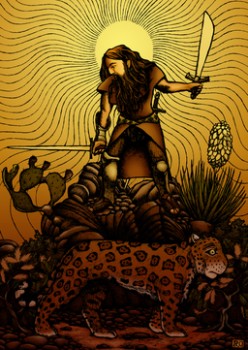 Raphael Ordoñez's "Heart of Tashyas" takes place in a heroic fantasy version of the American southwest. Its protagonist, "vagabond conquistador Francisco Carvajal y Lopez," is the sole survivor of an expedition from Puerto Rico, who has managed to survive for several years. Now he has wandered into the region of what is today southern Texas. A story told to him by a wandering band of Coahuiltecans of a great cacique to the west in possession of lots of gold is enough to set him off in search of that lord and his treasure.
A stranger among the native people of the Americas, Carvajal was also a stranger in the land of his birth:
Begotten by a landowner upon a slave, the grandson of a peninsular nobleman, a Berber princess of the Canarias, a West African laborer, and a Taíno wisewoman, Carvajal's mixed blood made him a man of no people.
The landscape Ordoñez has painted is liminal — a place between cultures in conflict; between badlands and forested hills; between men and wild beasts; between the mundane and the magical. Carvajal, a man divided into parts himself, seems the perfect character to explore this region. While the lust for gold seems to be his driving force, his actions reveal a compassionate, empathetic side, making him not quite a hero, but at least a man of interesting nuance.
And then there's the action and adventure. Carvajal's quest brings him up against were-coyotes, a dangerous wanderer with roots in the Old World, ancient mysteries, and a sinister being of great power. This is top-flight heroic fantasy with a strong sense of place and character. It's also got a cool picture by Ordoñez.
Described as "Bonus Story!," "The Price of Mockery in Dallium," by one of HFQ's editors, James Rowe, is a hoot, though a thoughtful one. To insult a philosopher means death by gradual suffocation. Sealed inside a cave with dwindling oxygen after slandering the wrong person, a potter named Strato discovers he has a chance to escape. All he needs to do is answer a riddle. The question is clever, the story quietly funny, and all the more so because Rowe, a philosophy professor himself, imagines a world in which "all public insults which could not be substantiated" against his profession have been criminalized.
No issue of HFQ would be complete without the poems.
The first this month is "Undercurrents" by Jennifer Crow. In it, a siren sings of longing, desire, and death, to a certain traveler tied to a ship's mast. As befits the subject, the poem is haunted, and the smell of the ocean lingers over it.
The "Seventeenth Lesson" is a further installment in Mary Soon Lee's ongoing Sign of the Dragon cycle. The lesson for the young prince, Keng, is a hard but necessary one for someone of his station.
"A weakness."

Darker gold in the dragon's eyes.

"Love, friendship, affection,

all three are weaknesses.

Yet she who lacks all three

is worthless."
I need to go back and read the earlier parts of Lee's work. I like this poem, but I imagine it would have more power if I read it directly following the earlier sections.
Well, that's it for the roundup this month. I hope you take Swords and Sorcery Magazine and HFQ up on their low, low prices (exactly $0!) and check them out. I imagine everyone with a love for the form and genre is already reading both these fine publications. If you are hesitant about short stories for some unfathomable reason, you couldn't ask for a better toe-dip-in-the-water than these current issues.
---
Fletcher Vredenburgh reviews here at Black Gate most Tuesday mornings and at his own site, Stuff I Like when his muse hits him. Right now, he's writing about Western movies.