An Interlude with Messrs Brunner & Van Vogt
An Interlude with Messrs Brunner & Van Vogt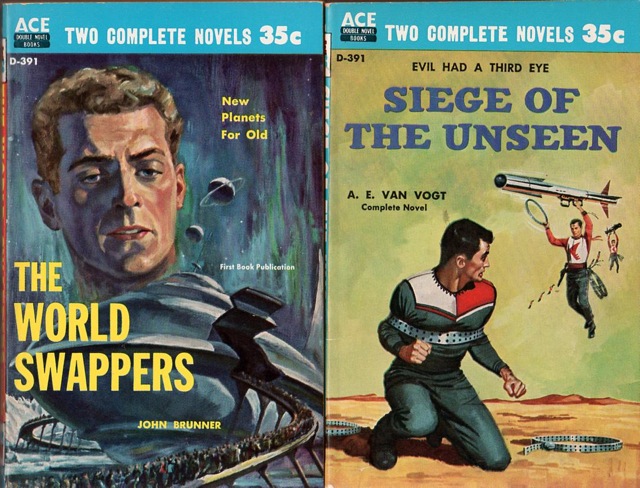 Ace Double D-391. Covers by Ed Valigursky
Ace Doubles are a popular topic at Black Gate. I suspect there may even be a bit of friendly competition to see who can unearth items not already reviewed. While John O'Neill and Rich Horton most certainly have a lead on the rest of us, it is a pleasant experience to find a book that has not yet been dealt with and add one's own commentary.
That was the case with D-391, originally published in 1959:
The World Swappers by John Brunner
Siege of the Unseen by A.E. Van Vogt
I took a deliberate break from my ongoing analysis of Jane Gaskell's Atlan Saga to clear my mind, and I needed something to tide me over. Working alphanumerically through my growing Ace Double collection, the first unread book that came to hand was this somewhat tatty volume. (Well technically it was a western — D-034 Hellion's Hole/Feud In Piney Flats by Ken Murray (1953) — but the allure of Messrs Brunner and Van Vogt proved too great.)
A word to the would-be purveyor of Ace Doubles. When an online seller says they have a "fair" copy of a book that you know was published in the 1950's in a pretty cheap format, it's probably a good idea to pass if you cannot establish what "fair" means. I suppose at least I should be thankful all the pages were present, even though each had a tendency to come loose from the rapidly disintegrating spine as they were turned.
I am not too familiar with John Brunner's works, having only read a few of his short stories, despite his near celebrity status at Black Gate. (Have a look at some of our recent coverage and you will see what I mean.) I was actually quite surprised that The World Swappers had not been covered as, apart from the Ace Double edition, this novel has been reprinted at least four times.
The blurb on the inside cover reads:
The inhabited galaxy was caught in the crushing vice of a struggle for power. The political titans of the planets of mankind were making their bids for supremacy.

The contestants: Counce, man of strange powers, authority in the spheres of the intellect; and Bassett, a man of money-power, financial and business wizard.

As the association of human worlds drew near the teetering edge of internal revolutions, one of these men would be in a position to triumph. The only thing that neither side could foresee was that there were Others hovering among the stars, looking for new worlds to conquer!
For all intents and purposes this is a first contact story, but undertaken in a clever way I had not yet encountered. I found this 153 page novel quite entertaining. There was intrigue, manipulation and a number of factors at play that kept me guessing about the ultimate goal of the protagonists. I also enjoyed certain concepts about human conditioning, and how when a race spreads to the starts it can easily become very segregated by ideologies — ideologies that are enforced by climate and the harsh realities of planetary colonization.
I also liked the concept of a form of immortality that may be gained through matter transfer as well, a premise that could certainly have filled a novel in its own right.
In terms of A.E. Van Vogt, I am ashamed to admit this is the first of his novels I have read. Before anyone exits in disgust, I do have The Weapon Shops of Isher and The Weapon Makers on my Books to Read Shelf…
The inside blurb of Siege of the Unseen reads:
"The crash was over, the car on its side. Slade sprawled dizzily on his back, while something warm trickled from his forehead into his left eye. He wiped it away, and saw with a start that it was blood. The skin was torn raggedly…

"A third eye was plainly visible. The eyelid of it was closed by a surplus of sticky matter, but abruptly he grew aware that it was pulsing with a vague perception of light…"

At first it was a grotesque discovery, when the accident revealed that young business man Michael Slade was a bizarre freak — a man with three eyes. But the impact of what it meant to see with three eyes was even more macabre. For Slade, that shocking third eye was his entry into a strange new dimension of terror and adventure — a fearful new world that would wrap itself about him forever!
This 103 page novella left me in two minds. While well written and enjoyable, it did not all add up. Either though sloppy editing or just trying to cram into a short format, there were too many gaps and portions left unexplained… while Mr Van Vogt seems on the other hand to have been quite keen to wax about the powers of the mind and the world being almost a projection of what the mind determines to be reality. Any wiki entry will quickly mention the fact that Mr Van Vogt was a big shot in Scientology circles. While I'm not all that familiar with Scientology, I have to wonder if this was part of the canon.
Siege of the Unseen is about a man called Slade who discovers he has vestigial third eye. Once he starts learning to use it, he begins seeing an altered reality, which leads him to the ancient, chemically dependent – vampire inhabited city of Naze and a century's long battle between two ideologies. Slade, being an outsider from another reality (of the two eyed) seems to be the only way to break the ancient deadlock and either destroy Naze or free its populace.
Overall, both were acceptable stories, but Mr Brunner's story was in my humble opinion the superior. The World Swappers has been republished numerous times as a novel. Siege of the Unseen was initially serialized as The Chronicler across the October and November 1946 editions of Astounding Science Fiction. Due to its smaller size, one assumes, it has seen republication in various anthologies including Gnome Press' Five Science Fiction Stories (also as The Chronicler), M33 in Andromeda, The Three Eyes of Evil & Earths Last Fortress and Science Fiction Special 16 & 26 (also listed as The Three Eyes of Evil).
Note that the Earths Last Fortress omnibus should not be confused with the Ace Double D-341 with the same name, which is paired with Lost in Space by George O. Smith.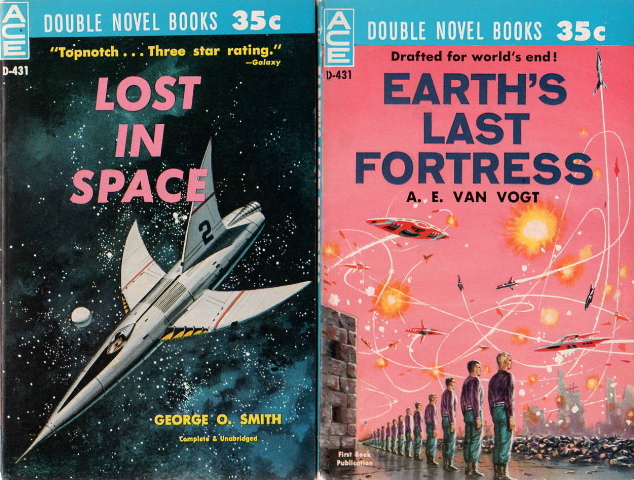 Ace Double D-431. Covers by Ed Emshwiller & Ed Valigursky
Our recent coverage of Ace Doubles includes:
Star Pirates and Cyborg Games: Rich Horton on The Star Virus by Barrington J. Bayley and Mask of Chaos by John Jakes
Invaders of Pluto, and Brain Stealers of Mars: Rich Horton on The Ultimate Weapon and The Planeteers by John W. Campbell
Space Barbarians and Uranium Mining on Mars: Rich Horton on Empire of the Atom by A. E. Van Vogt and Space Station #1 by Frank Belknap Long
Dorsai and Secret Psi Powers: Rich Horton on The Genetic General/Time to Teleport by Gordon R. Dickson
Space Stations With Secret Passages, and Snow White in Space: Rich Horton on Sanctuary in the Sky by John Brunner/The Secret Martians by John Sharkey
Parallel Universes and Space Marines: Rich Horton on The Games of Neith by Margaret St. Clair/The Earth Gods are Coming by Kenneth Bulmer
The Problem With Marion Zimmer Bradley: Rich Horton on Falcons of Narabedla/The Dark Intruder
King of the Fourth Planet/Cosmic Checkmate by Robert Moore Williams and Charles V. De Vet & Katherine MacLean
200 Years to Christmas by J.T. McIntosh/Rebels of the Red Planet by Charles L. Fontenay
See all of our recent Vintage Treasures here.