New Treasures: Kings of the Wyld by Nicholas Eames
New Treasures: Kings of the Wyld by Nicholas Eames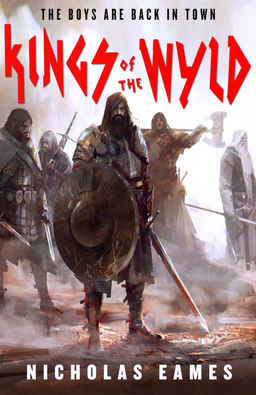 A few weeks ago I spotted an intriguing trade paperback in the New Arrivals section at Barnes and Noble. But I didn't buy it (I'm making an effort to reduce all those impulse purchases, thank you) and, by the time I got home, I'd completely forgotten the title. I spent a fruitless hour online, paging through New Release sections at multiple online sources, before I gave up. Fortunately, it was waiting for me when I returned to B&N a week later, and I bought it immediately. The moral of this terrifying story? Buy good books when you find them, damn it.
That new guiding principle served me well this week when I stumbled on Nicholas Eames' debut fantasy novel Kings of the Wyld, which grabbed me immediately with its central conceit: an aging mercenary attempts to get the band back together for one final mission. Corrina Lawson at the B&N Sci-Fi & Fantasy Blog gives it two hearty thumbs up.
Kings of the Wyld… manages to be a comedy, an adventure tale, a consideration on growing older, and a sendup of fantasy conventions, all at the same time. It also has heart. In short: it rocks.

The heart comes in the form of our protagonist, Clay "Slowhand" Cooper, the moral center of the mercenary group known as the Kings of the Wyld. Or, well, "formerly known as," because Clay is retired, working a boring job as a city guard…. It's inevitable Clay would answer his old friend Gabriel's call to get the band back together to tackle one more seemingly impossible task: rescuing Gabriel's grown daughter from a city under siege. Accompanying Clay is his trusty shield, Blackheart, made from the wood of a sentient tree Clay killed. The first half of the book is a trip across the fantasy kingdom as Clay and Gabriel attempt to put their band, Saga, back together. Not so easy, especially as Gabriel first must liberate his magic sword from his ex-wife and her new husband…

The setting Eames builds around these characters made me wish this story existed in graphic novel form. There's the Wyld Forest, teeming with treacherous inhabitants; and an amazing action sequence in a floating arena, where the group finally gets it mojo back; a pursuit via magical airship; a tense chase sequence across an ice bridge; and, of course, the inevitably epic finale. Did I mention the fight with the dragon? It isn't really an epic fantasy until the dragon shows up.
Read Corrina's complete review here.
Publishers Weekly calls it a "Brilliant debut novel… Eames has cranked the thrills of epic fantasy up to 11… emotionally rewarding, original, and hilarious." And K. J. Parker says Kings of the Wyld is "An outstanding debut… This is a book that has it all."
Here's the book description.
GLORY NEVER GETS OLD.

Clay Cooper and his band were once the best of the best, the most feared and renowned crew of mercenaries this side of the Heartwyld.

Their glory days long past, the mercs have grown apart and grown old, fat, drunk, or a combination of the three. Then an ex-bandmate turns up at Clay's door with a plea for help–the kind of mission that only the very brave or the very stupid would sign up for.

It's time to get the band back together.
Kings of the Wyld was published by Orbit on February 21, 2017. It is 544 pages, priced at $14.99 in paperback and $9.99 for the digital version. Cover by Richard Anderson. It is the first volume in a new series titled The Band.
See all our recent New Treasures here.