Take a Crash Course in the History of Computer Role Playing in The Ultimate RPG Handbook
Take a Crash Course in the History of Computer Role Playing in The Ultimate RPG Handbook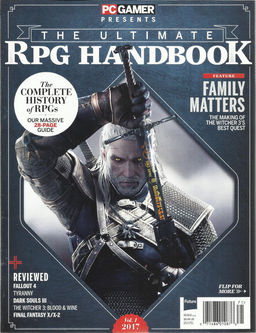 I've been a subscriber to PC Gamer magazine for over 22 years, since it launched as a British "Euro mag" in November 1993 (back in the days when computer hobby shops here in the US would carry British gaming magazines for the Amiga and the PC, and the magazines had disks taped to the cover. And there was such a thing as computer hobby shops.) The magazine has long had a terrific stable of writers — including Editor-in-Chief Gary Whitta, who famously left the magazine to become a screen writer. And he did, too, writing The Book of Eli and Rogue One, among others.
The artifact at right is PC Gamer Presents: The Ultimate RPG Handbook; I found it in the magazine section at Barnes & Noble on Saturday. It sorta looks like a regular issue of PC Gamer, except it has no ads, and is totally devoted to my favorite video game genre. Sweet!
Much of it is composed of reprints from the magazine, but there's new stuff too — like Richard Cobbett's massive 28-page full-color history of computer RPGs, starting with Temple of Apshai and Beneath Apple Manor, through Wizardry, Bard's Tale, the SSI Gold Box Games, Star Control 2, Deus Ex, Witcher 3, and half a zillion titles in between. Cobbett lingers on several of the major series, like Ultima, and particularly influential games like Elder Scrolls:Arena, Baldur's Gate, and Fallout 3. He doesn't cover everything, of course, but his breezy style makes the whole thing entertaining and highly readable.
There's plenty more crammed into the issue, including a feature on the future of RPGs, a long article on Witcher 3, and reviews of major new RPG releases like Fallout 4, Dark Souls III, and Tyranny (maybe they didn't fit in the regular magazine?) There's also a few production glitches, like the invitation on the cover to "Flip For More," and an arrow pointing to the inside cover… which is totally blank. Nonetheless, whether you're new to the genre or an obsessive collector who (like me) has every single game they mention, this is a terrific way to spend a few hours. Recommended.
The Ultimate RPG Handbook was published by Future Publishing in December 2016. It is 98 pages, priced at $9.99 (US edition), and 148 pages for £9.99 (UK edition). There is no digital edition, though one is promised. Get more details at the website.