Check Out the Serial Box Omnibus Collections from Saga Press
Check Out the Serial Box Omnibus Collections from Saga Press
Over in their own corner of the internet, Serial Box is conducting a quiet little revolution in modern fantasy. Tapping into the power and availability of digital readers, Serial Box has brought a very old concept — serialized fiction — into the 21st Century.
Although maybe television is a better comparison. Like TV, Serial Box offers multiple stories in a rich variety of genres, and they release new episodes every week. Each of their serials typically runs for a "season" of 10-16 weeks, and each is written by a team of talented writers. The stories are easy to jump into, the individual episodes are standalone (but contribute to a larger story arch), and each episode is available in both digital and audio formats. There are five ongoing series so far:
Tremontaine — The prequel to Ellen Kushner's famed Riverside series (Swordspoint, The Privilege of the Sword, The Fall of The Kings)
Bookburners — A secret team of agents hunts down dangerous books containing deadly magic
ReMade — 23 teenagers all die the same minute, and wake up in a world of robots, space elevators, and dense jungle
Whitehall — An historical tale of Catherine of Braganza, filled with Intrigue, romance, and scandal
The Witch Who Came In From the Cold — Spies and sorcerers battle for home and country in Cold War Prague
Now Saga Press has created omnibus collections of Bookburners (coming January 31) and Tremontaine (May 2), as well as The Witch Who Came in from the Cold (June 13). Here's all the deets.
The first one to arrive will be Bookburners, coming later this month. Here's the description.
Magic is real, and hungry — trapped in ancient texts and artifacts, only a few who discover it survive to fight back. Detective Sal Brooks is a survivor. Freshly awake to just what dangers are lurking, she joins a Vatican-backed black-ops anti-magic squad: Team Three of the Societas Librorum Occultorum. Together they stand between humanity and magical apocalypse. Some call them the Bookburners. They don't like the label.
Bookburners was created by Max Gladstone, and written by Max Gladstone, Margaret Dunlap, Mur Lafferty, Brian Francis Slattery, Andrea Phillips, and Amal El-Mohtar. The omnibus edition will be released by Saga Press on January 31, 2017. It is 800 pages, priced at $34.99 in hardcover, $21.99 in trade paperback, and $9.99 for the digital edition.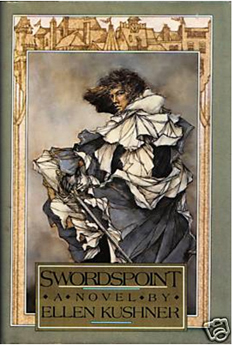 Next up is Tremontaine, which takes place in one of the most beloved settings in fantasy.
Welcome to Tremontaine, where ambition, love affairs, and rivalries dance with deadly results. In this serial, Ellen Kushner and a team of writers return readers to the world of scandal and swordplay introduced in her cult-classic novel Swordspoint. Readers familiar with the series will find a welcome homecoming while new fans will learn what makes Riverside a place they will want to visit again and again. Tremontaine follows Diane, Duchess Tremontaine, whose beauty is matched only by her cunning; Rafe Fenton, a handsome young scholar with more passion than sense; Ixkaab Balam, a tradeswoman from afar with skill for swords and secrets; and Micah, a gentle genius whose discoveries herald revolution. Sparks fly as these four lives intersect in a world where politics is everything, and outcasts are the tastemakers. Tread carefully, dear reader, and keep your wit as sharp as your steel.
Tremontaine was created by Ellen Kushner, and is written by Ellen Kushner, Alaya Dawn Johnson, Tessa Gratton, Joel Derfner, Mary Anne Mohanraj, Malinda Lo, Racheline Maltese, Patty Bryant, and Paul Witcover. The omnibus edition will be released by Saga Press on May 2, 2017. It is 688 pages, priced at $34.99 in hardcover, $21.99 in trade paperback — and just $1.99 for the digital edition.
The third omnibus, The Witch Who Came in from the Cold, arrives on June 13, 2017. It is written by Lindsay Smith, Max Gladstone, Cassandra Rose Clarke, Ian Tregillis, and Michael Swanwick.
Check out all the details at the Serial Box website.
See all of the best in future fantasy here.