Visiting the Two Towers in Bologna
Visiting the Two Towers in Bologna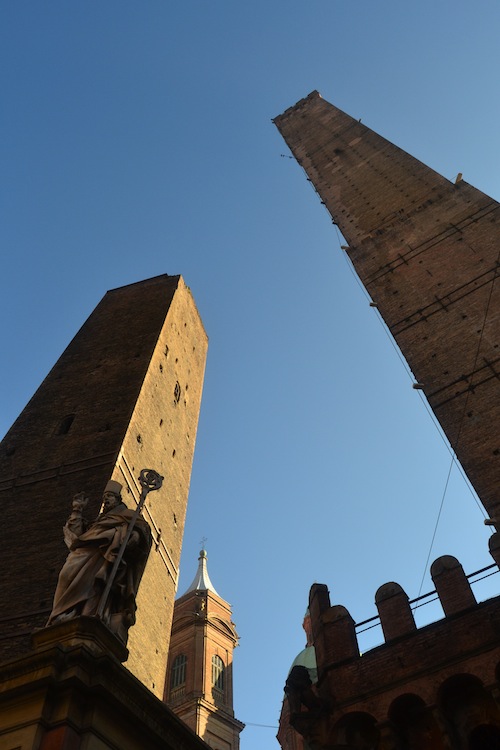 The Garisenda Tower on the left measures 48 meters high.
The Asinelli Tower soars to 97.2 meters. Both now stand at a slight tilt
Happy 2017 everybody! I spent the last few days of 2016 with my family in Bologna, exploring a part of Italy I had never visited. The most prominent landmarks in the city are a series of tall medieval towers, the tallest of which you can climb to get a beautiful vista of Bologna and the surrounding countryside.
Rich families in Bologna began to build towers in the 12th century, both for defense and to show off their wealth and power. Bologna wasn't the only city where people did this — Rome had some lovely examples — but Bologna may have had the most towers. Historians estimate that by the 13th century, there may have been as many as 180 of them. Others make a more modest estimate of "only" 80-100.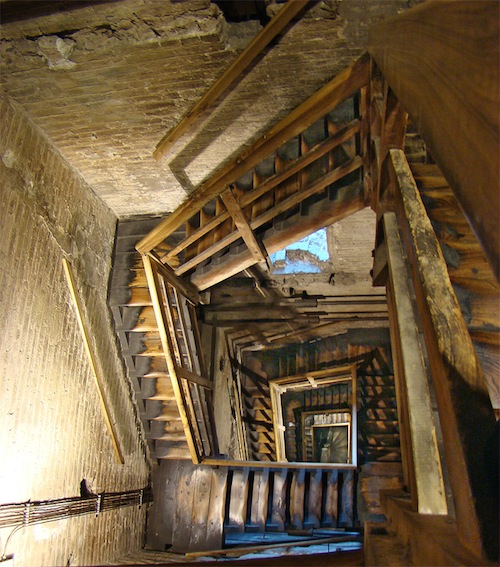 The staircase up the Asinelli Tower. Photo courtesy
Wikimedia Commons because there was too much of
a line behind me for me to stop and take a photo
Now there are only a dozen or so, but they make a fine sight. The most famous, and the symbol of Bologna, are the Two Towers. Built between 1109 and 1119, they are named for the families that constructed them.
The Garisenda Tower originally measured 60 meters high, but was trimmed down to 48 meters in the 14th century when the ground began to settle beneath it, giving it its pronounced tilt. I suppose one could call this the Leaning Tower of Bologna, but the folks in Pisa might get upset.
The Asinelli Tower is much higher at 97.2 meters, and is open to the public. Huffing up an interminable spiral staircase rewards you with the best view in Bologna. Some photos of the view are below. Enjoy!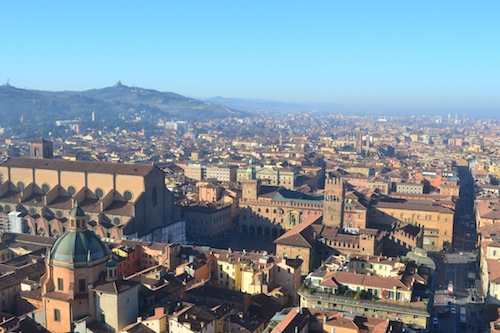 The view from the top of the Asinelli Tower. Note the
haze of pollution. As sad as this is, the view back in the
Middle Ages was probably even more obscured thanks
to the smoke from burning wood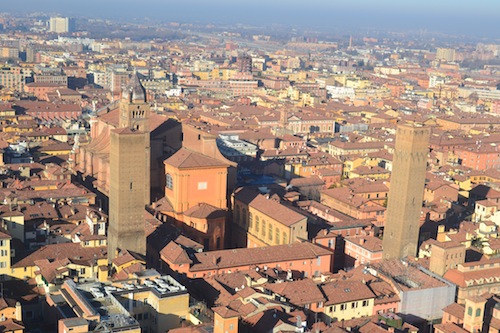 A church and a couple of inadequate towers
Like phallic symbols from the Middle Ages? Check out my article on the Anglo-Saxon tower of Oxford, England. More Italy posts coming up for the next few Wednesdays!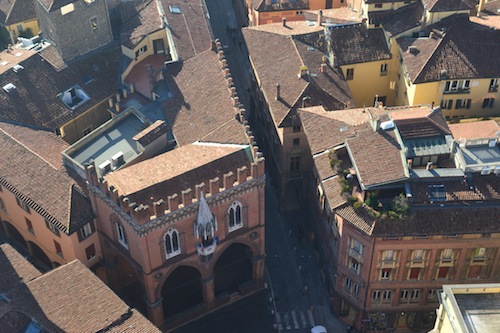 Got vertigo yet?
Images copyright Sean McLachlan unless otherwise noted.
---
Sean McLachlan is the author of the historical fantasy novel A Fine Likeness, set in Civil War Missouri, and several other titles, including his post-apocalyptic series Toxic World that starts with the novel Radio Hope. His historical fantasy novella The Quintessence of Absence, was published by Black Gate. Find out more about him on his blog and Amazon author's page.