Beneath Ceaseless Skies 215 Now Available
Beneath Ceaseless Skies 215 Now Available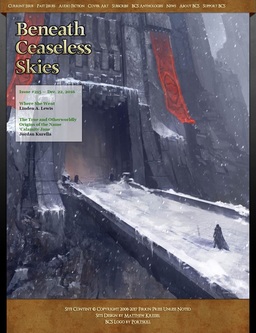 Issue #215 of Beneath Ceaseless Skies is now available, completely free on their website. It is dated December 22 and features fiction by Linden A. Lewis and Jordan Kurella, and a reprint by Erin Cashier.
Charles Payseur at Quick Sip Reviews was enthusiastic about both new stories. Here's the intro to his review of "The True and Otherworldly Origins of the Name 'Calamity Jane'" by Jordan Kurella.
This story makes me want to know more about history. So mission accomplished on that! It also gets my blood pumping, as it's an action-packed fantasy Western with a fast pace and a fun (slightly creepy) aesthetic. Seriously, this piece takes a fantastical look back at the Old West to look at Jane, a woman who's tried to get out of the fairy-hunting game ever since Earl, her partner, disappeared. Of course, with fairies and deals and trying to get out of the game, there's always something that pulls a person back in. So it is with Jane when a pair of fairies steals an entire town's worth of people in an attempt to draw Jane into a bad deal…
Read Charles's complete review here.
Here's the complete Table of Contents for issue 215.
"Where She Went" by Linden A. Lewis
The numbness started in his toes. He was well into the afternoon when he realized what it meant — that he couldn't feel the pain anymore. Dead nerves. Or something worse. Some sort of permanent damage that didn't heal in a place like Twopenny Falls.

"The True and Otherworldly Origins of the Name 'Calamity Jane'" by Jordan Kurella
Jane whirled around, her shotgun leveled, and she found herself looking not at two fairies but into the dead eyes of her old partner, Earl. The witch and this fairy in the gallery were holding his head up by his light brown hair. They smiled at her until she lowered the barrel of her shotgun, and when she did, they dropped Earl's corpse to the floor.

From the Archives: "Swallowing Silver" by Erin Cashier (from Issue #172 – Special Weird Western Issue, April 30, 2015)
John Halpern knew it should be a heavy weight on his conscience, to wake up and know that he was going to kill a thing that used to be a man.
Read issue 215 online completely free here.
Beneath Ceaseless Skies is edited by Scott H. Andrews and published twice a month by Firkin Press. Issues are available completely free online; you can also get a free e-mail or RSS subscription.
Firkin Press also sells a Kindle/e-Reader subscription, which includes automatic delivery to your Kindle or other device. A 12-month subscription comes with 26 issues and costs only $15.99. Single issues are available on Kindle and at Weightless Books for 99 cents. Subscribe here.
The magazine supports itself though subscriptions, and also by selling anthologies, including The Best of Beneath Ceaseless Skies, Year Seven and occasional themed books such as the steampunk anthology Ceaseless West. The anthologies each contain 15-18 stories and cost only $2.99-$3.99.
This month's cover, "The Sacred Flames," is by Jinxu Du. We last covered Beneath Ceaseless Skies with issue #212.
See our December Fantasy Magazine Rack here, and all of our recent Magazine coverage here.