Goth Chick News: Days of the Dead Drags into Chicago
Goth Chick News: Days of the Dead Drags into Chicago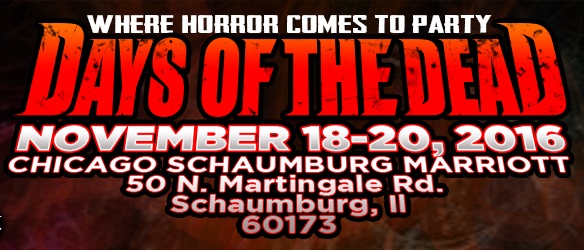 Halloween heaves its last rasping breath each year in the Windy City when the annual Days of the Dead show lopes in around mid-November.
Granted, by this time not only are all traces of skeletons and zombies utterly erased, but rather than being replaced by little paper pilgrims and turkeys, Santas and Black Friday deals had long been encroaching on the tombstones in the retail aisles.  Still, there are enough of us not ready to let go of "the season" that the hotel playing host to the event for the last several years is dangerously close to violating the fire code for maximum capacity.
Not to be confused with the lively Mexican holiday honoring the dead, Dia de los Muertos celebrated on November 1, this Days of the Dead ("DotD" for you cool kids) is billed as the event "Where Horror Comes to Party"; which is sort of the same thing, only different.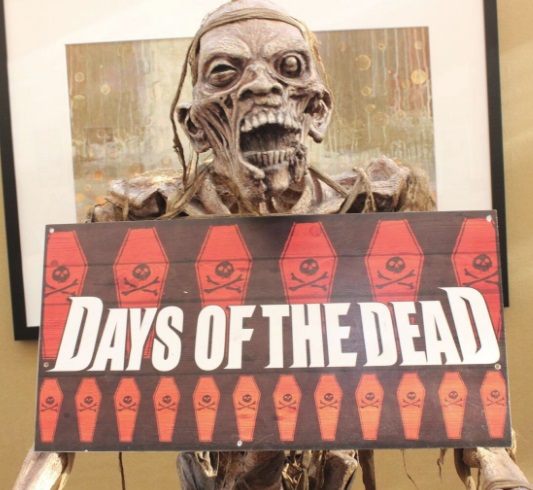 In its fifth year, the primary goal of DotD is to "bring back the concept of the genre convention being a welcoming social gathering of likeminded friends and fans and not just another "pay-and-go" autograph show."  In this DotD has succeeded in spades.  Though final numbers are not yet in, the 2016 Chicago show held last weekend broke attendance records, perhaps largely due to Alice Cooper being the headlining celebrity guest.
So it was with great anticipation, having nothing to do with our traditional trade show, early-morning Fireball shot, Black Gate photog Chris Z and I waded in.
Nearly 100 vendors also turned up to make holiday shopping for the alternative kid in your family a breeze.  In this regard, DotD is my favorite, for where else can one find a corpse-related gift selection of this magnitude?  Needless to say, I'll be asking Krampus to check out these select items on behalf of his favorite Goth Chick.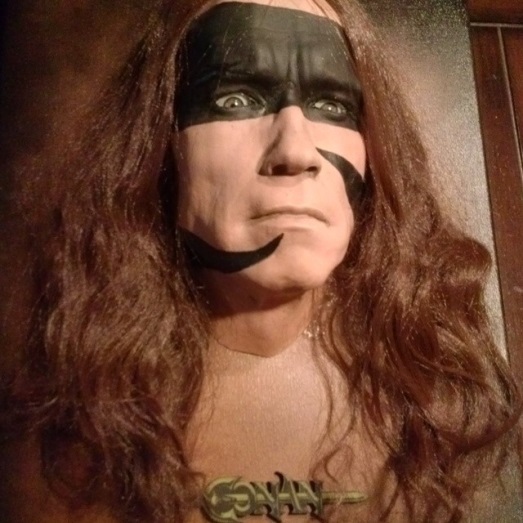 "Conan" by Patrick Hart
"Death mask" castings by Studio Patrick: Artist Patrick Hart uses recycled and repurposed materials to create some of the most disturbingly lifelike mask art we've ever seen.  I mean seriously, check the Conan piece – Arnold's eyes are freaking me out just a bit.
Hart's work is understandably displayed in restaurants, hotels, galleries, offices and private collections all over the world.  He has quite a celebrity following as well, and rumor has it that Alice Cooper may have tapped him at the DotD show to create some stage props.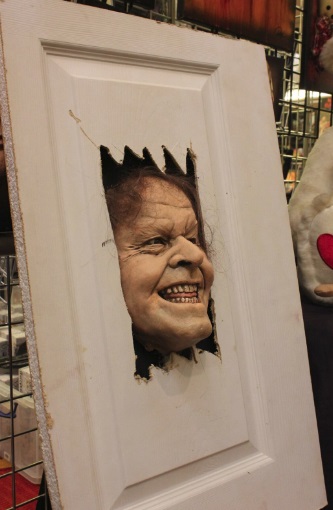 "Here's Johnny" by Patrick Hart
Check out Patick's gallery on eBay to pick out your favorite piece.  Canvases start at $150 but life-sized commissions can go up to $1500+. I think I've got to have Jack Nicolson busting through the door at the Overlook hotel or the Beetlejuice shrunken head – or both…
You can also find him on Facebook here.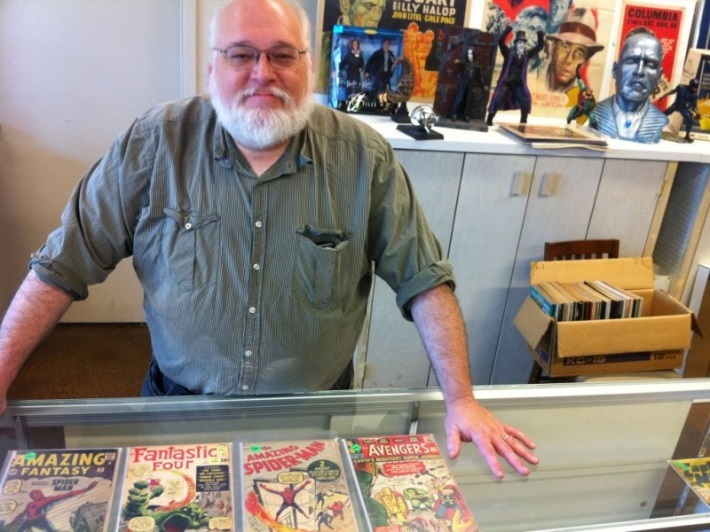 Reel Art Collectibles
Reel Art Collectables: Cory Glaberson owner of Reel Art, the Midwest's premier buyer of pop culture collectables, has one motto: "You wish, we find". Cory loves the whole world of popular culture, gathering artifacts from cult movies and classic TV shows to vintage comic books and gaming products. And all of his acquisitions available for sale via online and at his store front in Berwyn, IL. As a fan of classic horror movie posters, Reel Art is like my personal Toys R Us and if Cory doesn't have it in stock, he'll fully engage his impressive pop culture network finding what you need.
Do you have a collection for which you need a loving home? Cory is definitely interested in talking to you as his business is connecting avid fans and collectors with new finds.
If you're in the Chicagoland area, Reel Art is opening their warehouse to the public for five days starting November 30th.  I plan to drop by in search of an original movie poster for The Tingler as a gift for my parents – it's their favorite movie of course.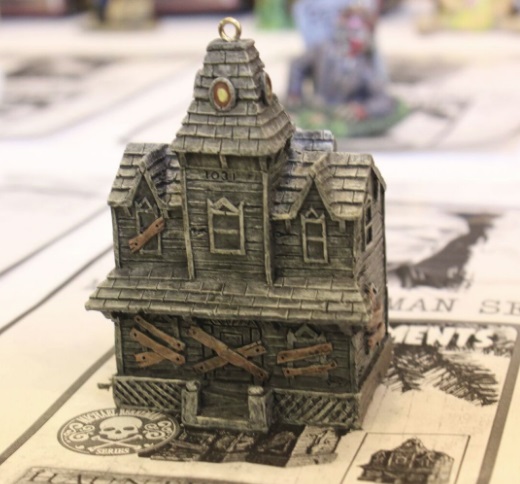 Michael Berryman's HorrorNament
HorrorNaments: We told you about Mr. JM Burns last year, when he first launched his line of horror-themed Christmas tree ornaments, but in the last twelve months he has certainly upped his game.
HorrorNaments are incredibly detailed, precisely sculpted resin castings, each being hand-designed by Burns.  The idea originated in 2011 at an ornament exchange party after Burns' family struggled to find a Halloween-themed ornament to reflect his success in the haunted house business (he is the owner of The Haunt in west Michigan).
This year Burns has branched out into celebrity-commissioned pieces such as a haunted house co-designed by Michael Berryman (The Hills Have Eyes, The X-Files) and a spider co-designed by Bill Mosley (Devil's Rejects, Army of Darkness) who was there in person at DotD cheerfully inspecting the finished product.  The workmanship truly is something to behold, so check out the entire series at Burns' web site.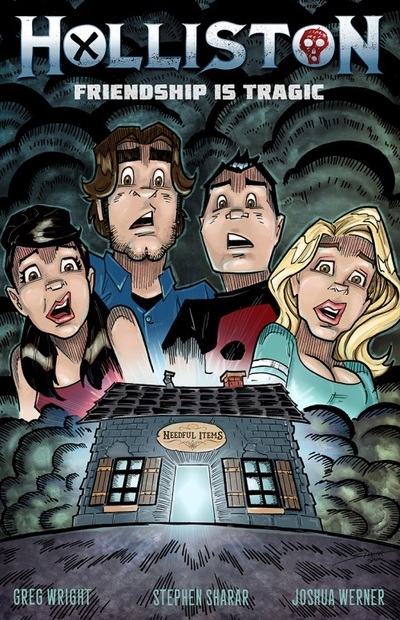 Holliston graphic novel by comic creator Stephen Sharar: Fans of FEARnet's hit horror show Holliston by writer / director Adam Green, can now relish in the new 52-page graphic novel illustrated by artist Stephen Sharar.
Sharar was a big fan of Adam Green's work (Hatchet, Digging Up the Marrow) due to his diverse library of horror properties that would translate very well into comic book form. So when Sharar went looking for a collaboration, he contacted Adam and was given the ok to send some story pitches and sample artwork for review. From about 10 different story pitches, Adam absolutely loved the pitch for "Friendship is Tragic" and gave the ok to turn it into a graphic novel
Adam, Joe, Corri, and Laura are about to discover just what their friendship can handle when Adam finds a cursed credit card and buys his friends some Halloween gifts. The presents are perfect… a little too perfect. Soon, mad killers, giant monsters, and evil aliens are on the loose, as well as the deadliest threat of all: success! Will the gang sell out? Will they ever speak to each other again? What's the return policy for cursed credit card purchases?
Stephen Sharar
Besides being an Adam Green fan, I love the retro Creepshow look to the graphic novel and appreciated the very timely storyline.  You can find other works by Stephen at Source Point Press, but Holliston would make an excellent stocking stuffer for the family comic and horror fan alike.  It was released in October and is available now.
With DotD also comes a litany of celebrities either seeking to experience a tiny bit of the fabled Chicago winters, or promptly cancelling their appearances once they pull up the weekend forecast on their smartphones.  However, as Mr. Snow Miser has seen fit to stay out of Chicago thus far, the celebrity turnout at this year's DotD was quite robust.  Alice Cooper was joined by Sid Haig, Judge Reinhold and Shannon Elizabeth among others.  The only last minute bail out was Anthony Michael Hall who suddenly had a "work conflict" (read, the temps were below 40 degrees so no dice).
I was kind of looking forward to chatting up Judge Reinhold, mainly because of Fast Times at Ridgemont High, but due to some sort of confusion in the kitchen, Mr. Reinhold had not yet had his lunch delivered to his room and wasn't coming down until he did.
Really…?
Needless to say we didn't wait.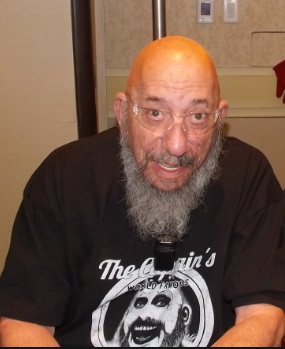 Sid Haig
Next up was Sid Haig whose acting resume is disturbing enough to make me wonder how normal the real guy actually was. But when Chris Z and I passed him in the hallway, flanked by two guys who may have been leading him through the crowd but quite possibly were holding him up, we decided not to follow.
I mean, he is 77 years old and still has eight upcoming movie and TV projects in the works, but it might be (past) time for Mr. Haig to slow down just a bit…
Granted, Tara Reid looked worse when she was at DotD last year, but well…that's relative.
The person who was the most fun to chat with is someone you may have a difficult time placing.  Ilan Mitchell-Smith played "Wyatt" in the 1985 John Hugh's comedy, Weird Science and was meant to be doing a joint appearance with his co-star Michael-Hall in a WS reunion of sorts.
Ilan Mitchell-Smith
Ilan was incredibly charming with a distinctive, raspy voice you would definitely recognize if you're a WS fan. He dropped out of acting in 1991 to pursue his passion for medieval studies. He achieved a Ph.D. at Texas A&M, and was recently named head of his department in the Center for Medieval and Renaissance Studies at California State University.
Though he said acting was a lot of fun, he loves medieval literature and enjoys the interaction with his students – none of which know of his famous beginnings and I promised not to rat him out. Plus he agreed to a Black Gate interview so fingers crossed and stay tuned…
The photo-op line for Alice Cooper wound through the hotel lobby and out into the indoor pool atrium which was impressive enough until you consider all these fans had purchased the chance to stand beside Cooper well in advance of the show. Chris Z and I agreed that we would have been quite content to spend the remainder of the afternoon seated near the hotel bar, people watching (and oh the people there were to watch). But instead we exited out into the cold Chicago air, bringing a close to our trade show schedule for 2016.
Want to join in the fun?  There are upcoming Days of the Dead shows in several other cities including Atlanta, Indy, Louisville and LA, all with their own unique vendors and celebrity guests.
From our lazy intern staff, photog Chris Z and me, here's hoping you always have a ready supply of stretchy pants and wishing you a wonderful Thanksgiving.