New Treasures: Things From Outer Space, edited by Hank Davis
New Treasures: Things From Outer Space, edited by Hank Davis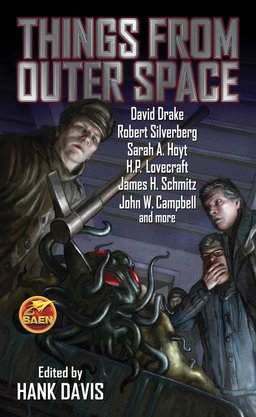 Hank Davis is my kind of editor. He's one of the very few out there still mining pulps and science fiction digest magazines and packaging them up for a modern audience, in terrific books like In Space No One Can Hear You Scream (2013) and The Baen Big Book of Monsters (2014). In short, he's one of the only folks introducing the work of Edmond Hamilton, John W. Campbell, Clifford D. Simak, Randall Garrett, Fritz Leiber and others to a modern audience — or at least, one of the very few doing it in affordable mass market editions, which is the way I discovered all those great wrters, mummnly-mumble decades ago.
Things From Outer Space is Hank's latest, an original paperback collecting tales of "Mostly very, very bad things that want to harm humans and destroy Earth. Or take it for their own. Original stories and reprints of classics from the scary side of science fiction!" Here's the description.
THE THINGS ARE COMING…

As we all know, in space, no one can hear you scream. Which doesn't mean that anyone is safe just because they're standing on the soil of planet Earth, because if a thing from out there drops in, screaming probably won't save you.

Earth has spawned myriad unpleasant life forms which are bad news for humans, ranging in size from the Ebola virus to the great white shark up to the Tyrannosaurus Rex (extinct, fortunately for us) — and that's just one planet. What even more deadly life forms might the billions of planets in our galaxy have spawned? And suppose the things are intelligent and capable of crossing space and coming here . . .

Considering that very possibility are the masters of science fiction starring in this book, including Robert Silverberg, David Drake, Sarah A. Hoyt, James H. Schmitz, Fritz Leiber, Robert Sheckley, Murray Leinster and John W. Campbell, as well as classic stories of extraterrestrial horrors by H.P. Lovecraft, George Allan England and more.

E.T. might have been happy eating Reese's Pieces, but other visitors from the void might have less dainty appetites. And there are probably worse things than merely being eaten…
Alas, description notwithstanding, there is no contribution from Murray Leinster. But there are twenty stories of nasty alien creatures, new and old. Here's the complete Table of Contents.
Things For the Memories: Introduction, by Hank Davis
"Who Goes There?," John W. Campbell, Jr. (Astounding Stories, August 1938)
"Who Rhymes There? (A Parody in Verse)," Randall Garrett (Science Fiction Stories, May, 1956)
"The Things," Peter Watts (Clarkesworld, January 2010)
"The Colour Out of Space," H. P. Lovecraft (Amazing Stories, September 1927)
"As it Lays," David Afsharirad
"Amanda and the Alien," Robert Silverberg (Omni, May 1983)
"We Don't Want Any Trouble," James H. Schmitz (Galaxy, June 1953)
"And Your Little Dog, Too," Sarah A. Hoyt
"Riding the White Bull," Caitlin R. Kiernan (Argosy Magazine, January-February 2004)
"The Monster From Nowhere," Nelson Bond (Fantastic Adventures, July 1939)
"Sitting Duck," Daniel F. Galouye (If: Worlds of Science Fiction, July 1959)
"The Mind Spider," Fritz Leiber (Fantastic Science Fiction Stories, November 1959)
"The Thing From-Outside," George Allen England (Science and Invention, April 1923)
"The Space Horde," Chad Oliver (Amazing Stories, February 1958)
"The Leech," Robert Sheckley (Galaxy, December, 1952)
"Rough Beast," Roger Dee (Analog, March, 1962)
"Love Me True," Gordon R. Dickson (Analog, October 1961)
"Devolution," Edmond Hamilton (Amazing Stories, December 1936)
"Operation Stinky," Clifford D. Simak (Galaxy, April 1957)
"Hunting Ground," David Drake (Superhorror, 1976)
You can read Hank's introduction, and sample several of the stories, at the Baen website. Here's a snippet from his entertaining intro:
In the first of the Star Trek movies, Bones McCoy beams onto the massively refurbished Enterprise and Admiral Kirk tells him, "There's a thing out there," at which point McCoy breaks in, "Why is it any object we don't understand is always called a thing?"

Kirk ignored the question, but I think he should have said, "Because it sounds so cool."

And it does. Particularly if it's italicized: Thing.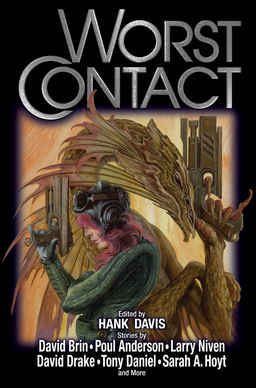 Our previous coverage of Hank Davis anthologies includes:
In Space No One Can Hear You Scream
The Baen Big Book of Monsters
Celebrate the Holidays with A Cosmic Christmas
He's got several fine anthologies from Baen we haven't covered, as well. Shame on us.
As Time Goes By — Time travel tales of love and the future, alternate realities, and the worlds of fantasy (February 3, 2015)
Future Wars… and Other Punchlines — Humorous Military Science Fiction (September 1, 2015)
Worst Contact — Stories of Alien Contact Gone Wrong (January 5, 2016)
If This Goes Wrong — Tales of the Downside of the Future, some humorous and some not (December 27, 2016)
The Best of Gordon R. Dickson Volume 1 — Forthcoming (April 4, 2017)
Things From Outer Space was published by Baen Books on August 23, 2016. It is 576 pages, priced at $7.99 in mass market paperback. The cover is by Alan Pollack.
See all of our recent New Treasures here.