Lackington's Issue 11 Now Available
Lackington's Issue 11 Now Available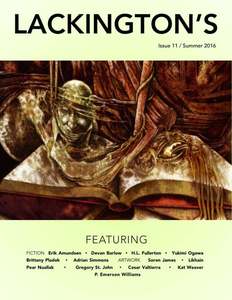 Adrian Simmons is one of the editors of the highly-regarded Heroic Fantasy Quarterly magazine. But he's also a fine writer in his own right, as Charles Payseur reminds us this week, in his review of the Summer 2016 issue of Lackington's magazine, containing Adrian's short story "How I Came to Be Raised by Balniwan the Fool."
Just ahead of the release of their next issue, Lackinton's has dropped the paywall on their Possessions issue and it's a great collection of rather dark stories… there are a lot of ways that these tales circle around what it is to have possessions, and what it is to be possessed. Most of the pieces are solidly fantasy, the magic alive and well and further complicating the theme but also giving it a wild fire that casts some wicked shadows…

This story takes an interesting angle on the idea of possessions, focusing on a child living in a world defined by violence. Under the rule of their father, Alebeg, the children as possessions, less than people. He scares them and he awes them and he lives a bit like a cult leader on a hill, though with a rather Norse feel to it. So as I read [the] main possession of the story is that of the main character, who is treated more like property than a person… It's certainly a visceral story that comes with the taste of blood and the bitterness of being someone powerless in the face of force and power. A fine way to kick off the issue!
Read Charles' complete review here.
Every issue of Lackington's has a theme, which gives the magazine an interesting focus. The theme this issue is "Possessions."
Our "Possessions" issue plays with more than one meaning of the term. Read stories about ownerships and their elaborations of control and greed, and read stories about invasions, too, when our own self becomes inhabited by another.
Here's editor Richildis on the contents of issue #11:
The thing about things is, they're ubiquitous — so much so I didn't have to put out a call to fill this collection. The tales in Issue 11 accumulated over the course of three earlier and unrelated theme-calls, insisting on forming a pattern of their own. The "Possessions" collection evolved first through a trio of tales about the overtaking of one entity by another (by Erik Andersen, Devan Barlow, and Yukimi Ogawa), followed by stories about literal possessions — those related to ownership, often of things that shouldn't be owned (by H.L. Fullerton, Brittany Pladek, and Adrian Simmons). This polysemous word forms a network of meaning between the six stories you're about to read, adding more richness still to the events the authors portray, especially since some of them describe "possessions" that inhabit both definitions — sometimes the gift that we possess possesses us in turn.

This issue came close to being themed "Fashions," given the number of stories related to appearance and dress that it contains. Barlow, Fullerton, and Ogawa each tackles the privilege and price of self-beautification, which is rooted in many senses of "possession" and causes no end of trouble. I'm delighted with how this ad hoc collection materialized and how it turns over interesting questions about wealth, race, colonization, class, labour, consumption, and even religion — all the loud, lush, significant stuff of story, and all of it dressed in word-colour and sounding with rhythm. Take of your enjoyment forthwith.
Each story is accompanied by a full-page illo. Here's Gregory St. John's gorgeous art for "How I Came to Be Raised by Balniwan the Fool," by Adrian Simmons.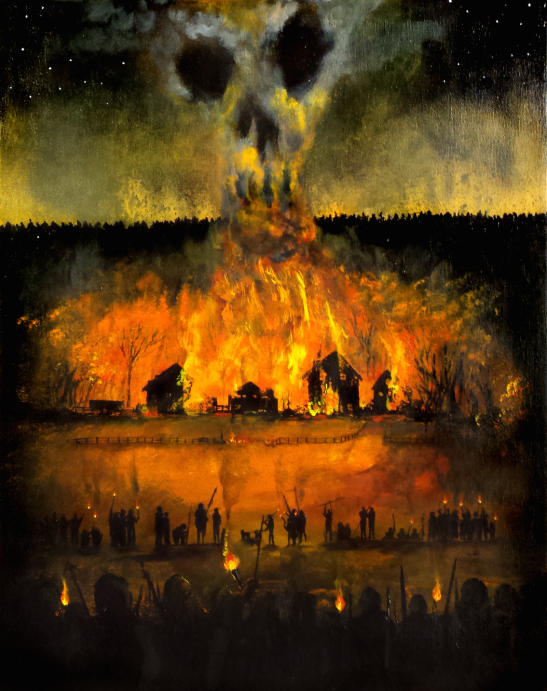 And here's the complete Table of Contents:
Foreword by Ranylt Richildis
"How I Came to Be Raised by Balniwan the Fool," by Adrian Simmons
"Ought from Is," by Brittany Pladek
"The First of Frost," by H.L. Fullerton
"The Sapphire Fiend," by Devan Barlow
"Invasion," by Erik Amundsen
"Ever Changing, Ever Turning," by Yukimi Ogawa
Issue #11 is cover-dated Summer 2016. Read the complete issue free online here.
The cover artist this issue is P. Emerson Williams (click the image for a bigger version.)
We last covered Lackington's with Issue #7.
Lackington's is edited by Ranylt Richildis. It is available completely free online; individual issues are available in multiple digital formats for $2.99. 4-issues subscriptions are just $9.99 (roughly $2 off cover price). Purchase copies and support the magazine at their website.
Our October Fantasy Magazine Rack is here, and all of our recent magazine coverage here.