Goth Chick News: The Original Men in Tights Are Still the Best Men in Tights…
Goth Chick News: The Original Men in Tights Are Still the Best Men in Tights…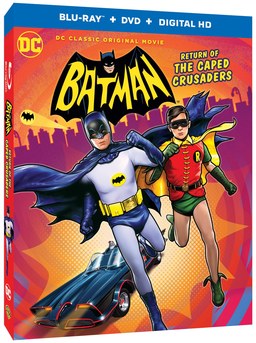 After last week's rant about the evils of tampering with original story-telling genius, it's time for us all to take a deep breath and collectively cleanse our entertainment pallets with some really inspired news. Though it's not traditional Goth Chick fare, I could not help but emit a little fangirl squee at the following.
Fifty years after first donning tights to play Batman and Robin on TV, Adam West and Burt Ward are back in a movie titled Batman: Return of the Caped Crusaders.
Just let that sink in for a moment, and repair your tattered psyches.
Okay, so it's an animated feature brought to us by Warner Bros., and it's a direct-to-DVD release. But the important thing here is that rather than landing some current Hollywood hotties to do cameo voice over work, or worse yet some nameless talking heads, WB sought out the original actors, West age 88 (Bruce Wayne / Batman) and Ward age 71 (Dick Grayson / Robin) along with an 83-year-old Julie Newmar (Catwoman) to reprise their roles.
The original Batman television series premiered in 1966 and ran for three successful seasons. It was a very "swinging sixties" creation with a colorful theme song and comedic tone, coupled with some overt sexuality and topical themes (a heady combo for mid-century television viewers). In the years since it has passed into the pop cult stratosphere, as we witnessed when West, Ward and Newmar made an appearance at the 2013 Chicago Comic and Entertainment Expo (C2E2). Attendees who purchased autographs in advance still faced nearly a three-hour wait and the stars were sequestered in a separate part of the facility, likely for their own protection from the rabid fans.
The playfulness of the original television classic remains a stark departure from the image of the Dark Knight that has emerged over the last 30 years. In fact, Batman: The Killing Joke, WB's last animated DVD, was the first to carry an "R" rating. So it may seem a bit surprising that the animation team was quite enthusiastic about having the opportunity to mischievously send up the characters' past in a film that contains all kinds of knowing, insider jokes.
| | | |
| --- | --- | --- |
| | | |
| Adam West | Burt Ward | Julie Newmar |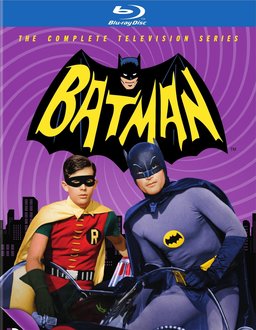 Interviewed at the New York Comic Con, producers and co-writers Michael Jelenic and James Tucker stated, "There's a little bit of a leap of faith to make Batman with a lighter tone (these days). But everyone who worked on this project is pretty much a fanboy of (the original series)."
Batman: Return of the Caped Crusaders, is rife with TV-fan-only references like when a woozy Batman sees three Catwomen, each resembling the different actresses who played her in the show: Newmar, Lee Meriwether and Eartha Kitt. And when the character of Aunt Harriett implies the relationship between Bruce Wayne and Dick Grayson involves a secret that has nothing to do with fighting crime.
The goal, Tucker said, was to create something that "honored the old series," not just for those who watched it, but generations that might not be familiar with this comedic spin on the character. "Batman is probably the only hero who works equally well in both tones," he said.
Warner Bros. is enthusiastic enough about the project that they are already working on a follow-up; one featuring another octogenarian, William Shatner, as the voice of the Batman villain Two-Face. The company also plans to develop additional classic titles, like a Wonder Woman homage to the 1970s series that starred Lynda Carter.
Despite the stars' ages, the producers came away somewhat awed by West's energy and vitality, and Ward's ability to slip back into his youthful Robin voice, which Tucker described as being "like a magic trick only he knows how to do."
"They take it seriously," Tucker said. "They honor the characters as much as we try to."
Batman: Return of the Caped Crusaders is available on Blu-Ray and DVD beginning this week.
Now, don't you feel better? Spread that happiness around by posting a comment or dropping a line to sue@blackgate.com.