The Future of Iraq, According to the Country's Science Fiction Authors
The Future of Iraq, According to the Country's Science Fiction Authors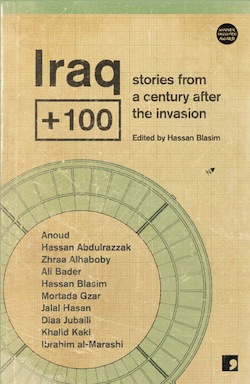 With all the grim news coming out of Iraq, it's easy to think the country has no future. That's wrong, of course, because being one of the oldest countries in the world, it's not going anywhere anytime soon.
But what will that future look like? To answer that question, UK publisher Comma Press has released Iraq +100, an anthology of Iraqi writers imagining the future of their nation. As the blurb says:
Iraq + 100 poses a question to ten Iraqi writers: what might your country look like in the year 2103 – a century after the disastrous American- and British-led invasion, and 87 years down the line from its current, nightmarish battle for survival? How might the effects of that one intervention reach across a century of repercussions, and shape the lives of ordinary Iraqi citizens, or influence its economy, culture, or politics? Might Iraq have finally escaped the cycle of invasion and violence triggered by 2003 and, if so, what would a new, free Iraq look like?

Covering a range of approaches – from science fiction, to allegory, to magic realism – these stories use the blank canvas of the future to explore the nation's hopes and fears in equal measure. Along the way a new aesthetic for the 'Iraqi fantastical' begins to emerge: thus we meet time-travelling angels, technophobic dictators, talking statues, macabre museum-worlds, even hovering tiger-droids, and all the time buoyed by a dark, inventive humour that, in itself, offers hope.
Editor Hassan Blasim points out in his foreword that there is little science fiction to be found in Iraqi letters and that many of the writers in this anthology are not science fiction writers per se. This has allowed a wide range of visions of Iraq's future, moving beyond the usual science fiction tropes into more political and philosophical territory.
The stories range from fantastic to dystopian, and from allegory to gritty realism. Diaa Jubaili's story "The Worker," shows us a derelict Basra, a dying city in a country that has been stripped of all its natural resources by rapacious foreign powers and their local puppets. In "Kahramana" a black comedy by London based Iraqi writer Anoud, the heirs to Islamic State have set up the Islamic Empire of Wadi Hashish, from which the heroine flees to the American Annex of Sulaymania, which she finds is not the promised land she hoped for. Instead she finds herself surrounded by clueless Western humanitarian workers, whom the author delightfully skewers for all their First World snobbery and willful ignorance.
In his forward, Blasim strikes an optimistic note by pointing out that, despite previous generations rejecting genre fiction because of narrow traditionalism:
Today there is great hope in a new generation, a generation native the the internet and to globalisation. It is a generation that is open-minded, more adventurous about genres, and more impatient to exercise the freedom to express oneself and to experiment. Serious attempts to write science fiction and fantasy have started to appear.
Let's hope we'll be seeing more.
Iraq +100 is available as an ebook. The print edition will be released November 17. I'm currently reading it and plan to do a review in the coming weeks, but I thought it would be best to get the news out about this intriguing anthology as soon as possible.
---
Sean McLachlan is the author of the historical fantasy novel A Fine Likeness, set in Civil War Missouri, and several other titles, including his post-apocalyptic series Toxic World that starts with the novel Radio Hope. His historical fantasy novella The Quintessence of Absence, was published by Black Gate. Find out more about him on his blog and Amazon author's page.