The Public Life of Sherlock Holmes: Bogart's The Caine Mutiny
The Public Life of Sherlock Holmes: Bogart's The Caine Mutiny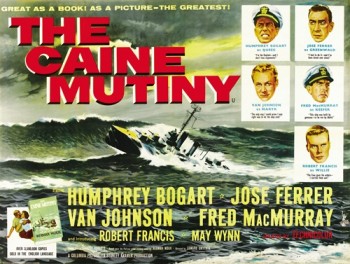 I'm fortunate in that the powers that be at Black Gate let me roam way off topic once in a while. The fantasy stuff isn't really a stretch, since that's at the heart of Black Gate itself. Other times, I'm just talking about something I really like. Such as, say, Humphrey Bogart.
The first two posts (The Return of Doctor X and The Maltese Falcon) about the greatest actor of all time actually fit within the Black Gate milieu. The third (about Bogie and George Raft), not really. Today's has a military tie-in, which is a sometimes Black Gate subject.
Bogart had broken through in 1941 and was still a superstar in 1954, when he made three very different types of movies.  The second, Sabrina, was a light-hearted romantic comedy, costarring Audrey Hepburn and William Holden. I actually prefer the remake, with Harrison Ford, Julia Ormond and Gregory Kinnear.
The third, The Barefoot Contessa, was a ponderous, garish melodrama. Four-time Oscar winner Joseph Mankiewicz directed, with Ava Gardner and Edmond O'Brien co-starring. The movie collapses under its own weight.
Say it Again, Sam – Bogie only managed to secure one Oscar: for The African Queen. He certainly deserved more.
The first film that Bogart made that year was a big budget, gripping drama, which netted him his third Oscar nomination (won by Marlon Brando for On The Waterfront. I think Bogart's performance aged much better). Lieutenant Commander Philip Francis Queeg found himself on the wrong side of The Caine Mutiny.
As usual, Bogart was battling with Jack Warner, head of Warner Brothers, over parts. Fresh off the mess that was Beat the Devil, Bogie wanted to star in the adaptation of Herman Wouk's Pulitzer Prize-winning novel.
Not unreasonably (though "fair" is not a word used in conjunction with Jack L. Warner), the studio boss wanted him to make a movie for Warner Brothers. But Bogart won, which put him to work for Columbia Pictures, not Warner. This gave Warner yet another reason to hold a grudge against the defiant Bogart.
The actor really wanted the part and Columbia President Harry Cohn actually low-balled his offer to the biggest star in the business! Bogie accepted, though he was seething inside. The movie was produced by Edward Dmtryk, one of the infamous 'Hollywood Ten,' who served jail time before naming names. Initially, Dmtryk wasn't allowed onto a naval base or ship because of his record and the US Navy had to be convinced to change its stance towards him.
In the movie, fresh out of training, Ivy Leaguer Ensign Willie Keith (Robert Francis) is assigned to the sloppy, worn-out minesweeper, The Caine. He doesn't particularly approve of the seemingly lax Commander DeVreiss (Tom Tully, who was nominated for an Academy Award in what was, at best, the fourth supporting role). DeVreiss is replaced by Lt. Commander Queeg and the "fun" begins.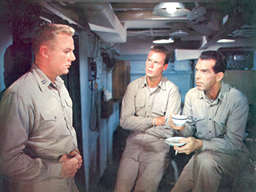 Van Johnson had nearly died in a car crash a decade earlier and you can still see the scars on his face and forehead. Playing Lieutenant Steve Maryk, he is second in command of the Caine. He is quite sympathetic as a dedicated officer who serves Queeg faithfully but who also knows that the Cain is being undermined by Queeg's poor leadership. The glib Lieutenant Keefer constantly pushes Maryk towards action against Queeg. It's a human, likeable performance and my favorite Johnson role.
Fred MacMurray (of My Three Sons fame), generally known for playing nice guys, is the film's Iago (if you don't know that reference, you need to read more Shakespeare!) as Lt. Tom Keefer. An aspiring novelist, he constantly eggs on Johnson's Lt. Meryk. He's easy to root for, but we see his true character when he, Maryk, and Keith go to visit Admiral Woolsey to report on Queeg.  And of course, there are the courtroom and party scenes. I think his performance stands alongside the job he did in Double Indemnity.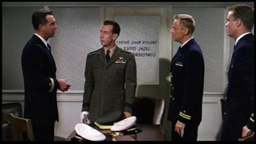 Second-billed Jose Ferrer isn't even mentioned before he walks into a room over two-thirds into the movie. But he shines brightly and would have stolen this film if not for Bogart. He is the attorney who defends Maryk and Keith and he orchestrates Bogart's courtroom testimony. He moves center stage at the after-trial party and, for such a limited amount of screen time, really makes his mark in the film.
Lee Marvin and Claude Aikens (Sheriff Lobo) provide comic relief as less-than-model sailors.
The United States Navy, worried about their image in a film starring a mentally ill commander and a mutiny, was very involved in the production. They lent Pearl Harbor for filming, as well as three tenders, two destroyers, an aircraft carrier and two thousand marines in landing barges!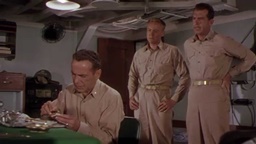 Commander James C. Shaw, a decorated veteran of Iwo Jima and Guadalcanal, was on-set as an advisor for all filming. The scene where Queeg butters toast while talking to Lt. Maryk caused an argument between Bogie and Shaw. You can imagine how much use Bogart had for that type of thing.
During the opening credits, a screen appears, informing viewers that there had never been a mutiny in the history of the US Navy. That was their price for cooperating on the film.
The author, Herman Wouk, adapted the trial scene into a play: The Caine Mutiny Court Martial. Bogie was replaced by Lloyd Nolan, Ferrer by Henry Fonda and Johnson by John Hodiak. The play, which lasted 405 performances, ran concurrently with the movie, which was unusual.
Bogart gave one of his finest performances as Captain Queeg. Of the character he said, "Queeg was not a sadist. He was not a cruel man, he as a very sick man. His was a life of frustrations and insecurity. His victories were always small victories. He made the men stick their shirttails in and he cleaned up the ship…In peacetime, Queeg was a capable officer, but he could not stand the stress of war."
Humphrey Bogart knew how to get inside the characters he was playing. There are a lot of actors I like (Cary Grant is right up there), but Bogie was something else.
From Queeg's first appearance as the sharp naval officer, to his wearing down of the crew, to stress under pressure, to the brilliantly climactic courtroom scene, Bogart really shows a wide range, with a fine job of varying facial expressions. He was pleased with himself, telling Huston he was "rather well satisfied with [his] performance as Queeg, but didn't think too highly of Van Johnson and MacMurray."
Dmytryk wrote of Bogie, "…his performance was superb. His transition from self-control, to petty truculence, to paranoia, then back to full awareness in the court-martial scene, is one of the finest I have ever witnessed…"
And he's right! If you've never seen The Caine Mutiny, you've not seen perhaps Bogart's finest work. The Hollywood Reporter referred to Bogie's "infinitely pathetic performance" to be "a high point in the history of screen acting." Time Magazine put Bogie on the cover.
But they encouraged the crew to go around scoffing at me and spreading wild rumors about steaming in circles and – and then "Old Yellowstain" – I was to blame for Lieutenant Maryk's incompetence and poor seamanship. Lieutenant Maryk was the perfect officer, but not Captain Queeg. Ah, but the strawberries! That's where I had them. I proved with… geometric logic that a duplicate key to the wardroom icebox did exist, and I'd have produced that key if they hadn't pulled the Caine out of action. I-I-I know no that they were only trying to protect some fellow officers.
Just reading those words does not do justice to Bogart's delivery on screen. In fact, along with the finish to the scene, I would cite this as one of the finest moments in his entire career. Even if you can't see the whole film, every Bogart fan should at least watch Queeg's court martial testimony. It's brilliant.
CRITICISMS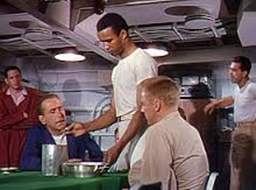 The movie has been criticized in certain circles for various aspects. Jeffrey Meyers, author of Bogart, refers to Jose Ferrer's upbraiding of the crew at the after-trial party as "dramatically weak" and implies it undermines the whole movie. I think he's wrong.
Bogart sent a copy of the script to John Huston for commentary. Huston had some thoughts:
–          Keith's relations with his mother and the romance with Wynn were trite;
–          Captain DeVries should have shown he was an able skipper through action;
–          Keefer should be developed as more than a cowardly intellectual;
–          The pat, obvious ending should be eliminated.
John Huston knows far more about this stuff than I do, but I disagree with his final point.
Dmtryk deemed the film a disappointment and believed it "could have been a classic" if it had been longer. I'm going to disagree with him on that point. It was over two hours and the romance storyline with Ensign Keith and May could easily have been entirely eliminated. In fact, if they had simply cut that out and instead used that time to focus more on Queeg's failings as a commander, it would have been a stronger film.
I do believe there is room for improvement in the script for The Caine Mutiny. But I have never failed to come away pleased and impressed after watching it. I've read the book, which I liked. Perhaps some day I'll be able to see the play.
Say It Again, Sam – Wouk based the novel on his own World War II experiences serving on a destroyer-minesweeper. Among his other works is Don't Stop the Carnival, an amusing book that Jimmy Buffett turned into a musical. It's got a good soundtrack.
Bogart in The Return of Doctor X
Bogart and The Maltese Falcon
Bogart and George Raft
---
You can read Bob Byrne's 'The Public Life of Sherlock Holmes' column here at Black Gate every Monday morning.
He founded www.SolarPons.com, the only website dedicated to the 'Sherlock Holmes of Praed Street' and blogs about Holmes and other mystery matters at Almost Holmes.
He is an ongoing contributor to The MX Book of New Sherlock Stories series of anthologies, with stories in Volumes III, IV and the upcoming V (Kickstarting now!).