Alaric's Biggest Secret: "The Desert of Vanished Dreams" by Phyllis Eisenstein
Alaric's Biggest Secret: "The Desert of Vanished Dreams" by Phyllis Eisenstein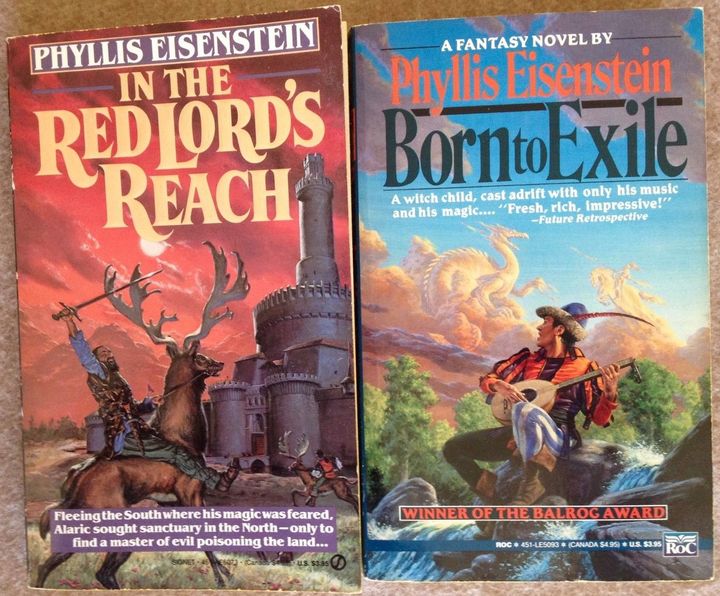 Phyllis Eisenstein's wandering minstrel Alaric, one of the most beloved characters in modern fantasy, appeared in eight short stories in Fantasy & Science Fiction between 1978-1998, and in two novels: Born to Exile (1978) and In the Red Lord's Reach (1989). He recently made a long-overdue reappearance in George R.R. Martin and Gardner Dozois' massive 2014 anthology Rogues, in the novelette "The Caravan to Nowhere."
He's reappeared again, this time in the new novelette "The Desert of Vanished Dreams" in the latest issue of The Magazine of Fantasy and Science, still on sale at better bookshops. In honor of the occasion, F&SF has interviewed Phyllis on their website, and Phyllis reveals several secrets about the magical world she's been nurturing for nearly four decades.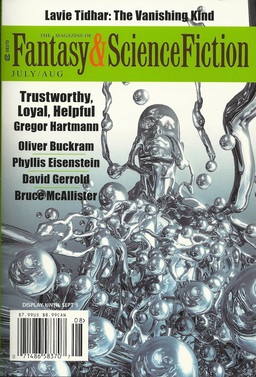 [Click on the images for bigger versions.]
Here's a snippet.
Your first story of Alaric the Bard, "Born to Exile," appeared in F&SF forty five years ago. After such a long time, what keeps drawing you back to this character?

Alaric and I first met when we were both fifteen (he has aged a lot less than I have). A couple of years earlier, I had read Alfred Bester's The Stars My Destination, which became and remains my favorite science fiction novel, and after that I had been playing around with the idea of teleportation. Not in a future world where it would be both acceptable and highly useful, but in a world of superstition, where it would be terrifying to ordinary people and therefore dangerous to its possessor.

I finally started a story in which Alaric was in his thirties, but about halfway through I realized that I was starting much too late in his life, not to mention that I just wasn't a good enough writer, yet, to do it justice, so I put it aside. It took me a number of years to find the story I wanted to tell first, as well as to develop the skill to write it.

Now, after living with Alaric for so long, I see him as an old friend, and there's no way I can resist visiting him now and then to find out how he's doing, as well as to reveal more about his world. The biggest secret is now out, with "The Desert of Vanished Dreams," but I still haven't written that story about him in his thirties, so there are more Alaric adventures waiting for me to get to them.
Read the complete interview here.
We previously covered Phyllis's novel Sorcerer's Son here.
See all of our coverage of Vintage Treasures here.