Solitaire Wargaming: B-17 Leader
Solitaire Wargaming: B-17 Leader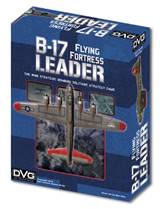 More and more I think John O'Neill is right — we're in a golden age of boardgames. And not just the familiar sort where it takes a room full of friends to play, but solitaire wargames, such as those produced by Victory Point Games, White Dog Games, and Dan Verssen Games, or DVG. Given the dearth of nearby board gamers, it was these solitaire games that most interested me, and I've played and reviewed a number over the years. Eventually I began to loiter on the periphery of some boardgame sites, most regularly Board Game Geek, where I noticed that there were some great game tweaks to DVG's U-Boat Leader game by a fellow named Dean Brown.
We struck up a friendship, and when I saw he was developing his own game for DVG, I signed on as a playtester. I wasn't actually that curious about B-17 bombers, or airplanes in general, but it didn't matter: the game's turned out to be a blast. Tuesday it launched as a Kickstarter, so I sat down yesterday and talked with Dean a little about it and his history with gaming.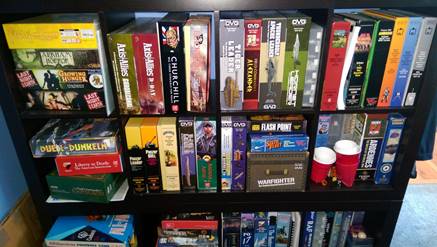 Tell us a little bit about yourself and your background. Have you always been a board gamer? 
I'm currently an engineer at Lockheed Martin with 20 years there, and 10 years as a Radar Engineer at Westinghouse Electric.  I'm married with two grown boys who have very little interest in wargaming (I know… dropped the ball there).  I've been a board gamer on and off for about 25 years, although I stepped away from them in the '90s when the kids were little. I've experienced a resurgence in interest the last few years, purchasing way more games than I've been able to play.
I know what that's like… What interested you in war games and solitaire games?
I like reading history books… inherited that from my Dad.  My interests have changed a lot, with a lot of reading years ago about the Civil War and the Revolutionary War, then ancients (Greeks and Romans), then the medieval period (still doing some reading there), and recently a lot about World War II.  I started buying wargames in the late '80s, and my favorite game was Ambush.  It was solitaire and I liked how my men leveled up and became better as the scenarios progressed. Once I started collecting games again I purchased several from DVG, starting with U-Boat Leader and Hornet Leader, then Field Commander: Alexander and Thunderbolt Apache Leader.  I liked the DVG games because they're solitaire and fairly easy to learn and play.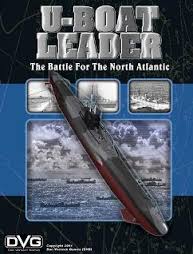 How did you get involved in game design?
I started out by making some small variants to U-Boat Leader. Although I liked the game, I wanted to tweak it to match my interests.  I added some "Chrome" to the game by adding medals and more detailed logs, then additional "event" cards to change up the tactical phase.  Then I created a Convoy Intercept mini-game and decided to make a tactical variant that included a lot of the tactics and maneuvering that U-Boats did during the war. All of this took the game well beyond its intended scope, and inspired me to design my own solitaire "Leader" game, so I contacted Dan Verssen at DVG.
The advantage of designing a "Leader" game is that a solid game foundation already existed, and I thought I "only" had to pick the theme and implement the existing engine around it.  It turns out that it wasn't quite as simple as that.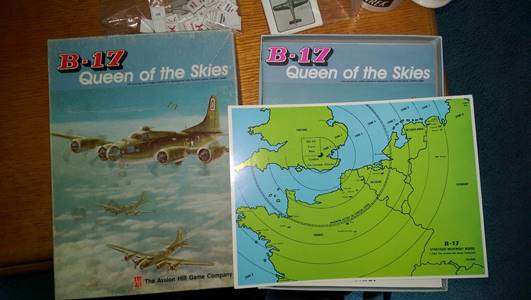 What made you interested in a game about the American Bombing Campaign in the European Theater of Operations (ETO)?
I'd recently acquired B-17 Queen of the Skies, a classic game created by Avalon Hill, where you take command of a single B-17 Bomber and attempt to complete 25 bombing missions while keeping as many crew members alive as you can.  There are a lot of charts and tables that walk you through each mission.  While there really aren't a whole lot of decisions to make, the game generates an interesting narrative… which basically means you become invested in keeping your aircraft going and getting "your" named crew back safely.  That game kicked off another round of buying and reading books about the American and British bombing campaign over German-controlled countries, and against Germany itself.

What are the goals of players in your game?
I wanted to do the following:
Highlight the Strategic Bombing Campaign against Germany, which meant that there had to be lots of bombers and fighters involved.
Focus the game on the primary goal of the Bombing Campaign, which was to reduce the fighting capability of the Luftwaffe so that the D-Day invasion could safely land and gain a foothold.
Include the various tactics and technologies that evolved on both sides throughout the campaign.
Include aspects that significantly affected the campaign, like weather and intelligence.
Provide long-term scenarios or campaigns that show how the bombing campaign affected the Luftwaffe, other industries, and the overall War Campaign on multiple fronts (Russian and Mediterranean).
As a solitaire game, I wanted the German AI to include numerous setups and responses to keep the game unpredictable.
The existing DVG Air Leader games are focused on individual planes and pilots, so it took some time and many (many) revisions (with Dan's help and guidance) to accomplish my goals, but do it within the framework of the Air Leader series.  I think it has a pretty good balance of recognizable Air Leader aspects with unique gameplay elements.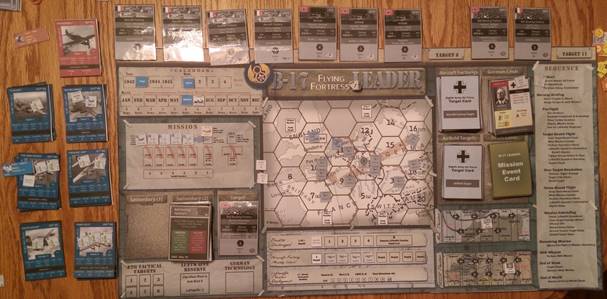 There are other games about flying bombers in the war. How is yours different?
There are some pretty good existing games out there.
B-17 Flying Fortress Leader (B-17 FFL) is a solitaire game, which means you can play anytime you want. It doesn't provide the personal narrative of flying "your" Bomber with "your" crew like B-17 Queen of the Skies. Instead, it does a good job of putting you in in the role of the Eighth Air Force commander by allowing you to spend your limited resources to build the bomber force, fighter aircraft, commanders, and technologies you think gives you the best chance to destroy Germany's ability to wage war.  You choose which targets to attack, the forces attacking, the bombs to load, and the path to the target. Different German Commanders will initiate technologies and tactics against you, as well as various response levels. Random placement of Luftwaffe Squadrons, random selection of Luftwaffe Commanders, numerous Secondary Missions, and multiple Campaigns makes the game highly replayable and challenging.
Thanks, Dean.
Howard here: For more details about the game itself, you can visit its Kickstarter, or my own site, where I spoke briefly with Dan Verssen, creator and owner of DVG.
---
Howard Andrew Jones is the author of the historical fantasy novels The Desert of Souls, and the The Bones of the Old Ones, as well as the related short story collection The Waters of Eternity, and the Paizo Pathfinder novels Beyond the Pool of Stars,  Plague of Shadows and  Stalking the Beast. You can keep up with him at his website, www.howardandrewjones.com, and follow him on Twitter or follow his occasional meanderings on Facebook.