Dorsai and Secret Psi Powers: Rich Horton on The Genetic General/Time to Teleport by Gordon R. Dickson
Dorsai and Secret Psi Powers: Rich Horton on The Genetic General/Time to Teleport by Gordon R. Dickson
Over at Strange at Ecbatan, Rich Horton turns his attention to an author who's rapidly being forgotten in the 21st Century: Gordon R. Dickson.
So this time an Ace Double featuring a pretty significant novel in SF history, by a pretty significant writer. The Genetic General is much better known as Dorsai!, the title under which it was serialized in Astounding in 1959… Dorsai! was the first major story in Dickson's central series, called The Childe Cycle… The Genetic General is about a young man of the Dorsai people, from the planet called Dorsai, orbiting Fomalhaut. The Dorsai are mercenaries, and Donal Graeme, as the book opens, is a very young man just ready to go out into the wider human civilization and take on his first assignment. Immediately he encounters a beautiful but scared woman, Anea, the Select of Kultis, one of the Exotic worlds. She has taken a contract to be an escort for the powerful merchant William of Ceta, and wants Donal to get rid of it. He of course realizes that would be a crime and a mistake, and so refuses, but he is set on a collision course with William…

It's early Dickson, not as well done as some of his later work. But it is quite exciting, and Donal's military feats make good stories. And Dickson's ambition is quite apparent — he is interested in deeper themes than just good adventure. I quite enjoyed the book.
Dorsai! was a major installment in a highly popular multi-novel sequence from Dickson, and it remained in print for decades. As Rich noted, it originally appeared in Astounding, serialized across three issues (May, June, and July) in 1959.
[Click the covers for bigger versions.]
The first two covers above are by H. R. Van Dongen; the last is by Frank Kelly Freas.
Here's a look at the wraparound cover for the second Ace reprint, from February 1980, with the original title restored (art by Jordi Penalva).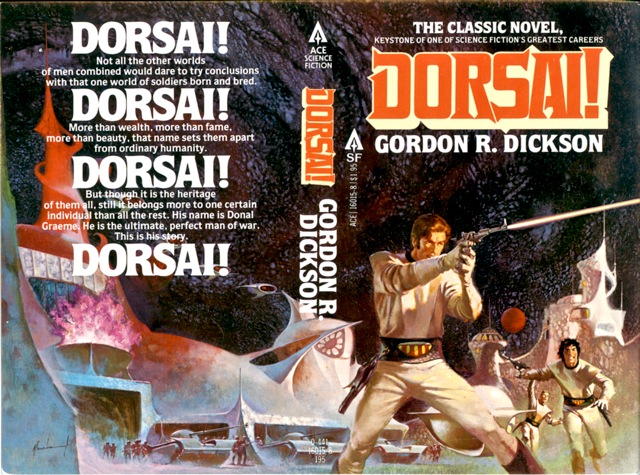 Dorsai! was reprinted dozens of times between 1960 and 2013, from many publishers. Here's three of the more popular editions, from DAW (February 1976), Sphere (June 1976), and Tor (March 1993).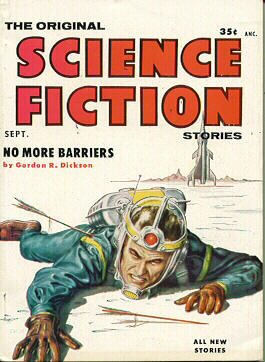 The covers are by Paul Lehr, unknown, and Luis Royo.
The flip side of the original Ace Double was a considerably lesser-known work, Time to Teleport. Here's Rich again.
The book on the reverse was also by Dickson, a short novel (really a long novella) called here Time to Teleport, though as far as I can tell the original magazine title was "No More Barriers" (Science Fiction Stories, September 1955). In this version it's about 37,000 words (quite possibly the same as the original, or just slightly longer). The Genetic General is perhaps 65,000 words…. Time to Teleport, the other half, is an earlier work of course. Indeed, in a sense it's Dickson's first novel, even though not quite novel length, as its magazine publication preceded any other Dickson story ever published as a book. It's set in a future in which humanity is divided based on the types of work people do; groups like Transportation, Atomics, and Metal. Eli Johnstone is the head of one of the smaller groups, Underseas, but he has managed to be a power broker, maintaining a tenuous political balance between rival factions.

One of the main controversies facing the world involves a group of philosophical researchers who call themselves Members of the Human Race. They are hoping to understand the evolution of new human powers, psi powers, as part of the next step in human evolution. But their opponents fear them, believing that "normal" humans will be swept aside.

Now Eli wants to retire, just as his main rival, Tony Sellars of Transportation, is stepping up rhetoric against the "Members." But Eli is ready to volunteer for an experimental operation, that will replace his worn out body parts with new ones. And so he leave, while Sellars increases his pressure, and makes his move to take over the world. At the critical moment, Eli must finally face his true nature… which is not so hard to guess!

This is a minor work, but still somewhat interesting, and still showing Dickson interested in deeper philosophical themes. It was clunky enough to not quite work, but it's still an moderately enjoyable story.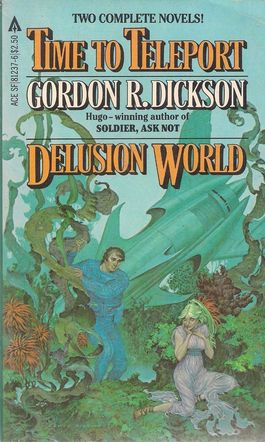 Time to Teleport was reprinted only once in the US, and a paperback omnibus edition from Ace Books in July 1981, paired with his 1961 novel Delusion World (right, cover by Stephen Hickman).
Read Rich's complete review here.
The Genetic General/Time to Teleport was published by Ace Books in 1960. It is 159+96 pages, priced at 35 cents. The covers were by Ed Valigursky and Ed Emshwiller, respectively.
Our previous coverage of Gordon R. Dickson includes:
Dickson's Dorsai! to Hit Small Screen by Bill Ward
Vintage Treasures: Jamie the Red by Gordon R. Dickson with Roland Green
Vintage Treasures: None But Man by Gordon R. Dickson
And our recent coverage of Ace Doubles includes:
Space Stations With Secret Passages, and Snow White in Space: Rich Horton on Sanctuary in the Sky by John Brunner/The Secret Martians by John Sharkey
Parallel Universes and Space Marines: Rich Horton on The Games of Neith by Margaret St. Clair/The Earth Gods are Coming by Kenneth Bulmer
The Problem With Marion Zimmer Bradley: Rich Horton on Falcons of Narabedla/The Dark Intruder
King of the Fourth Planet/Cosmic Checkmate by Robert Moore Williams and Charles V. De Vet & Katherine MacLean
Our Man in Space/Ultimatum in 2050 A.D. by by Bruce Ronald and Jack Sharkey
Rocannon's World/The Kar-Chee Reign by Ursula K. LeGuin and Avram Davidson.
The Plot Against Earth/Recruit for Andromeda by Calvin M. Knox and Milton Lesser
Warlord of Kor/The Star Wasps by Terry Carr and Robert Moore Williams
The Sun Saboteurs/The Light of Lilith by Damon Knight and G. McDonald Wallis
Wandl the Invader/I Speak For Earth by Ray Cummings and Keith Woodcott (John Brunner)
The Sioux Spaceman/ And Then the Town Took Off by Andre Norton and Richard Wilson
Secret of the Lost Race/ One Against Herculum by Andre Norton and Jerry Sohl
Clockwork's Pirates/Ghost Breaker by Ron Goulart
ATTA/ The Brain-Stealers by Francis Rufus Bellamy and Murray Leinster
The Ship from Atlantis/ The Stolen Sun by H. Warner Munn and Emil Petaja
Vulcan's Hammer / The Skynappers by Philip K. Dick and John Brunner
The Ship That Sailed the Time Stream by G.C. Edmondson
Bow Down to Nul / The Dark Destroyers by Brian W. Aldiss and Manly Wade Wellman
See all of our recent Vintage Treasures here.