Goth Chick News: Kiefer Sutherland and Hollywood Both Flatline
Goth Chick News: Kiefer Sutherland and Hollywood Both Flatline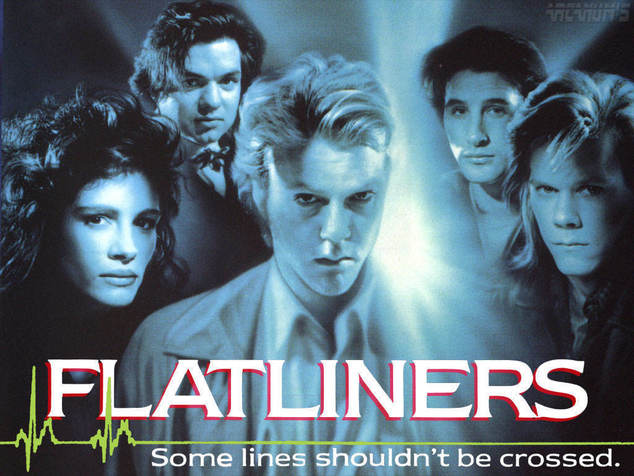 Back in 1988 a then-unknown Boston screenwriter Peter Filardi had an idea for a story based on a very personal source; a close friend of his suffered a severe allergic reaction to the anesthesia after an operation and had a near-death experience.
Filardi went on to write The Craft and Salem's Lot, but in 1990 he and director Joel Schumacher (St. Elmo's Fire) turned that potential tragedy into the very lucrative film Flatliners.
The original Flatliners followed a group of medical students and close friends who conduct experiments with near death experiences. Each one has their heart stopped before being revived instantly, which causes them nightmarish visions, reflecting either sins they have committed or sins committed against them.
As you can imagine, their unorthodox extracurricular studies have very dark consequences, as the supernatural apparitions they experience during their "deaths" begin to follow them into the living world.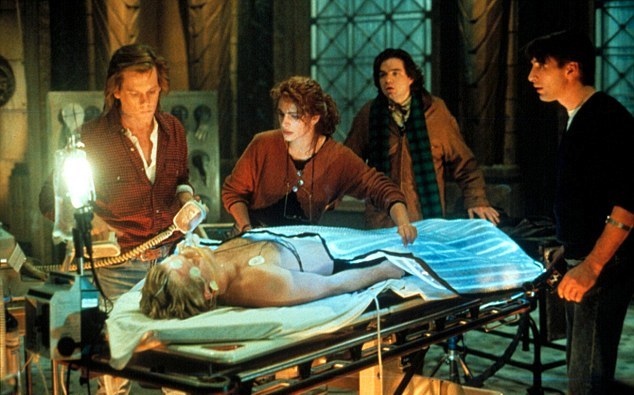 The cast was chock full of rising stars such as Kiefer Sutherland, Julia Roberts, Kevin Bacon, Oliver Platt and William Baldwin, prompting The Washington Post to describe Flatliners as "a Brat Pack neo-Gothic that plays like Frankenstein in reverse."
Art directed within an inch of its life by Schumacher, it won an Academy award for effects and sound, and was ultimately a commercial success (with that cast how could it not be?) This may or may not have contributed to this next bit of back-from-the-dead news.
Sony Pictures is remaking Flatliners, and they've dug up Kiefer Sutherland to join in the fun.
Sutherland (24, The Lost Boys), who played the highly unlikable Nelson in the original, has committed to the upcoming reboot, although the deal has not yet been finalized, according to Deadline.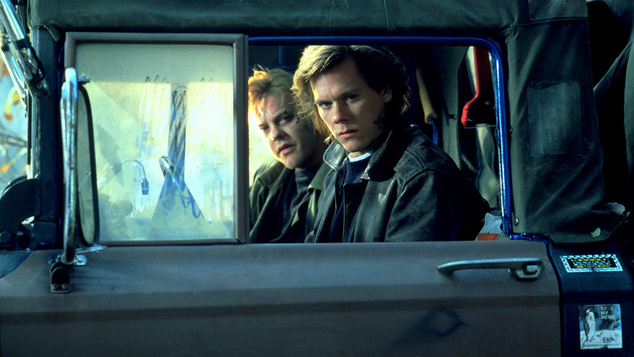 The new Flatliners is being directed by Niels Arden Oplev (The Girl with the Dragon Tattoo – the original Swedish version) but will be written this time around by Ben Ripley. It is being produced by Laurence Mark and Michael Douglas and will go into production in Toronto in the coming days.
The new cast is being described as 'more inclusive' and international, featuring Ellen Page (Inception) and Diego Luna (Star Wars Rogue One), although no details were given for their characters quite yet. Nina Dobrev (Vampire Diaries) is portraying Marlo, an overachieving student who is at the top of her class and is possibly a re-visioning of the character originally portrayed by Kevin Bacon. The cast also includes James Norton and Kiersey Clemons. Sutherland is thus far slated to be playing a "seasoned doctor."
Sony has already announced the release date for Flatliners as August 18, 2017 which this far in advance has already put it up against some serious competition. 20th Century Fox's Alien: Covenant has an early August of 17 release date as does Warner Bros.' theatrical remake of CHiPS.
If you don't remember the original Flatliners or never saw it, check out the trailer. Aside from some fairly cheesy moments, the film still holds up and it kind of makes me wonder what the latest CGI could do for the reboot.
A Flatliners reboot: great idea or better off dead? Post a comment or drop a line to sue@blackgate.com.