Future Treasures: Drowned Worlds: Tales from the Anthropocene and Beyond, edited by Jonathan Strahan
Future Treasures: Drowned Worlds: Tales from the Anthropocene and Beyond, edited by Jonathan Strahan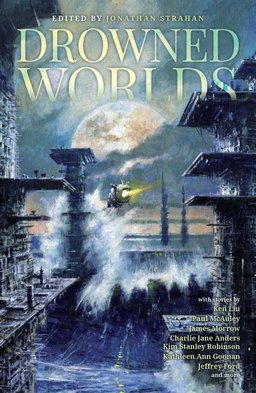 Jonathan Strahan has edited some extremely impressive anthologies. In fact, we assessed his recent Meeting Infinity as the most successful anthology of 2016 (using our own highly subjective yardstick, of course.) His latest, Drowned Worlds, contains all-original fiction by some of the biggest names in SF, including Kim Stanley Robinson, Ken Liu, Paul McAuley, Kathleen Ann Goonan, Rachel Swirsky, Charlie Jane Anders, Lavie Tidhar, Jeffrey Ford, and James Morrow, and it promises to be just as interesting. On his Coode Street blog, Jonathan summarizes it thusly:
I think it's sharp, pointed, timely and sometimes satirical. I think it's about who we are when faced with disaster, and not about disaster. I think it makes for good reading.
Here's the publisher's take:
Last call for the Gone World…

We live in a time of change. The Anthropocene Age – the time when human-induced climate change radically reshapes the world – is upon us. Sea water is flooding the streets of Florida, island nations are rapidly disappearing beneath the waves, the polar icecaps are a fraction of what they once were, and distant, exotic places like Australia are slowly baking in the sun.

Drowned Worlds asks fifteen of the top science fiction and fantasy writers working today to look to the future, to ask how will we survive? Do we face a period of dramatic transition and then a new technology-influenced golden age, or a long, slow decline? Swim the drowned streets of Boston, see Venice disappear beneath the waves, meet a woman who's turned herself into a reef, traverse the floating garbage cities of the Pacific, search for the elf stones of Antarctica, or spend time in the new, dark Dust Bowl of the American mid-west. See the future for what it is: challenging, exciting, filled with adventure, and more than a little disturbing.

Whether here on Earth or elsewhere in our universe, Drowned Worlds give us a glimpse of a new future, one filled with romance and adventure, all while the oceans rise…
Here's the complete Table of Contents.
"Elves of Antarctica," Paul McAuley
"Dispatches from the Cradle: The Hermit – Forty-Eight Hours in the Sea of Massachusetts," Ken Liu
"Venice Drowned," Kim Stanley Robinson
"Brownsville Station," Christopher Rowe
"Who Do You Love?," Kathleen Ann Goonan
"Because Change Was the Ocean and We Lived by Her Mercy," Charlie Jane Anders
"The Common Tongue, the Present Tense, the Known," Nina Allan
"What is," Jeffrey Ford
"Destroyed by the Waters," Rachel Swirsky
"The New Venusians," Sean Williams
"Inselberg," Nalo Hopkinson
"Only Ten More Shopping Days Left Till Ragnarök," James Morrow
"Last Gods," Sam J. Miller
"Drowned," Lavie Tidhar
"The Future is Blue," Catherynne M. Valente
Our recent coverage of Jonathan's books includes:
The Most Successful Anthology of 2015: Meeting Infinity
The Best Science Fiction and Fantasy of the Year: Volume Ten
A Concentrated Dose of the Best Our Field Has to Offer: Jonathan Strahan's Best Short Novels 2004-2007
Future Treasures: Meeting Infinity
The Early Jack Vance, Volume 4, edited by Terry Dowling and Jonathan Strahan
The Early Jack Vance, Volume 5, edited by Terry Dowling and Jonathan Strahan
Fearsome Magics: The New Solaris Book of Fantasy
Reach For Infinity
The Best Science Fiction and Fantasy of the Year Volume 8
Fearsome Journeys: The Solaris Book of Fantasy
Swords and Dark Magic, edited by Jonathan Strahan & Lou Anders
Drowned Worlds will be published by Solaris Books on July 12, 2016. It is 336 pages, priced at $14.99 in trade paperback and just $6.99 for the digital edition. The cover is by Les Edwards.
See all of our coverage of the best in upcoming fantasy fiction here.