April Short Story Roundup
April Short Story Roundup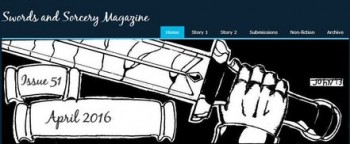 Are you sitting comfortably? Then I'll begin.
Another of 2016's months has come and gone, which means it's time to round up and review a batch of new short stories.
Swords and Sorcery Magazine #51  presented its usual complement of two stories in April. The first is by a newcomer to the magazine's pages, Jason Ray Carney. "The Ink of the Slime Lord" gave me nearly everything I could want from a S&S story: a wicked sorceress, dire magics, a dashing pirate, and plenty of monsters.
A trio of evil sisters with dreams of dominion run up against powerful opponents:
The Three Sisters had established a cult centered on a book bound in human skin and inked with blood. This cult threatened the priesthood of Atok-the-Million-Eyed, and for this the sisters would be punished with impunity, the leaves of their philosophy scattered to the winds.
The youngest of the sisters, Mera, "was tenacious. She was able to put her head back on her body." Revived, she sets off for the titular ingredient in order to bring her sisters back to life as well. Her quest builds in scope as she first faces off against a single wizard, then dives into the underworld in search of a certain pirate before making for a lost and ruined city and the temple of the demonic Slime Lord.
Carney's complete lack of restraint and deeply purple prose are a large part of what made me dig this story completely. If you're going to be extreme, go to 11. Good fun.
In James Lecky's "But the Dreams of Men," a man wracked by guilt over the horrible sins in his past inadvertently finds a path to redemption of sorts. Black Tomas, so named not "just for the colour of his hair or his dark complexion, but for the colour of his soul," comes across a ravaged village. From a dying old woman he learns fish-men came from the sea, killing everyone save the younger women. Those they took to their lair. She begs Tomas to help them. Reluctant at first, he gives in:
But not in Vaulth's name, nor in the name of any of the gods. Not for the sake of the old woman's geis, but for the sake of my own peace. My own soul.

So you would seek redemption in the same way you found damnation, Black Tomas, with the blade of an axe?
Lecky's one of those writers toiling away in the trenches of short fiction and regularly turning out terrific work. I know the sin-burdened soldier struggling to find some sort of ease for his soul isn't an original character, but Lecky does it quite well.  He consistently finds the right balance between characterization, narrative, and action. If you haven't read him before, this is an excellent place to start.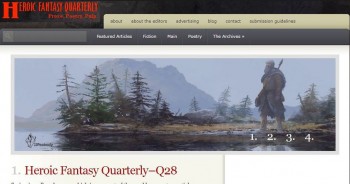 Heroic Fantasy Quarterly #28 brings two new stories, the conclusion to two old stories, and a pair of poems. If you only read a single 'zine, HFQ should be that one, though that's crazy talk, right? I mean, you're reading all of them, right?
In the last issue, Eric Atkisson's half-Comanche wanderer, Crazy Snake, found himself up against an evil god and his followers. Now, in the second part of "Crazy Snake and the Tribute for Pachacamac," he must find a way to face off against the deity. This is a satisfying tale of adventure with a setting and type of character too rarely used. I'll leave it at this: read it!
She knew she was beautiful. In fact, she found it painfully obvious. Catharine owned no mirrors and her windows had no glass. There was not a scrap of reflective metal in her house, and even her image in the river was a wave of motion. No, Catharine had come to rely on the opinions of the others who came looking for her. And they always came.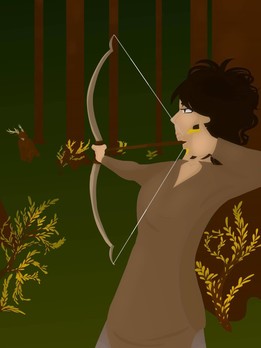 Marlena Frank's "Curse of Beauty" is a fairy tale brought to life with a goodly dose of realism. Since her mother left, Catharine has lived in a cottage in the deep woods, alone save for two cats. When a man comes searching for her, her settled world is turned on its head in ways she never expected.
This is a beautifully written and deeply sorrowful story about the true origins and nature of monsters. I have never encountered Frank's writing before, but will now keep a sharp eye out for it.
Andreas, narrator of "Brotherhood of the Book" by M.R. Timson, is a scribe hired by a secretive brotherhood to assist in a great mysterious project. When he is approached by Darema, a fellow scribe, who tells him things are not what they seem, Andreas becomes suspicious of his employers. When he is promoted upon the death of Darema, his misgivings start to seem justified. This is a wonderfully paranoid story, with a nice dose of creepiness to boot.
HFQ editor Adrian Simmons concludes the story he started last issue: "The Siege, The Gums, and The Blue." It's about as grim a story as has ever been printed on the pages of HFQ. In the first part, the city of Oskzeyn was besieged by ferocious barbarians from the steppes. Izydor, a young refugee was seconded into the army of defenders while the ailing king's young daughter, Gizela, struggled to hold off the enemy.
The siege grinds on, wearing down those inside and outside the defenses. Just how far must and can Gizela go to save her people and their home? How does a soldier, only recently a farmboy, survive and change in the face of horrendous violence? These questions and more are answered in dark, gritty detail. Much blood is shed and the depths of despair are plumbed. It's a model of how grimdark should be done, without an ounce of gratuitousness.
Finally, the poems. Mary Soon Lee continues her epic poem,  The Sign of the Dragon, with another installment, "Inheritance." Odin's birds Thought and Memory contemplate the taste of an eyeball and other important things in David Sklar's "The Allfather's Ravens."
So that's it, another month, another thirty days measured out in six stories and two poems. At a price of absolutely nothing, how can you go wrong by just clicking on the links and reading some top notch writing? Let me tell you, you can't, that's how! Did I tell you they're free? 'Cause they are. So, go, and read, and then let them know how much you liked their efforts.
---
Fletcher Vredenburgh reviews here at Black Gate most Tuesday mornings and at his own site, Swords & Sorcery: A Blog when his muse hits him. You can read the last short story roundup here.