Support the Launch of Skelos, a New Magazine of the Weird
Support the Launch of Skelos, a New Magazine of the Weird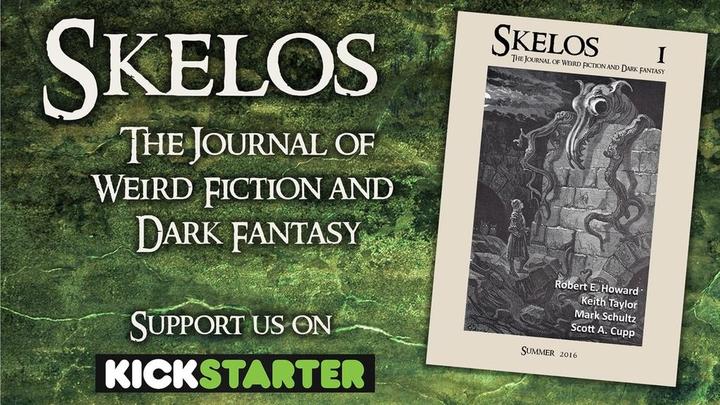 It's always exciting to hear about the launch of a new fantasy magazine — and it's especially exciting when it's as promising as Skelos, a new journal of Weird Fiction and Dark Fantasy.
Skelos is edited by a trio of Weird Fiction rock stars — Jeffrey Shanks, co-editor of the fabulous Unique Legacy of Weird Tales, Mark Finn, noted blogger and author of the World Fantasy Award-nominated Blood and Thunder: The Life and Art of Robert E. Howard, and Chris Gruber, editor of Robert E. Howard's Boxing Stories, from the University of Nebraska Press.
The Kickstarter campaign to fund the first issue is already at 150% of goal in barely 24 hours — which means that the first issue of Skelos will be arriving this summer. It will be packed with new fiction and great art, including a never-before-published fantasy piece by Robert E. Howard, illustrated by none other than Mark Schultz. Here's the complete details.
The first issue of Skelos: The Journal of Weird Fiction and Dark Fantasy will feature a never-before-published fantasy piece by Robert E. Howard (Conan, Kull, Solomon Kane) illustrated by the legendary Mark Schultz (Xenozoic Tales, Coming of Conan, Prince Valiant). Also featured is a new sword and sorcery novelette by Keith Taylor (Bard series, Cormac Mac Art), a long-awaited sequel to his classic tale "Men from the Plain of Lir" originally published in Weird Tales. This story will be illustrated by the fantastic Tomás Giorello (Dark Horse King Conan). Another highlight of the issue will be a tale of dark fantasy from World Fantasy Award nominee and John W. Campbell Award nominee Scott A. Cupp…

The first issue will contain short fiction from such talented writers as Charles Gramlich, Dave Hardy, Jason Ray Carney, Ethan Nahte, Scott Hannan, and Matt Sullivan; a fully illustrated adaptation of Grettir and the Draugr from the Icelandic sagas by Samuel Dillon; weird verse by Frank Coffman, Pat Calhoun, Kenneth Bykerk, and Jason Hardy; Insightful essays by Nicole Emmelhainz, Karen Kohoutek, and Jeffrey Shanks; reviews by Charles Hoffman, Bobby Derie, Keith West, Todd Vick, Paul McNamee, Deuce Richardson, and Josh Adkins; and with illustrations by Mark Schultz, Tomás Giorello, Samuel Dillon, and David Cullen.
I asked Jeffrey Shanks to tell Black Gate's readers a bit more about the magazine. Here's what he shared with me.
We are very excited to finally bring this project to fruition. Our goal is to publish the kind of great fiction that we ourselves love to read: sword and sorcery, cosmic horror, dark fantasy, sword and planet, new weird, and similar genres. This is truly a labor of love and we are trying to do more than just publish a magazine — we want to build a community of like-minded writers, artists, scholars, and fans who share the same passion for this material that we do!
The Kickstarter campaign will run until June 10, and the first issue will begin shipping in late June, in both print and ebook editions. You can find more information on the Skelos Press Facebook page, or follow the project on Twitter @SkelosPress.
Check out the Kickstarter page here.