Pirates, Weather Sorcery, and Desperate Nautical Adventure: The Drowning Eyes by Emily Foster
Pirates, Weather Sorcery, and Desperate Nautical Adventure: The Drowning Eyes by Emily Foster
I started a new job two weeks ago, and for the first time in my life I'm commuting to downtown Chicago by train every day. Sixty minutes both ways, give or take. You know what's perfect for a two-hour daily commute? Tor.com's new novellas, that's what. They're the ideal length, they're written by the top fantasy writers in the field — and some great emerging talent — and the price is right. The first one I tried was The Drowning Eyes, and I'm glad I did.
According to Emily Foster's bio in the back, she's a fresh-faced graduate from the University of Northern Colorado, which likely makes her less than half my age. There are times, in this fast-paced tale of pirates, weather sorcery, and desperate nautical adventure, when her youth is apparent, especially in moments of dialog between Tazir, the grizzled Captain of the Giggling Goat, and her frequently cranky crew. But most of the time it's not — which frankly is even more annoying. When punk kids start turning out polished gems of adventure fantasy like The Drowning Eyes, it takes all the joy out of cranky reminiscences about the good ole days of pulp fantasy. They're even taking that away from us.
Foster starts us off more-or-less right in the middle of the action. Tazir and her senior officers, her quartermaster (and sometime lover) Chaqal and her stalwart first mate Kodin, are in a seaside tavern, and down to their last few coins. They're anxiously looking for a rich passenger, when in walks Shina, obviously rich and just as obviously on-the-run. When Shina offers them an enormous sum of money for one-way passage north, it seems too good to be true.
It is too good to be true, of course. Shina is a girl with secrets — a lot of secrets. Tazir and her crew are used to transporting girls fleeing unwanted marriages, or the long arm of the law. But the powers chasing Shina have laid waste to entire civilizations, and would happily wipe out the entire coastal kingdoms to possess her. It's not long before Tazir and her resourceful crew are in a desperate race for their lives, into deep and dark waters.
But the greatest danger to Tazir and her shipmates isn't what's chasing them. Shina is carrying some very deadly items of her own. As Tazir struggles to stay ahead of the most dangerous fleet she's ever faced, her passenger is grappling with magic of near apocalyptic power.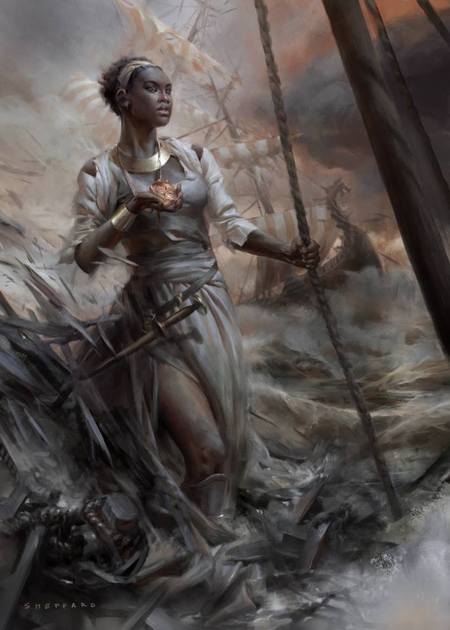 Cynthia Sheppard's marvelous cover (click for bigger version)
Foster has a gift for firing the imagination with just a sentence or two, and she exercises that gift frequently. One of my favorite lines in the book isn't even in the text of the novel — it's the dedication:
For Suzanne, who asked about the maps on my wall.
Before I'd even started this short novel, I was imagining the encounter between Foster and Suzanne, probably in a dorm room in the University of Northern Colorado, and how it might have triggered the genesis of this story. As dedications go, that one's not bad at all.
As imaginative as Foster's world is, she doesn't always have complete control of it. The narrative jumps back and forth quite a bit, as we learn just what it is that Shina is carrying, where it came from, and why everyone wants it. Except we don't, not entirely. We get pieces of it, but the story is moving so quickly that narrative logic temporarily takes a back seat… and then seems to get overlooked entirely.
These are the kind of plot details that sharp-eyed readers might be able to puzzle out with a re-reading or two. I dunno, I'm still learning to read on a train while a loudspeaker blares out announcements every five minutes. But it wouldn't kill an author to work with me a little, I'm just sayin'.
Also, this book has a small cast. I mean, tiny. We never even learn the names of the rest of Tazir's loyal crew. They're just faceless minions who weigh anchor and batten down hatches and do other nautical stuff. They were brave and I liked them, and I wish they had names.
But on the big stuff — plot and pacing, and gloriously imaginative weather magic, and a climax that pulls absolutely no punches — Foster has her act together. This was a fun little read, and it moved like a freight train. Or a courageous little skiff in a stiff wind, being chased relentlessly upriver by dragon boats.
The Drowning Eyes was published by Tor.com on January 12, 2016. It is 134 pages, priced at $12.99 in trade paperback, or $2.99 for the digital edition. The cover is by Cynthia Sheppard.
For more details on Tor.com's novellas, check out their online catalog:
New Releases
Coming Soon
Free Short Fiction — hundreds of free short stories and novelettes at Tor.com
We covered the first baker's dozen Tor.com novellas:
The Sorcerer of the Wildeeps by Kai Ashante Wilson
Witches of Lychford by Paul Cornell
Sunset Mantle by Alter S. Reiss
Binti by Nnedi Okorafor
The Last Witness by K. J. Parker
Of Sorrow and Such by Angela Slatter
Envy of Angels by Matt Wallace
The Builders by Daniel Polansky
Domnall and the Borrowed Child by Sylvia Spruck Wrigley
The Shootout Solution by Michael R. Underwood
The Drowning Eyes by Emily Foster
The Ballad of Black Tom by Victor LaValle
Patchwerk by David Tallerman
And we surveyed their most recent releases here:
The Goblin King, New York Sorcery, and Demon Pirates: The New and Upcoming Fantasies of Tor.com
Check out the first ten novellas (with sample chapters) here.