Ann and Jeff Vandermeer's The Big Book of Science Fiction Will be One of the Largest Anthologies the Genre Has Seen
Ann and Jeff Vandermeer's The Big Book of Science Fiction Will be One of the Largest Anthologies the Genre Has Seen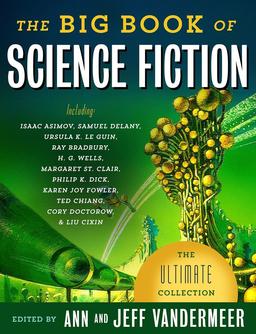 I've covered a handful of truly massive anthologies at Black Gate over the years — Otto Penzler's The Vampire Archives and The Big Book of Adventure Stories spring to mind, as well as Ann and Jeff Vandermeer's 1152-page The Weird — but I'm not sure I've ever come something as hugely ambitious as The Big Book of Science Fiction, edited by the Vandermeers, and scheduled to be released by Vintage this July.
Weighing in at 1,216 pages in oversized trade paperback, this could be one of the largest anthologies the genre has seen. Here's the description.
Quite possibly the greatest science fiction collection of all time — past, present, and future!

What if life was neverending? What if you could change your body to adapt to an alien ecology? What if the pope were a robot? Spanning galaxies and millennia, this must-have anthology showcases classic contributions from H. G. Wells, Arthur C. Clarke, Octavia E. Butler, and Kurt Vonnegut, alongside a century of the eccentrics, rebels, and visionaries who have inspired generations of readers. Within its pages, you'll find beloved worlds of space opera, hard SF, cyberpunk, the New Wave, and more. Learn about the secret history of science fiction, from titans of literature who also wrote SF to less well-known authors from more than twenty-five countries, some never before translated into English. In The Big Book of Science Fiction, literary power couple Ann and Jeff VanderMeer transport readers from Mars to Mechanopolis, planet Earth to parts unknown. Immerse yourself in the genre that predicted electric cars, space tourism, and smartphones. Sit back, buckle up, and dial in the coordinates, as this stellar anthology has got worlds within worlds.
And here's the complete Table of Contents — including a rich assortment of world SF.
Yoshio Aramaki, "Soft Clocks" 1968 (Japan)
Juan José Arreola, "Baby H.P." 1952 (Mexico)
Isaac Asimov, "The Last Question" 1956
J.G. Ballard, "The Voices of Time" 1960
Iain M. Banks, "A Gift from the Culture" 1987
Jacques Barbéri, "Mondo Cane" 1983 (France)
John Baxter, "The Hands" 1965
Barrington J. Bayley, "Sporting with the Chid" 1979
Greg Bear, "Blood Music" 1983
Dmitri Bilenkin, "Crossing of the Paths" 1984
Jon Bing, "The Owl of Bear Island" 1986 (Norway)
Adolfo Bioy Casares, "The Squid Chooses Its Own Ink" 1962 (Argentina)
Michael Bishop, "The House of Compassionate Sharers" 1977
James Blish, "Surface Tension" 1952
Michael Blumlein, "The Brains of Rats" 1990
Jorge Luis Borges, "Tlön, Uqbar, Orbis Tertius" 1940 (Argentina)
Ray Bradbury, "September 2005: The Martian" 1949
David R. Bunch, "Three From Moderan" 1959, 1970
Octavia Butler, "Bloodchild" 1984
Pat Cadigan, "Variations on a Man" 1984
André Carneiro, "Darkness" 1965 (Brazil)
Stepan Chapman, "How Alex Became a Machine" 1996
C.J. Cherryh, "Pots" 1985
Ted Chiang, "The Story of Your Life" 1998
Arthur C. Clarke, "The Star" 1955
John Crowley, "Snow" 1985
Samuel R. Delany, "Aye, and Gomorrah" 1967
Philip K. Dick, "Beyond Lies the Wub" 1952
Cory Doctorow, "Craphound" 1998
W.E.B. Du Bois, "The Comet" 1920
Jean-Claude Dunyach, "Paranamanco" 1987 (France)
S. N. Dyer, "Passing as a Flower in the City of the Dead" 1984
Harlan Ellison, "'Repent Harlequin!' Said the Ticktock Man" 1965
Carol Emshwiller, "Pelt" 1958
Paul Ernst, "The Microscopic Giants" 1936
Karen Joy Fowler, "The Lake Was Full of Artificial Things" 1985
Sever Gansovsky, "Day of Wrath" 1964 (Ukraine)
William Gibson, "New Rose Hotel" 1984
Angélica Gorodischer, "The Unmistakable Smell of Wood Violets" 1973 (Argentina)
Edmond Hamilton, "The Star Stealers" 1929
Han Song, "Two Small Birds" 1988 (China)
Alfred Jarry, "The Elements of Pataphysics" 1911
Gwyneth Jones, "The Universe of Things" 1993
Langdon Jones, "The Hall of Machines" 1968
Kaijo Shinji, "Reiko's Universe Box" 1981 (Japan)
Takashi and Gene van Troyer
Gérard Klein, "The Monster" 1958 (France)
Damon Knight, "Stranger Station" 1956
Leena Krohn, "The Gorgonoids" 1992 (Finland)
R.A. Lafferty, "Nine Hundred Grandmothers" 1966
Kojo Laing, "Vacancy for the Post of Jesus Christ" 1992 (Ghana)
Geoffrey A. Landis, "Vacuum States" 1988
Tanith Lee, "Crying in the Rain" 1987
Ursula K. Le Guin, "Vaster Than Empires and More Slow" 1971
Stanisław Lem, "Let Us Save the Universe" 1981 (Poland)
Cixin Liu, "The Poetry Cloud" 1997 (China)
Katherine MacLean, "The Snowball Effect" 1952
Geoffrey Maloney, "Remnants of the Virago Crypto-System" 1995
George R.R. Martin, "Sandkings" 1979
Michael Moorcock, "The Frozen Cardinal" 1987
Pat Murphy, "Rachel in Love" 1987
Misha Nogha, "Death is Static Death is Movement" 1990
Silvina Ocampo, "The Waves" 1959 (Argentina)
Chad Oliver, "Let Me Live in a House" 1954
Manjula Padmanabhan, "Sharing Air" 1984 (India)
Frederick Pohl, "Day Million" 1966
Rachel Pollack, "Burning Sky" 1989
Robert Reed, "The Remoras" 1994
Kim Stanley Robinson, "Before I Wake"1989
Joanna Russ, "When It Changed" 1972
Josephine Saxton, "The Snake Who Had Read Chomsky" 1981
Paul Scheerbart, "The New Abyss" 1911 (Germany)
James H. Schmitz, "Grandpa" 1955
Vadim Shefner, "A Modest Genius" 1965 (Russia)
Robert Silverberg, "Good News from the Vatican" 1971
Clifford D. Simak, "Desertion" 1944
Johanna Sinisalo, "Baby Doll" 2002 (Finland)
Cordwainer Smith, "The Game of Rat and Dragon" 1955
Margaret St. Clair, "Prott" 1985
Bruce Sterling, "Swarm" 1982
Karl Hans Strobl, "The Triumph of Mechanics" 1907 (Germany)
Arkady & Boris Strugatsky, "The Visitors" 1958 (Russia)
Theodore Sturgeon, "The Man Who Lost the Sea" 1959
William Tenn, "The Liberation of Earth" 1953
William Tenn, "Ghost Standard" 1994
James Tiptree, Jr., "And I Awoke and Found Me Here on the Cold Hill's Side" 1972
Tatyana Tolstoya, "The Slynx" 2000 (Russia)
Yasutaka Tsutsui, "Standing Woman" 1974 (Japan)
Lisa Tuttle, "Wives" 1979
Miguel de Unamuno, "Mechanopolis" 1913 (Spain)
Élisabeth Vonarburg, "Readers of Lost Art" 1987 (Canada/Quebec)
Kurt Vonnegut, "2BRO2B" 1962
H.G. Wells, "The Star," 1897
James White, "Sector General" 1957
Connie Willis, "Schwarzschild Radius" 1987
Gene Wolfe, "All the Hues of Hell" 1987
Alicia Yánez Cossío, "The IWM 1000" 1975 (Chile)
Valentina Zhuravlyova, "The Astronaut" 1960 (Russia)
Yefim Zozulya, "The Doom of Principal City" 1918 (Russian)
The Big Book of Science Fiction will be published by Vintage on July 12, 2016. It is 1,216 pages, priced at $25 in trade paperback and $12.99 for the digital edition.
See all of our coverage of the best in upcoming books here.