Vintage Treasures: Machines That Kill, edited by Fred Saberhagen & Martin Harry Greenberg
Vintage Treasures: Machines That Kill, edited by Fred Saberhagen & Martin Harry Greenberg
Today's Vintage Treasure is a fine example of a recently extinct species: the mass market anthology.
Allow me a moment to mourn the loss of this beautiful and now-vanished creature. In days gone by, mass market anthologies thundered in vast herds across bookstore shelves, terrorizing lesser tomes. A single bookstore ecosystem could support a vast number of anthologies with a spellbinding array of thematic plumage, from horror to romantic fantasy to sword & sorcery and far future SF. In recent years, publishers such as DAW kept a dwindling number of anthologies alive in captivity for breeding purposes, but these efforts generally resulted in weak-blooded specimens about cats and unicorns. Today, the only relatives of the mass market anthology that survive are its larger cousins, the trade paperback and small press hardcover.
But not so long ago this creature strode proudly across the publishing savannah, introducing the curious to new writers, helping readers discover a wide range of different voices they might not otherwise encounter. The one I want to talk about today is the 1984 Ace paperback Machines That Kill, edited by Fred Saberhagen & Martin Harry Greenberg.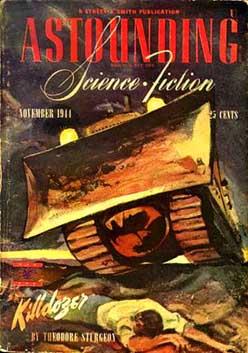 [Click the images for bigger versions.]
Machines That Kill was a reprint anthology collecting 15 classic tales of killer robots, homicidal cars, and worse things. It includes Theodore Sturgeon's classic novella of a maliciously sentient bulldozer, "Killdozer!", from the November 1944 issue of Astounding Science Fiction, as well as a Bolo story by Keith Laumer, an Instrumentality of Mankind story by Cordwainer Smith, a Hammer's Slammers tale by David Drake, a Night of the Storm short story by Barry N. Malzberg., and many others.
Editor Fred Saberhagen, of course, was the author of the much-loved Berserker stories and novels. The novelette he includes here, "Goodlife," from 1963, was the second Berserker story written.
Martin Harry Greenberg (or Martin H. Greenberg, as he eventually became known) probably did more to keep the mass market paperback alive than any person in the field. He founded a book-packaging entity, Tekno Books, and hired a staff of professional editors, including Denise Little and John Helfers; altogether he produced over 1,000 anthologies in his lifetime, most of them paperback originals for DAW.
After his death DAW's regular themed anthology (sometimes called "DAW's monthly magazine") soon came to an end, essentially bringing the era of the mass market anthology to an end along with it.
Machines That Kill was reprinted once, by Tor Books, in May 1992, with a new cover by Maelo Cintron (below right). There is no digital edition. Copies aren't particularly hard to find, or expensive. I bought an unread copy of the Ace edition in perfect condition on eBay last month for $1.
Here's the complete Table of Contents for Machines That Kill: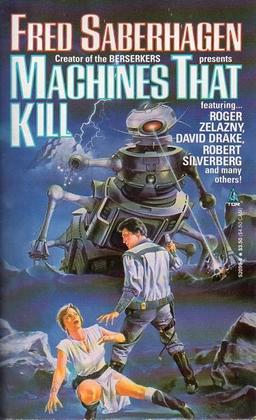 "Killdozer!"by Theodore Sturgeon (Astounding Science Fiction, November 1944)
"Alpha Ralpha Boulevard" by Cordwainer Smith (The Magazine of Fantasy and Science Fiction, June 1961)
"Hunting Machine" by Carol Emshwiller (Science Fiction Stories, May 1957)
"Auto-da-Fé" by Roger Zelazny (Dangerous Visions, October 1967)
"Second Variety" by Philip K. Dick (Space Science Fiction, May 1953)
"Under the Hammer" by David Drake (Galaxy, October 1974)
"Lost Memory" by Peter Phillips (Galaxy, May 1952)
"Making the Connections" by Barry N. Malzberg (Continuum 4, August 1975)
"Steel" by Richard Matheson (The Magazine of Fantasy and Science Fiction, May 1956)
"The Iron Chancellor" by Robert Silverberg (Galaxy Science Fiction, May 1958)
"The Wabbler" by Murray Leinster (Astounding Science-Fiction, October 1942)
"The Cruel Equations" by Robert Sheckley (Can You Feel Anything When I Do This?, December 1971)
"Combat Unit" by Keith Laumer (The Magazine of Fantasy and Science Fiction, November 1960)
"Fondly Fahrenheit" by Alfred Bester (The Magazine of Fantasy and Science Fiction, August 1954)
"Goodlife" by Fred Saberhagen (Worlds of Tomorrow, December 1963)
Machines That Kill was published by Ace Books in December 1984. It is 326 pages, priced at $2.95 in paperback. The cover is by Thieves World artist Walter Velez.
See all our recent coverage of Vintage Treasures here.