Jack Binder and the Early Chicago SF Fan Club
Jack Binder and the Early Chicago SF Fan Club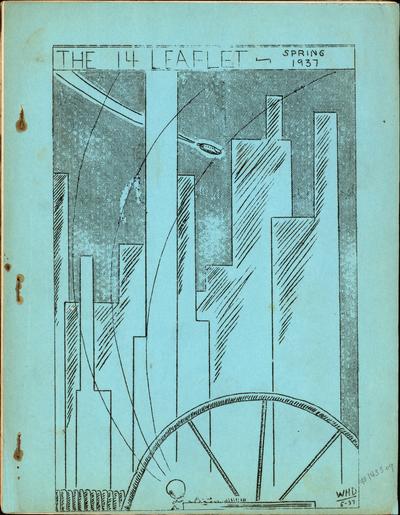 Back in the mid-1930's, one of the most active science fiction fan clubs was the Chicago Science Fiction Club, which had among its members such fans as Jack Darrow (among fandom's most prolific writers of letters of comment to the SF pulps), Earl and Otto Binder (the Eando Binder writing team), Jack Binder (their brother, an artist), Walter Dennis and Paul McDermott (both of who had started the Science Correspondence Club in 1929 and later published The Comet, edited by Ray Palmer and arguably the first SF fanzine), William Dellenback, Allen Kline (brother of author Otis Adelbert Kline) and Howard Funk. The Chicago Club had formed as the Chicago Chapter of the Science Fiction League, the nationwide fan organization created and promoted by Wonder Stories. The Chicago Chapter's activities were prominent in the pages of Wonder Stories, and in Sam Moskowitz' words, it was "the outstanding chapter of the time."
From November 1935 to the Spring of 1937, the Club published a fanzine called The 14 Leaflet. The Spring 1937 issue is available online as a pdf in the fanzine section of fanac.org. The copy that's online, however, is missing the first interior page of the issue. Following the cover (by William Dellenback; I acquired his original preliminary for it back in 2001 when I bought material from Jack Darrow's estate) but before page 1, many copies of the issue had another page inserted, which contained 19 very small photos (all taken by Dellenback) of various club members. The photos were all glued to a plain sheet of white paper, with numbers identifying them, with the code, revealing the identities of the folks in the photos, on page 2. However, the copy scanned online was apparently missing this photo page. On page 11 of the issue, the editors noted that 50 copies were being printed with the photo page (most going to the members) and 25 copies were being printed without the photo page.
I've looked for the Spring 1937 issue of The 14 Leaflet for many years, but had not had any success finding it. I wanted to see those photos!
[Click any of the images for bigger versions.]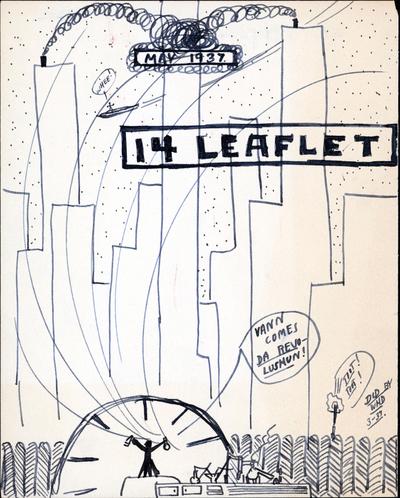 Prelim for 14 Leaflet cover by BIll Dellenback
Last night I was going through some boxes of SF books and fanzines in my closet, looking for some issues of Fantasy Fan that I knew I had somewhere. I was more than a bit surprised when I opened one of the boxes and, digging through it, found a copy of that elusive Spring 1937 issue! I have no recollection of when I bought it; my guess is that it was with a batch of other stuff which got boxed shortly after I picked it up and time had erased all memory of my ever having acquired it. Sadly, that's not the first time that's happened. In any event, when I opened it up, I found that my copy did, indeed, have the photos present. Unfortunately, the glue on a few of them had dried long ago, so a few photos had fallen off and were lost, but most of them were still there.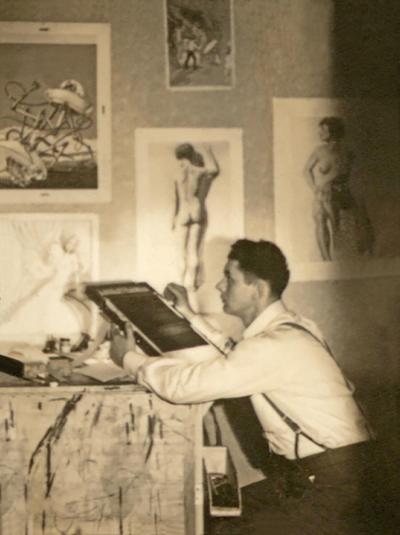 I thought I'd run one of them here. This is a photo, from early 1937, of artist Jack Binder in his studio in Chicago. At the time, Binder had just broken into the pulps, with some illustrations in Weird Tales and Astounding. He would go on to do several pulp illustrations over the next few years (both interiors and covers). He achieved his greatest success, however, in the comics industry, starting with the Harry "A" Chesler studio in 1938. A few years after leaving Chesler, in 1942 he created the Binder Comic Studio, which eventually employed up to 50 artists doing contract work for various comic publishers, including Fawcett, Nedor and Street & Smith (including work for the Doc Savage and The Shadow comics). He would eventually work with his brother Otto on Mary Marvel.
Like all the photos in this issue of The 14 Leaflet, the original photo is very small, about ½" x ¾". Many thanks to Mike Hunter for his work on making this photo more legible.
In the upper left of the photo is an original painting by Frank R. Paul, hanging unframed (and probably thumbtacked to the wall). This was the cover to Wonder Stories, February 1934, illustrating "The Spore Doom" by Eando Binder.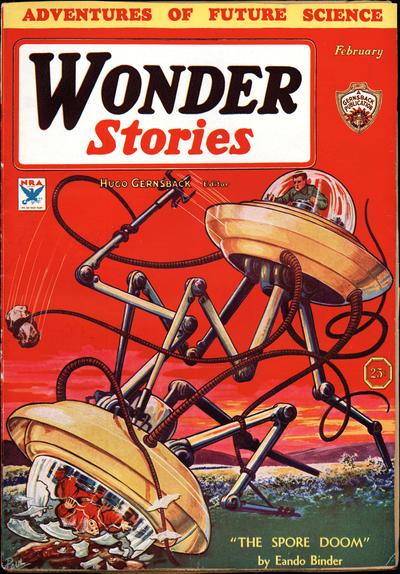 This painting had been given to one of the co-authors, Otto Binder, in New York City at the offices of Wonder Stories on July 1, 1935. Otto had driven to NYC with his friends, Jack Darrow and Bill Dellenback, leaving Chicago on June 27 and arriving in NYC on June 29. Otto described the trip in a lengthy narrative he wrote for Darrow and Dellenback entitled "New York, Here We Come!", which I ran in 2011 in the pages of Pulp Vault #14. Besides meeting up with several prominent East Coast fans and editors, such as Julius Schwartz, Mort Weisinger, Conrad Ruppert and F. Orlin Tremaine, on that July 1 they visited Wonder's offices along with editor Charles Hornig, who gave them this Paul painting as well as several other Paul interiors. The original of this painting still survives – it eventually made its way into the collection of Robert Lesser, and now resides at the New Britain Museum of American Art in New Britain, Connecticut.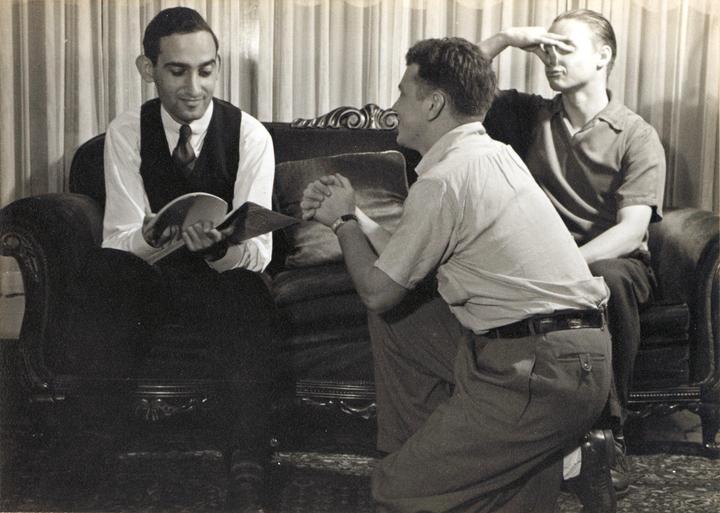 Above is a photo of Charles Hornig reading a manuscript by Otto Binder, who's on his knees begging Hornig to accept it, while Jack Darrow expresses his opinion of the story. Probably from Fall 1934 in Chicago, at the home of Otto, Earl and Jack Binder.
Below is a scan of a letter from Bill Dellenback to Jack Darrow dated February 19, 1936, mentioning mimeographing the 14 Leaflet at Jack Binder's (click for bigger versions).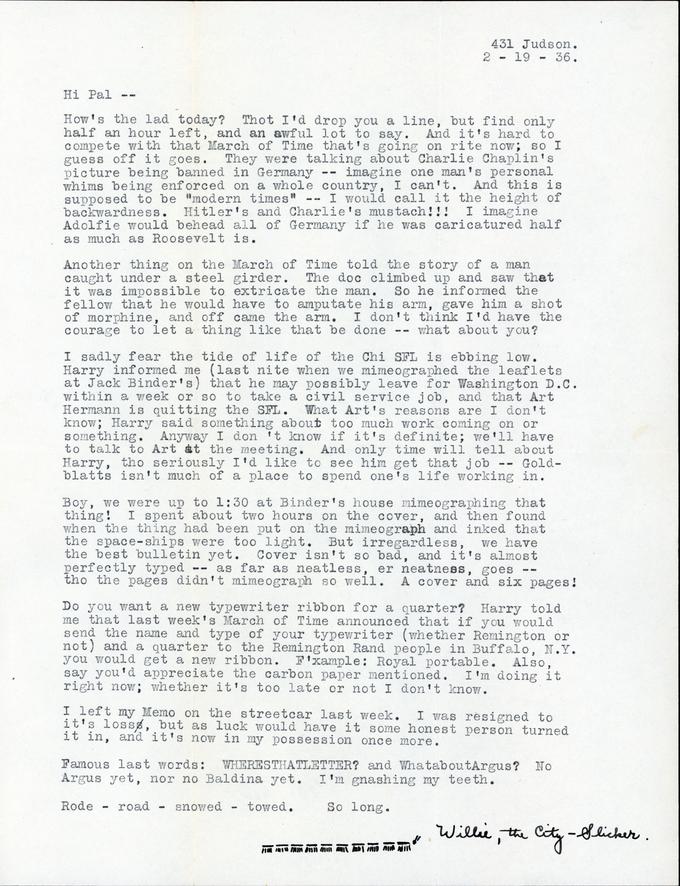 And finally, here's a scan of a two-page letter from Bill Dellenback to Jack Darrow dated January 28, 1935, regarding the formation of the Chicago SFL.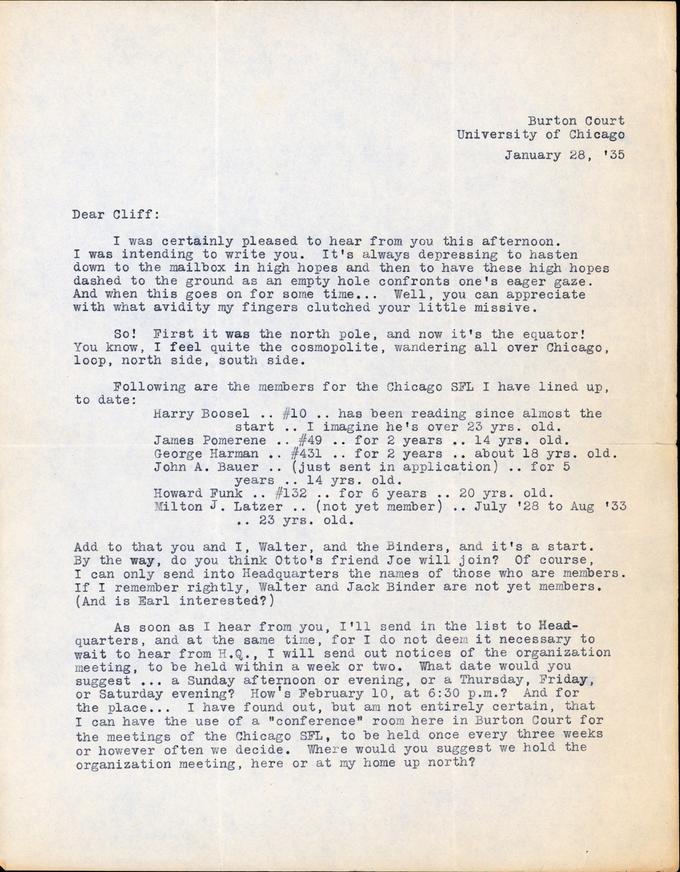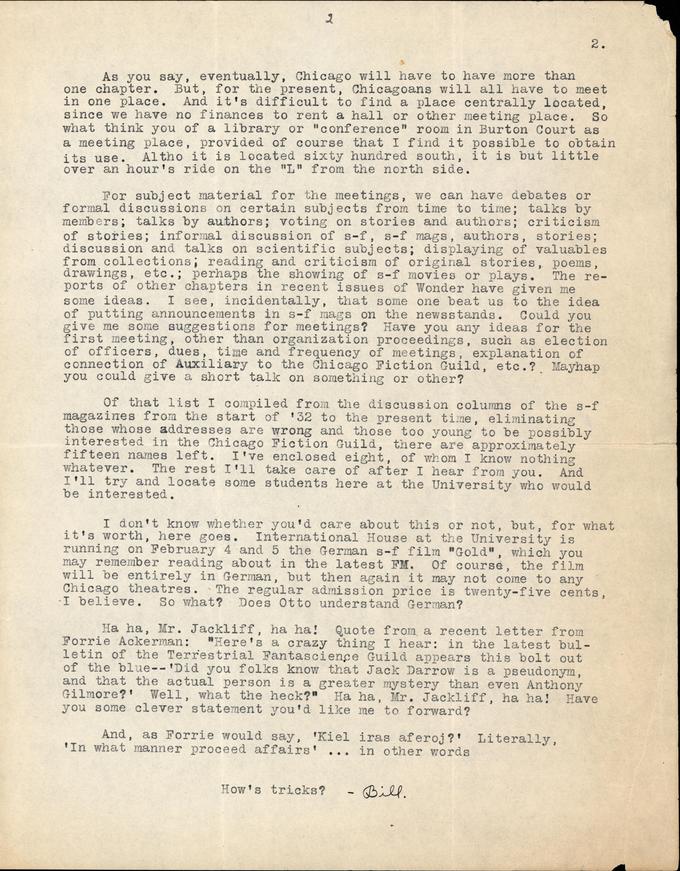 ---
Doug's last article for us was Acquiring Michael Whelan's Cover for The Bane of the Black Sword.
Doug is a collector of pulps, as well as of pulp, science fiction and fantasy art. He co-founded and co-organizes the Windy City Pulp and Paper Convention. For many years his Tattered Pages Press published the pulp fanzine Pulp Vault, as well as other books on the pulps. He was one of the authors of The Adventure House Guide to Pulps, and has edited several pulp anthologies, including the Best of Adventure series. His book, Uncovered: The Hidden Art Of The Girlie Pulps, an in-depth study of the spicy pulps and their art, was named ForeWord Magazine's 2003 Popular Culture Book of the Year. In 2013, Bob Weinberg, Bob Garcia and he collaborated on The Collectors' Book of Virgil Finlay, a collection of Finlay's gorgeous art.