Series Fantasy: The Half-Light City by M.J. Scott
Series Fantasy: The Half-Light City by M.J. Scott
Three years ago I received a package of review copies from Roc Books that included Iron Kin, which turned out to be the third book in a dark fantasy series called The Half-Light City. I was intrigued enough by the cover and the description to dash off a quick New Treasures article, and also to order the opening volume, Shadow Kin.
And truthfully, after that I sort of forgot about it. Until I stumbled on all four books in the series at Barnes & Noble on Saturday. Now, it's nothing new to come across a fantasy series at B&N (frankly, it's a lot tougher to find books that aren't part of a series), but what interested me was that — wonder of wonders — this one was complete, and all four books were right there on the shelves, mine for the taking. Hallelujah, it's some kind of miracle.
You have to understand that my weekly Saturday trip to the bookstore routinely goes like this. Browse the shelves until something catches my eye. Ooooo, that looks cool. Wait, is this part of a series? Of course it is, why do I even ask. What volume is this? Crap, number six? How the hell did I miss five previous volumes? Never mind, I'll just grab the first one. They don't have it? Come on! Looks like I'm reading The Hobbit again this weekend.
People don't realize just how much anxiety arises from ISS (Incomplete Series Syndrome) every week at bookstores around the country.
Here's a snap of the back cover of the first volume of The Half-Light City, Shadow Kin, to give you an idea what the series is all about.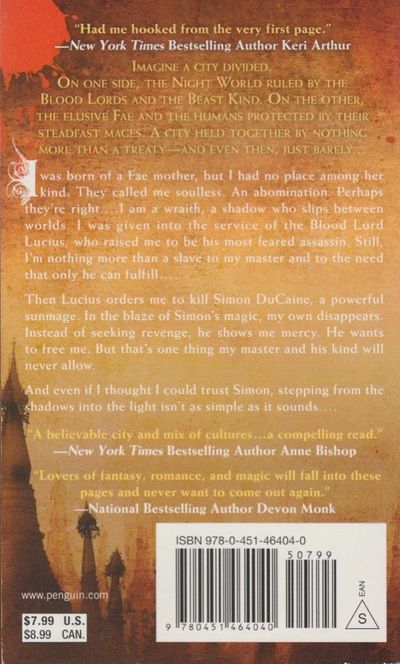 [Click for a more legible version.]
Anyway, the point is that a complete series — one which has a concluding volume that neatly wraps up the story — that is also still in print and readily available, is something to celebrate. And I would have celebrated by buying all four volumes of The Half-Light City right then and there and triumphantly taking them home with me, if I could have remembered which ones I already had (which is an entirely different source of book-buying anxiety, and which deserves its own post. But I digress).
This is why book collecting is not for the faint of heart. It requires research and dedication. And the internet. One quick search later, and I confirmed that The Half-Light City does indeed consist of just four volumes, and the story wraps up in the last one. All four books were published in paperback by Roc Books.
Shadow Kin (336 pages, September 2011)
Blood Kin (324 pages, June 2012)
Iron Kin (336 pages, April 2013)
Fire Kin (320 pages, May 2014)
All four are priced at $7.99 for both the paperback and digital editions.
I think it would be handy to spend a little time at Black Gate cataloging some of the more interesting fantasy series you'll currently find on shelves. Sort of a visual buyer's guide before you step into a bookstore, and suffer all that needless anxiety.
Hence this post. Look on it as yet another free service we provide our readers. I look on it as homework, in preparation for my trip to the bookstore next Saturday.
M. J. Scott lives in Melbourne, Australia. She is also the author of the paranormal romance series The Wild Side (The Wolf Within, The Dark Side). Her latest is The Shattered Court (2015), the opening book in a new dark fantasy series for Roc. Her website is here.
See all of our latest coverage of Series Fantasy here.