Unknown, April 1941: A Retro-Review
Unknown, April 1941: A Retro-Review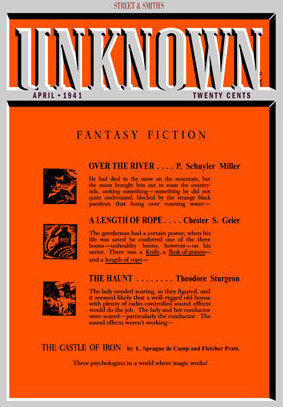 While World War II continued to escalate, the April 1941 issue of Unknown was published. It's easy to imagine the desire to escape through Unknown's fantasy fiction during such times of uncertainty.
"The Castle of Iron" by L. Sprague de Camp and Fletcher Pratt — A trio of psychologists use magic to transport between worlds. Harold Shea and Vaclav Polacek join their friend Reed "Doc" Chalmers, who summons them to an iron castle owned by a leading magician named Atlantes. Atlantes promises to help Doc save the life of a young woman he's in love with, but there never seems to be any progress. Doc suspects he's being perpetually lured so that Atlantes has an ally against the threat of opposing knights.
When Atlantes' nephew, Roger, leaves the castle, Atlantes fears betrayal and sends Harold and Vaclav out to search for the young man. But searching the land among enemy knights isn't a simple matter.
De Camp and Pratt wrote five stories around the main cast of characters, known today as the Compleat Enchanter series. "The Castle of Iron" is the third in the series, and the previous two appeared in other issues of Unknown — "The Roaring Trumpet" in May, 1940, and "The Mathematics of Magic" in August, 1940. The final two stories were later published in Beyond Fantasy Magazine and Fantasy Magazine. "The Castle of Iron" was expanded into a novel in 1950.
The novella (yes, I know it's listed in the Table of Contents as a novel) is a pretty quick read. Having no familiarity with the characters previously, I didn't have much difficulty in jumping into the series; there was enough background information without turning things into info dumps or "as you know, Bob" statements. While I'm curious about the series as a whole, I probably won't rush out to find it. Not that it's a bad story, but it did feel somewhat slow at points, and I wasn't completely drawn into the characters. I wonder if I'd feel differently if I'd started with the first story and worked my way up to this one.
"They" by Robert Heinlein — The protagonist is in a mental institution. He's convinced he's all alone – that the others in the world are mostly automatons, and the rest are conspirators. The objective, he believes, is to keep him focused on some goal which he has yet to discover. But he won't play along anymore.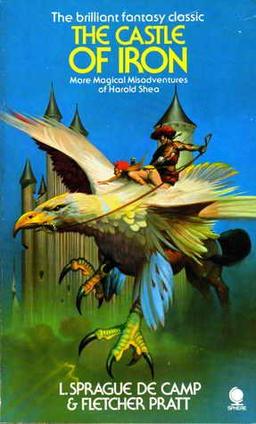 This story gets in your head a bit. At first, the protagonist can be dismissed. But as he makes his case, you start to wonder whether he's insane or not. Well done.
"Over the River" by P. Schuyler Miller — Rising from the ground, he feeds on the moonlight at first. Then he discovers buds and finally animals. They help him to become warm again. Then he wanders toward a house, and he remembers something about it. If only he could get inside.
Miller tells a creepy and suspenseful zombie tale – one that I think would still resonate as well today as it did in 1941. P. Schuyler Miller is probably better known as a book reviewer for Astounding Science Fiction/Analog.
"The Haunt" by Theodore Sturgeon — What better way to attract Miriam than to scare her? That's Bill's plan, at least. Miriam's such a cool character, unflappable in any situation. So he asks his friend to stage an abandoned house as though it's haunted, using some hi-tech lighting and sound. Then Bill can step in as the hero while she recovers from fright, assuming he can keep his cool.
The characters are much more interesting than the plot itself. But it's not a bad read. I wasn't surprised that I enjoyed the characters; Sturgeon is a master in that area.
"A Length of Rope" by Chester S. Geier — A devilish character approaches Alford, a man who's vying for the position of supervisor at his work. The devil offers Alford a magical rope that can be tied to a single post yet hang in mid-air horizontally. Alford soon learns it has other abilities – such as looping itself around the necks of anyone Alford wishes were dead.
Some readers might look at this with some level of familiarity, plot-wise, but the story works. My advice for readers would be to forget what you know about magical trinkets from evil beings and just enjoy the story for what it is.
"The Forbidden Trail" by Jane Rice — The Rutherfords are a husband and wife photography team. They explore Liberia, looking for photo ops they know would sell – orangutans, elephants, and lions, as well as people. A man named Colonel Mayhew asks them to investigate an odd incident concerning his assistant, whom he's lost contact with. The assistant was last seen heading toward an area of recently abandoned villages. To interest the couple, Colonel Mayhew suggests they might come across something extremely photo-worthy – zombies.
I didn't realize zombies were of such interest in 1941, but this is the second tale of zombies in this issue. This one is superior to "Over the River" in that it builds a bit more and has a nice, long pace, like a marathon runner. Rice published other stories in Unknown; in fact, her debut as a writer was the story "The Dream" in Unknown's July, 1940 issue.
---
Matthew Wuertz's last retro review for us was the March 1953 issue of Galaxy Science Fiction.