Vintage Treasures: Worlds Imagined: 14 Short Science Fiction Novels, Compiled by Robert Silverberg and Martin H. Greenberg
Vintage Treasures: Worlds Imagined: 14 Short Science Fiction Novels, Compiled by Robert Silverberg and Martin H. Greenberg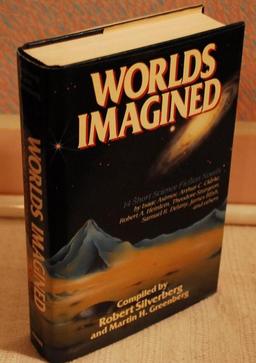 I bought a fine anthology of science fiction novellas on eBay last week for 5 cents. With $3.99 shipping, that brought the whole thing to $4.04 — about 28 cents per novella. Pretty sweet deal.
The anthology is Worlds Imagined, published by Avenel in April 1989, and edited by Robert Silverberg and Martin H. Greenberg. Excuse me, 'Compiled by," not edited by. I guess Silverberg and Greenberg didn't feel comfortable with the title of editors, for merely selecting the fiction. That's editorial integrity for you.
One of the things I love about this book is the editors' (erm, compilers') impassioned defense of the novella in their intro. I read it years ago, and much of it stayed with me. Here it is, in part.
The short novel — or "novella," as some prefer to call it — is one of the richest and most rewarding of literary forms. Spanning twenty to thirty thousand words, usually, it allows for more extended development of theme and character than does the short story, without making the elaborate structural demands of the full-length book… Some of the greatest works in modern literature fall into the class of novellas. Consider Mann's "Death in Venice," Joyce's "The Dead," Melville's "Billy Budd," and Conrad's "Heart of Darkness" — or Faulkner's "The Bear," Tolstoi's "The Death of Ivan Ilych," Carson McCuller's "Ballad of the Sad Cafe"…

Since a prime task of the science fiction writer is to create carefully detailed worlds of the imagination, room for invention is a necessity. The short story can give only a single vivid glimpse of the invented world; the full-length novel frequently becomes so enmeshed in the obligations of plot and counterplot that the background recedes to a secondary position. But the short novel, leisurely without being discursive, is ideal for the sort of world-creation that is science fiction's specialty. and since the days of H.G. Wells and his classic novella "The Time Machine" it has exerted a powerful attraction for science fiction writers.
Preach, brothers!
[Click any of the images for bigger versions.]
Well, as you can imagine, after a wind up like that the editors (dang it, compilers) don't content themselves with a ho-hum collection. The Table of Contents includes some of the most famous novellas the field has to offer, including James Blish's "A Case of Conscience," Heinlein's "By His Bootstraps," Sturgeon's "The Golden Helix," Samuel R. Delany's Hugo nominee "The Star Pit," James Tiptree, Jr's Hugo and Nebula winner "Houston, Houston, Do You Read?", Cordwainer Smith's Nebula nominee "On the Storm Planet," and Silverberg's own Nebula Award-winning "Born with the Dead."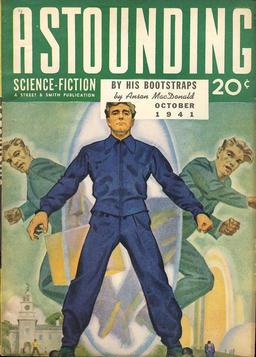 Here's the complete TOC.
Introduction by Robert Silverberg and Martin H. Greenberg
"Beyond Bedlam" by Wyman Guin (Galaxy Science Fiction, August 1951)
"Equinoctial" by John Varley (Ascents of Wonder, December 1977)
"By His Bootstraps" by Robert A. Heinlein (Astounding Science-Fiction, October 1941)
"The Golden Helix" by Theodore Sturgeon (Thrilling Wonder Stories, Summer 1954)
"Born with the Dead" by Robert Silverberg (The Magazine of Fantasy and Science Fiction, April 1974)
"Second Game" by Katherine MacLean and Charles V. De Vet (Astounding Science Fiction, March 1958)
"The Dead Past" by Isaac Asimov (Astounding Science Fiction, April 1956)
"The Road to the Sea" by Arthur C. Clarke (Two Complete Science-Adventure Books, Spring 1951)
"The Star Pit" by Samuel R. Delany (Worlds of Tomorrow, February 1967)
"Giant Killer" by A. Bertram Chandler (Astounding Science Fiction, October 1945)
"A Case of Conscience" by James Blish (If, September 1953)
"Dio" by Damon Knight (Infinity Science Fiction, September 1957)
"Houston, Houston, Do You Read?" by James Tiptree, Jr. (Aurora: Beyond Equality, May 1976)
"On the Storm Planet" by Cordwainer Smith (Galaxy Magazine, February 1965)
Worlds Imagined was originally published in November 1980 under the title The Arbor House Treasury of Great Science Fiction Short Novels.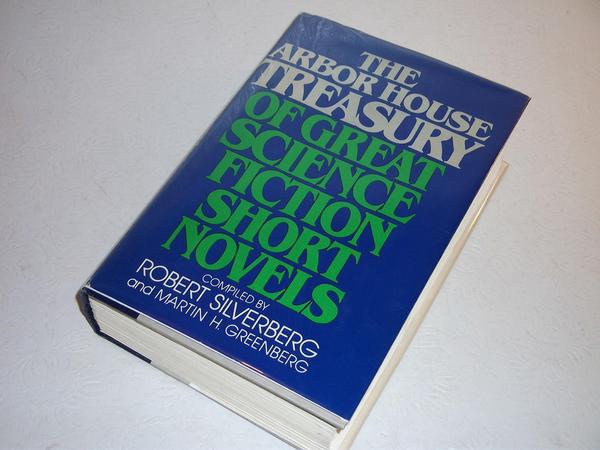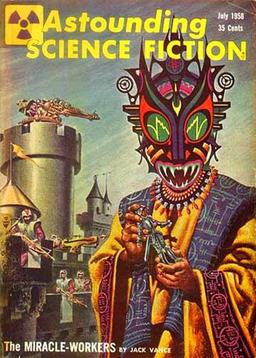 The Arbor House edition included one additional novella, Jack Vance's Hugo-nominated "The Miracle Workers," originally published in the July 1958 issue of Astounding Science Fiction (right, cover by Kelly Freas). I'm not sure why that one was dropped… although by the late 80s "The Miracle Workers" had been included in a host of other anthologies (including no less than two Greenberg volumes, Battlefields Beyond Tomorrow (1987) and Spells (1988), as well as Vance's own 1988 collection Green Magic), so likely it was a rights issue. Or maybe they just figured everyone in the world had a copy.
If you're annoyed by the lack of "The Miracle Workers" in Imaginary Worlds, you can supplement your copy with the July 1958 issue of Astounding. At the moment there are five copies on eBay, selling for between $3 – $16. (Although you can do much better by buying a set of Astoundings from the same year for about $2/issue. Just trying to be helpful.)
If Katherine MacLean and Charles V. De Vet's "Second Game" sounds familiar, kudos to you for paying attention. Rich Horton wrote about it just yesterday here at Black Gate, in his review of the Ace Double King of the Fourth Planet/Cosmic Checkmate.
Cosmic Checkmate is about 33,000 words, and it has a complicated publishing history. It's an expansion (by a factor of roughly 2) of the novelette "Second Game" (Astounding, March 1958), a Hugo nominee and still a fairly well-known story. The novel was reissued in 1981 by DAW with further expansions, to some 56,000 words, now retitled Second Game after the novelette. (A much better title!) Finally, De Vet by himself wrote a sequel published in the February 1991 Analog, called "Third Game"…

It's the story of the planet Velda, which has just been discovered by the Earth-centered Ten Thousand Worlds. After warning that they wanted no contact, the Veldians destroyed the Fleet that Earth sent anyway. The narrator, a chess champion, has learned that the Veldians base their society around proficiency in a Game, somewhat like Chess but more complicated. (Details are sketchy, but it is played on a 13×13 board, and each player controls 26 pieces, or "pukts".) Equipped with an "annotator", sort of an AI addition to his brain, the narrator learns the Game and comes to Velda to challenge all comers. He puts up a sign saying "I'll beat you the Second Game…"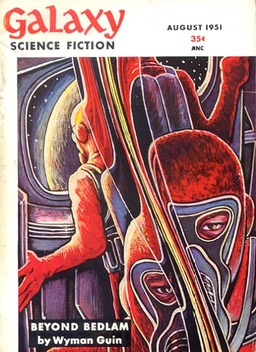 In his review of the August 1951 issue of Galaxy — part of his ongoing issue-by-issue re-read of Galaxy's early years — Matthew Wuertz had this to say about Wyman Guin's "Beyond Bedlam."
Everyone in society has Multiple Personality Disorder with two strong personalities. The treatment is to allow each personality to live on its own for five days at a time, and the rules of society forbid interacting with the worlds of one's own alternate personality. Each personality has its own name, its own job, its own spouse. Yet in the case of Bill and Conrad, who share a single body, their wives are within the same physical body. Bill's curiosity leads him into an interaction with Conrad's wife, and over time, it develops into an affair — something that the Medicorps would deal with severely if they found out…

This is really an amazing story — highly imaginative and suspenseful. It pulled me along quickly and I couldn't tell where it would go; I just knew I wanted to find out. This was my favorite piece in the issue.
Whew. I could go on about these tales, but you get the point. This is a helluva collection, packed with acclaimed novellas spanning four decades.
And all for a nickel!
The point of all this isn't to taunt you with the fabulous deal I got for 5 cents (well…. not the entire point). The point is that there are sellers out there unloading vintage books for criminal bargains, and you don't even have to look all that hard to find them. You just have to be willing to risk a few bucks. I didn't go online looking for a copy of Imaginary Worlds…. but when I found it, it was pretty darn hard to say no.
Much as I might like to, I can't give all these books deserving homes. Give yourself a $5 budget, do a little shopping, and support a deserving internet bookseller today.
Not every purchase will be a winner. But trust me, the winners will make all the risks worthwhile.
Check out all of our recent Vintage Treasures here.