New Treasures: Exordium of Tears by Andrew P. Weston
New Treasures: Exordium of Tears by Andrew P. Weston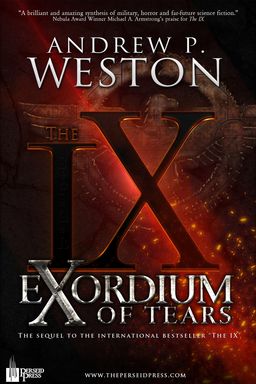 Andrew P. Weston is the author of Hell Bound, which Joe Bonadonna called "an epic and fast-paced adventure. Part Gothic, 19th century-style mystery, part sword and sorcery," and The IX, which Fletcher Vredenburgh described as "about taking on endless waves of mindless energy-vampires with guns, mini-singularity bombs, and a host of other assorted death-dealing apparatuses. The IX is a whole bunch of fun… [it] has taken me back to some of the books I enjoyed in my youth."
Now Weston has released the long-anticipated sequel to The IX, Exordium of Tears. It was published by Perseid Press this week.
Fight or Die…

Victorious in a star-flung battle against the inhuman Horde, Earth's fabled 9th Legion of Rome; the U.S. 5th Company's 2nd Mounted Rifles; and a Special Forces anti-terrorist team settle on Arden, their adopted planet, to raise families and live in peace.

But soon, state secrets are revealed: The greatest of the inhuman Horde didn't join the battle, but yet lurk among Arden's outer colonies, posing a grave threat.

Humanity's Ardenese defenders send a flotilla of ships to far Exordium, the world where the Horde outbreak began, with orders to reclaim the outer colonies… Exordium… where the Horde awaits… where the cream of Arden's fighting force must engage this adversary of unrivaled power…

As worlds are sundered, suns destroyed, and star systems obliterated, a universal conflict proves again that…

Death is only the beginning of the adventure.
Exordium of Tears was published by Perseid Press on February 14, 2016. It is 306 pages, priced at $9.98 in digital format at Amazon.com.