Discovering Robert E. Howard: Howard Andrew Jones and Bill Ward Re-Read "The People of the Black Circle"
Discovering Robert E. Howard: Howard Andrew Jones and Bill Ward Re-Read "The People of the Black Circle"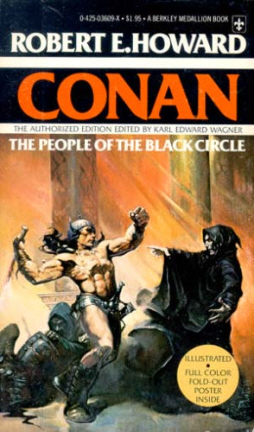 Howard Andrew Jones and Bill Ward kick off their re-read of The Bloody Crown of Conan by Robert E. Howard, the second of three omnibus volumes collecting the complete tales of Conan, with perhaps my favorite Conan tale, the 80-page novella "The People of the Black Circle." It was originally published in three parts in the September, October and November 1934 issues of Weird Tales.
Bill: It's easy to see why "The People of the Black Circle" is a Conan fan-favorite: plot-twists and action galore, great supporting characters, an exotic but plausibly constructed setting, and fabulous villains using a host of inventive magic. Conan is the adventurer and rogue we've come to know over the last dozen or so stories, this time commanding a tribe of Afghuli raiders on the borders of Vedhya, the Hyborian Age equivalent of India. There are a few elements in the story that may recall others in the Conan saga, but this time around there is nothing that feels recycled or borrowed, indeed the whole story feels fresh and something of a departure from what has come before.

Howard: It was a grand adventure and a very different feel from the last little parcel of tales. I'm glad REH decided to vary his theme, and I'm scratching my head wondering why this story didn't serve more often as a sword-and-sorcery template. Probably because its unique character made it far more difficult to imitate.
Next up, Bill and Howard dive into the first Conan novel, The Hour of the Dragon. Stay tuned.
Their previous Conan re-reads include:
"The Hyborian Age"
"The Phoenix on the Sword"
"The Tower of the Elephant"
"Queen of the Black Coast"
"Black Colossus"
"Rogues in the House"
"The Devil in Iron"
"The People of the Black Circle"
The Hour of the Dragon
Read the complete exchange here.
See all of our Conan coverage here.