Vintage Treasures: Rudy Gutierrez Does Nalo Hopkinson
Vintage Treasures: Rudy Gutierrez Does Nalo Hopkinson
About fifteen years ago, I received an unsolicited fantasy story from a young author in Canada. I rejected it, and the author didn't take the rejection well. She wrote me a pretty grumpy letter.
You sometimes get grumpy letters when you reject stories. Usually the best thing to do is ignore them. But I didn't in this case, because the author had a point. It was an excellent story, and she knew it. The author's name was Nalo Hopkinson, and I had rejected her story because of its frankly adult tone and content.
Well, she took me to task for that. Black Gate was brand new at the time, and Nalo challenged me for rejecting a story purely on the grounds of sexual content. She found it cowardly, and I didn't blame her. That's no way to build a reputation for a new magazine, she said. In my response, I told her I would have loved to publish her story — but not in Black Gate, which we had worked very hard to make suitable for readers 12 and up. I thought there was a clear market niche for a family-friendly fantasy magazine, and had set out to create one. Her story was very strong, but no so strong that I was willing to go back on the promises I'd made to our investors, distributors and advertisers. Nalo got that immediately, wrote me a warm and thoughtful response, and we hit it off. I've followed her career with great interest ever since — and what a stellar career it's been.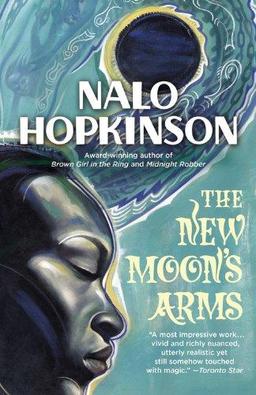 Nalo has written six novels and three collections over the last 17 years, many of them nominated for major awards. Her first novel, Brown Girl in the Ring (1998), was nominated for the Aurora, Dick, and Tiptree awards, and won the Locus Award for Best First Novel. Her second, Midnight Robber (2000) was nominated for the Hugo, Nebula, Dick, and Tiptree awards. Her first collection, Skin Folk, won the Sunburst and World Fantasy Awards.
When her fourth novel, The New Moon's Arms (2007), was finally released in paperback in November 2012, it was with a new publisher, Grand Central Publishing — and a brand new cover artist, Rudy Gutierrez. Gutierrez's work was colorful, unique, and totally gonzo.
Grand Central Publishing eventually released four of Nalo's novels, each with a new Gutierrez cover, and each cover more beautiful than the last. I had the earlier editions, but I didn't mind shelling out for these ones too. I found Gutierrez's art almost hypnotically captivating.
The New Moon's Arms (November 13, 2012, 352 pages, $14.99)
Brown Girl in the Ring (November 2012, 274 pages, $14.99)
Midnight Robber (March 2001, 352 pages, $14.99)
Sister Mine (November 2013, 352 pages, $14.99)
The Grand Central editions are still in print and available. If you're looking for a place to start with Nalo Hopkinson, I think any of the books on this page would do you well.
See all of our recent Vintage Treasures here.