NaNoWriMo is coming!
NaNoWriMo is coming!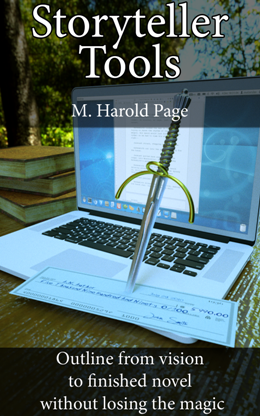 Like Winter, NaNoWriMo is coming and aspiring writers are even now planning to do a Frazetta on the whole business of writing a novel. This is great — momentum is all — but it's way too easy to grind to a halt or lose time going round in circles trying to reinvent the wheel.
I wrote a book on all this, but some of my previous blog entries might also help you avoid dead ends and rampage through your novel to the very end — I promise you both an affirming and life changing experience.
So, here they are in digest form:
Some Writing Advice That's Mostly Useless (And Why): The following writing advice is mostly useless — "Work on your motivation," "Revise, revise, revise," "Have a chaotic life," "Just write," "Know grammar and critical terms," "Practice skills in isolation."
World Building Historical Fiction using Military Thinking: Don't fall down the rabbit hole of research or worldbuilding. Instead use a layered approach, focussing your world building  as you descend from Strategic (villas exist and can be raided for supplies), through Operational (this villa sits on this ground amidst these fields), to Tactical (here is the ground plan of the villa and here are the people guarding it) level.
NaNoWriMo: How to "Pants" Through Your Novel like a Rampaging Panzer Division in 1940 France (and Why You Should): If you subscribe to the "Just Write" approach, then — seriously — just write. Switch off your spell checker, don't edit or tinker, and if you need to add something to the story, just make a note and move on. You can mop up later.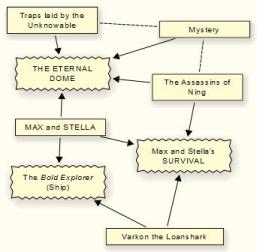 Finding Your Groove in NaNoWriMo: The Rhythm of Writing: Probably the most useful piece of advice I can give you. Draft your prose in a kind of dialogue rhythm thus:
WORLD [Paragraph of external events seen from the character's point-of-view and described using their voice.]
CHARACTER [Paragraph from the character's point of view, beginning with visceral reactions , working through physical reactions and ending in speech or thought.]

Find the Conflict: Unblocking (or Actually Planning!) your NaNoWriMo Novel: Actually, planning is a good idea. You don't have to over-plan, though, just identify the main conflicts — I have a nifty way of doing this using diagrams (see left). This should make it easier to keep things moving.
The Joy of Outlining: Seriously, outlining is great fun. It lets you throw tendrils of creativity into your novel's possible future and then pick the one you want, creating and destroying whole worlds at the stroke of a pen.
How To Write a Good Fight Scene: Have a model of how the relevant martial art works, even if it's invented. Have a clear tactical scenario that creates story-related dilemmas. Track consequences and continuity. Balance detail with summary. Keep combat nasty. See also Guy Windsor's article.
Writerly New Year's Resolutions and How to Make Them Work: Part 1 and Part 2: Applies to NaNoWriMo as well as New Year! Have clear objectives, learn your craft, create and defend writing space.
Good luck!
---
M Harold Page has several franchise novels in print. His book Storyteller Tools is all about how he did it. You can also download  Swords Versus Tanks 1: Armoured heroes clash across the centuries! and  Swords Versus Tanks 2: Vikings battle Zeppelins while forbidden desires spark!  from Amazon.