Goth Chick News: Sony Dumps Freaks of Nature All Over Us Next Week
Goth Chick News: Sony Dumps Freaks of Nature All Over Us Next Week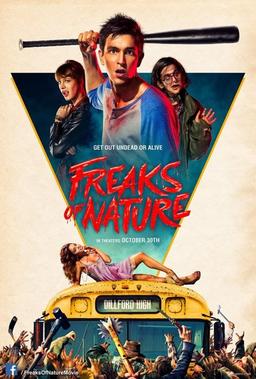 Talk about throwing in everything but the kitchen sink…
This little gem caught my attention just like anything else with a "red band trailer" – which is probably the point. But unlike most of the gore-fests that are NSFW, this just might be the most brilliant bit of film making I've come across in recent memory.
First off, a big studio is dropping it. Not to be outdone by Columbia (which had Zombieland) or Universal (which had Shawn of the Dead), Sony is now apparently stepping up to bat with its own not-sure-if-I-should-laugh-or-gag offering, Freaks of Nature.
Second, the cast is massive and includes Nicholas Braun, Mackenzie Davis, Josh Fadem, Joan Cusack, Bob Odenkirk, Keegan-Michael Key, Ed Westwick, Patton Oswalt, and even Vanessa Hudgens and Denis Leary for crying out loud.
I mean, these are all people who fans are actually still looking for.
Okay, maybe not Joan Cusack so much… but you know what I'm getting at.
Considering the stars involved, Freaks of Nature still managed to fly under the radar, possibly because the title was only just announced this week, even though it hits theaters next Friday. In case you're keeping track, that's a pretty clandestine approach for a horror movie with a Halloween release.
The story takes place in the town of Dillford where humans, vampires and zombies were all living in peace… until the alien apocalypse arrived.
Like I said – nothing is getting left out. Sony is cleaning out the special effects cabinet for our viewing pleasure.
In Freaks of Nature, we welcome you to Dillford, where three days ago, everything was peaceful and business as usual: the vampires were at the top of the social order, the zombies were at the bottom, and the humans were getting along in the middle. But this delicate balance was ripped apart when the alien apocalypse arrived in Dillford and put an end to all the harmony. Now it's humans vs. vampires vs. zombies in all-out, blood-sucking, brain-eating, vamp-staking mortal combat – and all of them are on the run from the aliens. It is up to three teenagers – one human, one vampire, and one zombie – to team up, figure out how to get rid of the interplanetary visitors, and try to restore order to this "normal" little town.
According to my source Mr. Disgusting, the film will open against another zombie movie, Paramount's Scouts Guide to the Zombie Apocalypse.
Of course Paramount had to get into the act as well.
What's interesting is that both Scouts Guide to the Zombie Apocalypse and Freaks of Nature are limited releases with a VOD tie-in. This is apparently another studio play at changing the theatrical release window which is exciting for us fans but crushing to the independent film makers who count on this combination to drive interest in the indy market.
Anyway, the red band trailer looks nothing short of awesome, though the "red band" part is mostly due to the various conjugations of the f-word.   As you probably guessed, Freaks of Nature is a horror comedy that (sort of) takes itself seriously.
Check it out for yourself:
See what I mean?
And think about this – somewhere far, far away, J.J. Abrams and the cast of The Force Awakens are trying hard (and probably failing) to contemplate the bank they are about to make come December, while elsewhere Patton Oswalt and Denis Leary are high-fiving over a beer.
Hurray for Hollywood… seriously.
So what do you say? Are you in? We're packing up the Black Gate dirigible October 30th and making one trip to the nearest theater playing Freaks of Nature. Contact John O for a ticket and dibs on one of the remaining parachutes.