Take a Peek at The Art of Horror: An Illustrated History
Take a Peek at The Art of Horror: An Illustrated History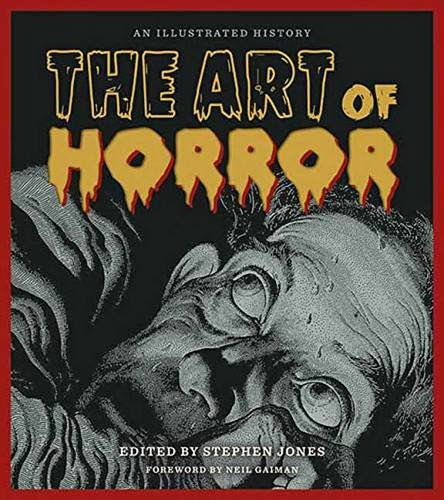 Stephen Jones's The Art of Horror: An Illustrated History, a gorgeous full-cover coffee table book, was published by Applause Theatre & Cinema Books in hardcover on September 1, 2015. It's a beautiful retrospective of horror in theater, cinema, pulps, paintings, book illustrations and comics, and it's the kind of book you really need to see to fully appreciate.
I've collected a handful of full color images from the book to give you a small taste of the wonders that await you in this oversized, 260-page tome. Have a look below (click on the images for full-sized versions.)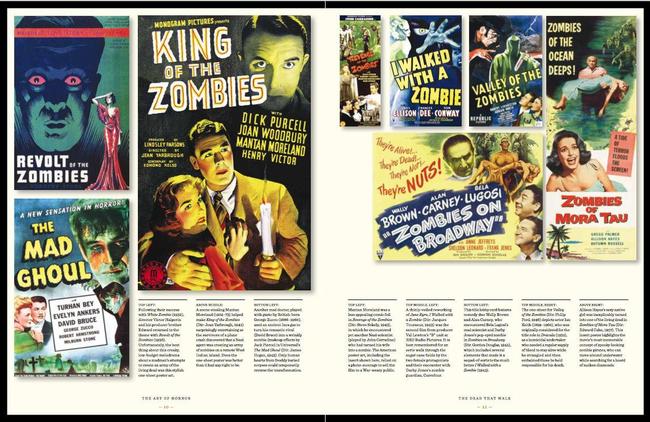 Here's the description:
Amazingly, there has never been a book quite like The Art of Horror: a celebration of frightful images, compiled and presented by some of the genre's most respected names. While acknowledging the beginnings of horror-related art in legends and folk tales, the focus of the book is on how the genre has presented itself to the world since the creations of Bram Stoker and Mary Shelley first became part of the public consciousness in the 19th century. It's all here: from early engravings via dust jackets, book illustrations, pulp magazines, movie posters, comic books, and paintings to today's artists working entirely in the digital realm. Editor Stephen Jones and his stellar team of contributors have sourced visuals from archives and private collections (including their own) worldwide, ensuring an unprecedented selection that is accessible to those discovering the genre, while also including many images that will be rare and unfamiliar to even the most committed fan. From the shockingly lurid to the hauntingly beautiful including images of vampires, werewolves, zombies, ghosts, demons, serial killers, alien invaders, and more every aspect of the genre is represented in ten themed chapters. Quotes from artists/illustrators, and a selection from writers and filmmakers, are featured throughout.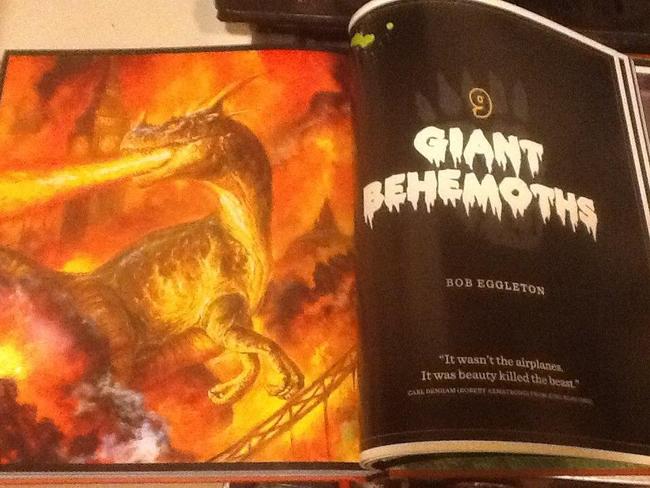 Each section is written by a different expert in the field. Bob Eggleton wrote the chapter on Giant Behemoths, and according to him "it has a wealth of old movie posters, promo art, Kong Spider pit storyboards and Godzilla."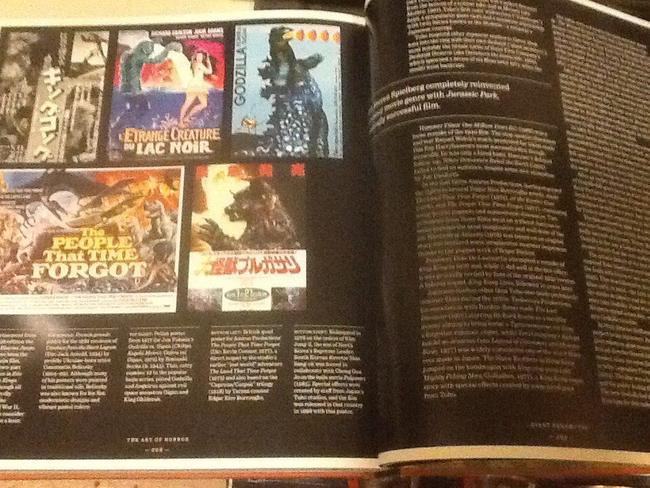 Bob provided many of the images I used for this post.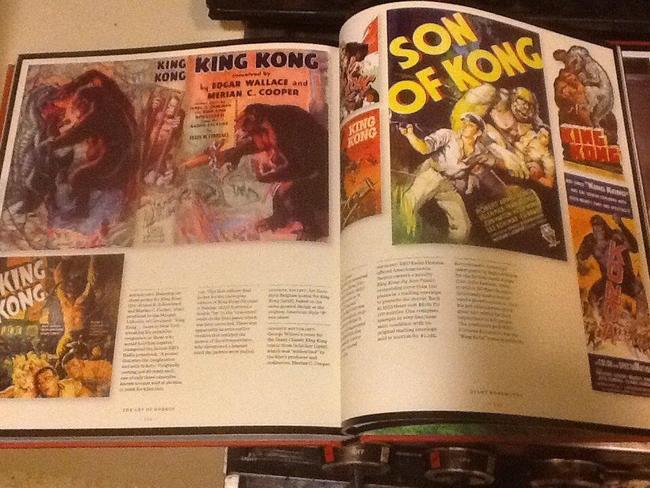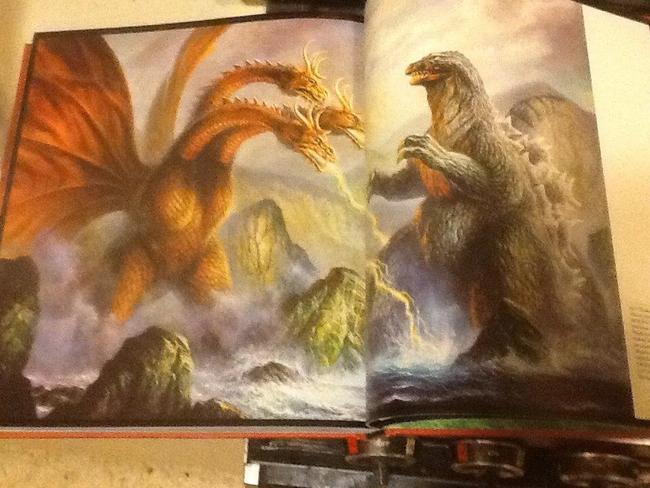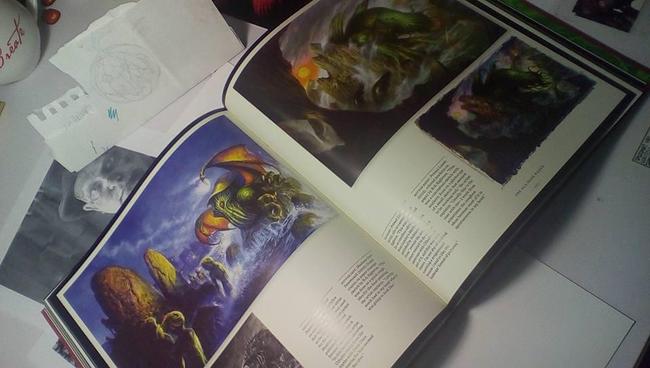 And finally, if that's not all the proof you need that you require a copy of this book, here's a picture of a hot-off-the-presses copy held by one of my favorite artists, the distinguished Bruce Pennington, who painted the cover for Black Gate 12.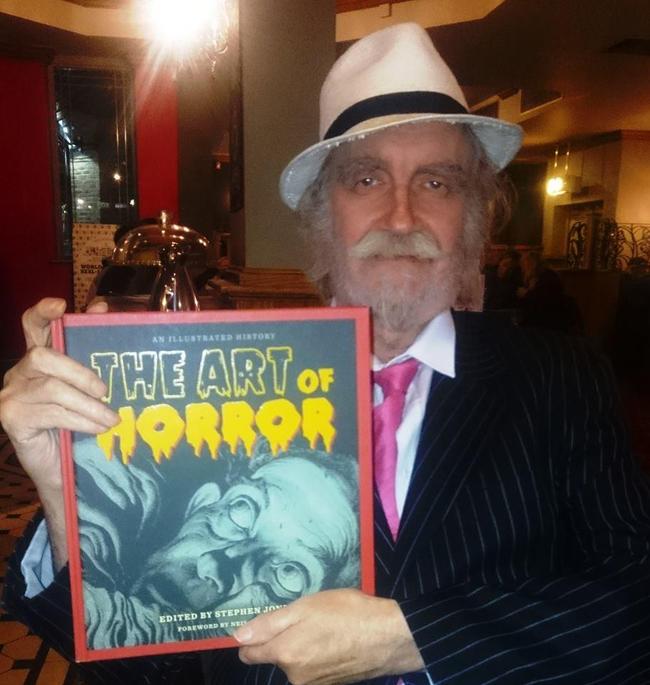 The Art of Horror: An Illustrated History was edited by Stephen Jones and published by by Applause Theatre & Cinema Books on September 1, 2015. It is 260 pages, priced at $40 in hardcover.