You Can't Go Home Again: The Annotated Sword of Shannara: 35th Anniversary Edition by Terry Brooks
You Can't Go Home Again: The Annotated Sword of Shannara: 35th Anniversary Edition by Terry Brooks
Once upon a time, said the storyteller, a band of brave travelers set off into the wilderness in desperate hope of destroying a mighty dark lord. The only thing that could destroy the villain was a single magic talisman wielded by one specific young man. Along the way they were beset by enemies known and unknown and eventually became separated. Some continued on the original quest while others decided to warn their allies in a mighty walled city of impending attack.
In the end, the young hero, after confronting his own inner demons, defeated the villain. At the same time, the walled city staved off defeat long enough that it could be saved by the propitious arrival of an ally's army. The world was set right.
"Stop! Stop!" cried some in the audience. "We already know this one!"
"Shut up!" yelled others. "We liked it before and we like it this time too!"
The storyteller said, "I know you've heard it before, but I'm telling it my own way and I think you'll like it." Much of the audience cheered.
In the back of the room, a man and a woman smiled and smelled success.
In 1977 when I was eleven, I, along with hundreds of thousands of others, was part of the group that yelled "Shut up!" For us it didn't matter that chunks of Terry Brooks' The Sword of Shannara read like he'd simply xeroxed The Lord of the Rings, sped it up, and stripped out the hard parts, songs, and poetry. So what if the Skullbearers bore an uncanny resemblance to the Ring Wraiths and the city of Tyrsis to the city of Minas Tirith? Did it matter that gnomes were suspiciously like orcs? That the whole point of the book was to get a single young man into the dark lord's kingdom and bring him down with a certain magic item? Heck no! We loved the first iteration of those things and wanted them all over again. We were happy to read even a slavish imitation of LotR. I read the book in about three days. At over seven hundred pages it was the longest book I had read to date. One friend stayed in his room and read it in a day.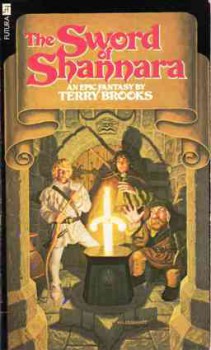 For all the Michael Moorcock, Ursula K. LeGuin, Robert E. Howard, and Roger Zelazny to enjoy in the 1970s, there was nothing quite like J.R.R. Tolkien's The Lord of the Rings. Its epic scale — not only of quest, but of history, culture, and folklore — complex and noble heroes, and terrible, insidious villains guaranteed it a special place on every fantasy fan's shelf and there was nothing else like it. We may have loved Elric of Melnibone and Conan the Cimmerian, but what we really wanted was more Frodo, Aragorn, and Gandalf.
There had been books written clearly under the influence of Tolkien. Joy Chant's Red Moon and Black Mountain and Lloyd Alexander's Chronicles of Prydain each had a dark lord and an unlikely hero, but neither had the same heft. So Lester and Judy del Rey, editors at Ballantine, decided to do something about it. They wanted to prove that fantasy was a genre with potential; something that could hit the best-seller lists and move a lot of copies. Their motives, by all accounts, were more monetary than artistic.
They hunted through the slush piles at Ballantine and found what they were looking for in a submission from a man named Terry Brooks. They worked with him assiduously to craft the book of their dreams. They even hired the Brothers Hildebrandt to do the artwork (all posted at my site) and told them to make it look like their Tolkien illustrations (which I'm also discussing at my site these days). And it worked. According to Wikipedia, it sold 125,000 copies in its first month. There was even a newspaper comic strip.
In anticipation of the upcoming TV show, The Chronicles of Shannara, and to scratch an epic fantasy itch I've had for a while, I recently read The Annotated Sword of Shannara: 35th Anniversary Edition. The annotations by Terry Brooks provide mostly lackluster comments on the story, but some interesting ones on the process by which he, in collaboration with the del Reys, forged a book designed to be a bestseller. It was interesting to revisit a book that I once loved, to notice and study its numerous flaws while finding a few good bits as well.
For those who haven't read The Sword of Shannara, its plot really does hew fairly close to that of LotR. Bascially, a Druid named Allanon (a name which made my wife laugh out loud when I mentioned it) tells a young man he is the only being who can wield the Sword of Shannara, the only weapon that can destroy the evil Warlock Lord. Before you can say "Tom Bombadil" there's a band of eight men (there's only one woman in the book and she's named Shirl) trying to recover the sword so they can take it directly, if secretly, to the Warlock Lord's realm — the suitably named Skull Kingdom — and destroy him with it.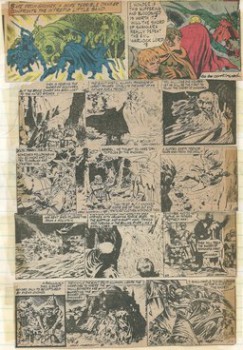 Before the end of The Sword of Shannara, there's a multi-tentacled monster to contend with, a forest refuge to recover in, and a journey under mountains through a haunted crypt. Allanon will seemingly die in a battle with one of the Warlock Lord's minions; the party will be split; a sniveling gnome will become obsessed with the magical sword and do anything to possess it; the fortress city of Tyrsis will come under siege only to be saved at the last minute by an ally's fortunate arrival. The dark lord, of course, is vanquished.
Word for word, the novel's prose is acceptable. But Brooks, in opting for streamlined readability, wrote a book that merely talks when it should at least be trying to sing. The focus is all on plot and action, no myth-building or slow brewing of atmosphere. "The Four Lands" feels generic, never acquiring a sense of deep myth or history such as Tolkien created for Middle Earth.
While Brooks tried to give his story an epic feel by including numerous characters and providing each with his own adventures, he doesn't spend enough time with any of them to really make them come to life. Only our hero Shea and his friend Menion show real flickers of personality. But for the rest he fell back on simple descriptions repeated constantly. Balinor is called the "giant borderman" over a dozen times, and both Allanon and the Wormtongue stand-in, Stenmin, are "mystics." Even the rogue, Panamon Creel, is never given the chance to be as roguish or as dashing as Brooks insists he is.
There are some things about the book I have always liked and I was happy to find I still liked them. First, — and the book is now nearly forty years old so I'm not giving anything away — is the post-apocalyptic setting. The human-dominated world was destroyed by the Great War and the dwarfs are men who hid underground for centuries and the trolls are nuclear mutants. A monster that attacks them is a cyborg. I was a sucker for that at eleven and it still works for me.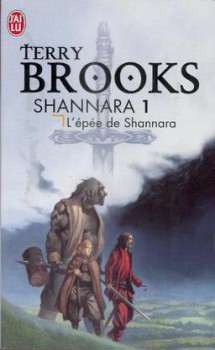 Without giving details away, Brooks' depiction of the Warlock Lord is superbly done. The dark lord's nature, the power of the Sword of Shannara over him, and his actual demise, are the best parts of the book. Sauron is never more than a black force seeping across Middle-earth. While Brooks spends only a few pages scattered across the book on the Warlock Lord, he is given very clear motives for his actions and failures that make sense.
When I closed The Sword of Shannara this last time, I decided I don't dislike it as much as many people do. While the del Reys were about trying to recreate the commercial success of LotR by recreating its story, Brooks clearly wanted to tell a rollicking adventure with common men driven to heroics. Although it's shamelessly imitative, there's a genuine enthusiasm for the story he wanted to tell, which is commendable.
It has also served as a gateway book for new readers and that's phenomenal. Brooks writes that his original story was far darker and most of the characters were killed off, but Lester del Rey told him "in no uncertain terms" that he couldn't do that. At that moment, Brooks continues, he decided the book should be one that "could be read by all ages," and changed the tone and intensity.
Which is, perhaps, the secret of The Sword of Shannara's success: it's really a young adult book. It's LotR with training wheels. I know many people who struggled to get through LotR when they were young, but devoured Brooks' novel. That Sword's plot is so beholden to LotR didn't matter to me and my friends when we first read it. We loved that it was just like our favorite book. Only as I got older did its mimicry bother me.
Sadly, it doesn't satisfy me anymore. There's a depth to The Lord of the Rings that's absent from The Sword of Shannara. Tolkien was hoping to create a set of myths. His influences were sagas and songs of the early Germanic peoples. LotR is a work derived from a deep love for history, language, and story, with which its author addressed issues of change, friendship, good, and evil. Sword deals with some of these subjects, but insubstantially. Its primary purpose is to tell an adventure story. That's not a bad thing, but it needs to be more original if it's to hold up over any length of time. I have stacks of fantasy books that tell fun stories without cribbing from better ones.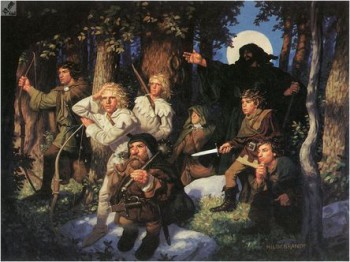 The worst sin that can be laid at The Sword of Shannara's feet is not Terry Brooks' fault. It's not even the del Reys' fault as they had no idea how successful it would be, nor how powerful the desire for more of the same. The wild success of Sword led directly to the wealth of epic-quest-against-dark-lord series that dominated fantasy fiction for the following twenty years. The publishers followed the money, and for years the public ate it up — think David Eddings, Robert Jordan, and Raymond Feist. (It wasn't all bad. Guy Gavriel Kay's Fionavar Tapestry and Tad Willam's Memory, Sorrow, and Thorn were written in conversation with Tolkien's work but stand on their own.) Unfortunately, the Tolkien-inspired works — weighing down the shelves with their thousands of pages, detailed maps, glossaries, secret heirs, and mentoring wizards — were stifling for the genre as a whole.
Brooks' Sword casts a long shadow: though there are few Tolkien clones these days, George R. R. Martin has said he partly wrote The Song of Ice and Fire in response to what he called the "degraded goods" of contemporary Tolkienesque epics. So the Martin clones, writing big sprawling, multi-character epics set across vast landscapes, though not Tolkien in tone, are still direct descendents of his bastard child. Pretty impressive for a book that's mostly derided these days.
I don't hate The Sword of Shannara, but I doubt I will read it again. It does suffer in comparison to The Lord of the Rings. As I've aged my readings of Tolkien have become deeper and his themes more resonant while Brooks' first book seems shallower and less successful than it did when I was eleven. The golden cloak of nostalgia — for my youth, for the excitement of reading a big book so quickly, for all sorts of things I associate with Sword —  is fading. I fear if I read it again it will vanish entirely, and I think that might be a very sad thing.