How I Learned to Stop Worrying and Love Dungeons & Dragons 5th Edition
How I Learned to Stop Worrying and Love Dungeons & Dragons 5th Edition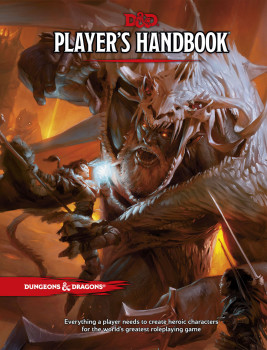 The newest edition of Dungeons & Dragons, 5th edition, recently passed its one-year anniversary. Though I reviewed the books when they first came out, my gaming group didn't want to give up their current systems to switch over. They've been playing edition 3.5 for years, are comfortable with the rule structure, and like leveling up into prestige classes.
One thing that is notable about this edition of Dungeons & Dragons is that players have not been swarmed by supplemental books or a variety of rule options. After a year, it's rather refreshing that Dungeons & Dragons continues to have retained an emphasis on their core three books:
Dungeon Master's Guide (Amazon)
But this does mean that hardcore gamers like me, who are used to geeking out over systems where you're really allowed to customize many aspects of your character, may feel like Dungeons & Dragons doesn't cater to us. This is a bit unfair, and may be a sign that we've just gotten too spoiled with abundant choices in other games system.
When creating characters in 5th edition, there are at least five major choices that drive early customization of the characters:
Race
Attributes
Class
Background
Class sub-type specialization

Cleric Domain at level 1
Wizard School at level 2
The other classes choose an "archetype" at level 3, such as "Hunter" or "Beastmaster" for Ranger
You have a variety of options about which skills your character is proficient in, and various class traits (such as Fighting Style choice for some martial classes) give you additional customization options. Even with the relatively limited array of options, there are definitely enough choices to make sure that two human fighters are distinct from each other, without having to layer archetypes or prestige classes or feats onto the character. However, the rules do allow you to choose feats every 4 levels, in place of a +2 attribute increase, if the GM wants to allow that level of flexibility.
This makes the entry into the game very reasonable. All a player needs is a Player's Handbook (which can be shared, after all), and the Dungeon Master doesn't need a ton of supplemental material to keep up with the characters.
Of course, since my gaming group already owns all of that supplemental material for 3.5, and are a bunch of old farts, they have no incentive to move on to the newer system. This means that, like the smoking industry, I have to catch 'em while their young if I'm going to get a chance to play 5th edition regularly.
Dungeons & Dragons & Kids
In my original review of the Player's Handbook a year ago, I had made the comment that if I were to introduce someone to gaming, I would definitely use 5th edition. This was put to the test when my 10-year-old asked me to run a roleplaying game for him and some friends. I pulled out the Dungeons & Dragons Starter Set, had them pick pregenerated characters, and dropped right into the adventure.
I've got to admit that I have historically tended to run my own adventures. This isn't to say that I'm above pilfering adventure modules for NPCs, monsters, and various setting information and ideas, but I have almost never run a full plotline out of a manual. I had, however, recently started using modules for my Pathfinder RPG group. As a grown up with various "responsibilities," it is great to have the option of letting someone else do the heavy lifting of planning the adventure every once in a while.
So when I ran the game with my son and his friend, I ran the adventure pretty much straight out of the Starter Set adventure book. It was a good, solid introductory adventure, and both the kids had fun. My son, the elf wizard, got knocked unconscious and nearly killed twice in single hits from goblins. The friend, a halfling rogue, botched on an attack roll against a fleeing goblin … and dropped his sword in a pile of poo. (This was one of my own flourishes, and not part of the official adventure. We realized after this that Halflings have the option to re-roll natural 1's, but I'm glad we didn't know that at the time. Every player should have to clean poo from his sword during his first adventure.)
One mechanic in the gameplay that is a lot more deft than I originally thought is the advantage/disadvantage mechanic. If you are in a situation that provides an advantage, such as ambushing an enemy, then you roll two d20s and take the better of the two results. A disadvantage means that you roll two dice and take the worse of the two results. Think, for a moment, about the mathematics of this. Doing something with advantage means you only need one of the two dice to come up a 20 to get a critical success, so that means there's a 10% chance that you'll succeed critically when you have advantage. When you have disadvantage, however, you only get a critical success when both dice come up as 20 … which is a one-in-400 (or 0.25%) chance! Similarly, rolling natural 1's on an attack with advantage is 0.25% and doing so with disadvantage is a 10% chance. This makes much more sense than merely raising the difficulty of the roll.
The kids did a great job getting into the game. It quickly became evident that just blundering into combat without a plan would get them killed, and I was impressed to see the two 10-year-olds develop strategies based upon their combinations of skills, realizing that neither of them were a combat powerhouse.
Within a few sessions, though, as they began to get a better grasp on how the game and the rules worked, they proved themselves true gamers: they wanted to create their own characters. This definitely made me glad that I hadn't planned out long character arcs for them. We brought those pregen characters to a well-resolved stopping place, and then decided what to do next.
First, they wanted to bring some more of their friends into the game. Second, they wanted to take on something bigger … so, I figured why not go with an evil dragon god.
Campaign Options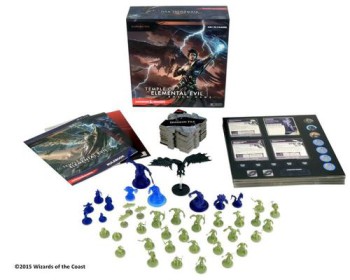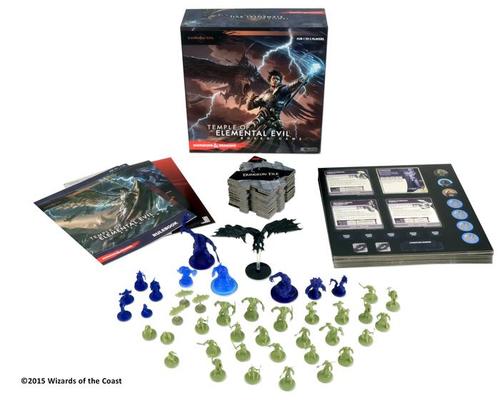 Aside from the three core books, the major releases of the first year of 5th edition has been focused on a variety of great hardcover adventure books, detailing entire campaigns. The enemies in these adventures are built around key enemy types: dragons, elementals, and demons, to be precise.
And these adventure books aren't just standalone tabletop adventures, but are tied into a cross-platform storyline among their various projects. Players of the MMORP Neverwinter, for example, also are running into elements of the storyline, in partnership with Gale Force 9 there are some great miniatures related to the different lines, and the Elemental Evil storyline resulted in a new board game, which can be tied into other Adventure System board games such as the Legend of Drizzt (Amazon) and the Dungeon Command series.
Tyranny of Dragons (Fall 2014)
Elemental Evil (Spring 2015)

Campaign hardcover: Princes of the Apocalypse (Amazon)
Tabletop accessory: Elemental Evil spell cards (Amazon)
Board Game: Temple of Elemental Evil (Amazon)
Miniatures: Elemental Evil booster (Amazon)

Rage of Demons (Fall 2015)
I have walked the group (now consisting, heavens help me, of as many as six 10-year-olds!) through the first few chapters of the Hoard of the Dragon Queen, and am looking forward to the next chapter of the adventure, which will focus around the group hiring onto a caravan so that they can keep track of a cult that is moving northward. The campaign thus far has been focused on dealing with raiders, some pursuit and stealth infiltration, and a lot of direct action. The caravan chapter is not combat-heavy, and is focused instead on roleplaying, and it'll be very interesting to see how the group deals with that. I have high hopes for them … although it's also possible they'll blow their cover on the first day.
Either way, it should be interesting.
The Future
On the horizon, Wizards of the Coast is releasing the Sword Coast Adventurer's Guide (Amazon). As someone who's dealing with a group of kids who don't have a background understanding of the setting, I'm definitely looking forward to seeing how they respond to some of the setting possibilities that this supplement will probably reveal. The campaign books mention the deities and various factions in passing, but these are storytelling elements that I like incorporating more deeply into the background of the setting.
In addition, the Dungeons & Dragons team is working on psionics rules to incorporate into 5th edition, focusing on their playtest of the Awakened Mystic class. They released a survey for user feedback in August 2015, and in September posted an article about the results of that survey and its implication for the rules that we'll ultimately see. Some optional variant rules have also been released, through the Unearthed Arcana articles on the DungeonsandDragons.com website.
One of the benefits of third edition of Dungeons & Dragons was that it introduced the idea of the d20 open gaming license, which allowed third parties to develop their own supplements for use with the game. The current incarnation of Dungeons & Dragons is definitely partnering with other gaming companies to help assist development, but that doesn't mean that some of these organizations aren't developing things on their own.
Case in point: just a few days ago, Kobold Press began a Kickstarter for their Tome of Beasts, which will features over 300 new monsters and creatures for use in 5th edition. It funded in just 8 hours and will release along with a Book of Lairs for quick adventure elements that you can drop into your game.
Have you been playing 5th edition of Dungeons & Dragons? What is your favorite element of this edition? How does it hold up to previous editions?