A Gentle Introduction to Unspeakable Horrors: A Picnic at the Mountains of Madness
A Gentle Introduction to Unspeakable Horrors: A Picnic at the Mountains of Madness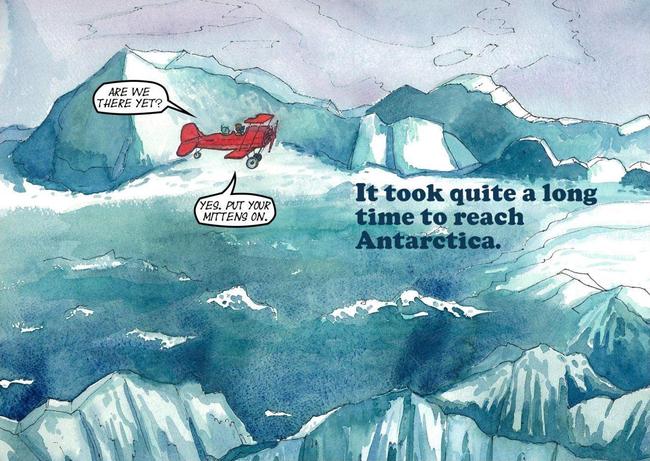 I love kids books. I have three children who were very used to being read to, and would spend long hours each week curled up in my lap — or on the corner of the couch, if my lap was otherwise occupied — listening to the works of Eric Carle, Dr. Seuss, Alan Snow, and William Joyce (and Stan Lee and Steve Ditko, when I could sneak them in).
I enjoyed all kinds of kids books, but the ones I loved the most were those with a sly adult humor. Which is precisely why I so enjoyed A Picnic at the Mountains of Madness, by Neil Baker and Maya Sugihara, published last month by April Moon Books.
On the surface, this is a thoroughly enjoyable adventure story. Harry and Kaylee receive a mysterious map in the mail from their "Uncle Howard," showing some curious ruins at the south pole. Packing a lunch and some warm clothes, they dash into the garage and climb into the family biplane (passing the family submarine and family excavator on the way), and in moments they're in the air, on their way to the very bottom of the world.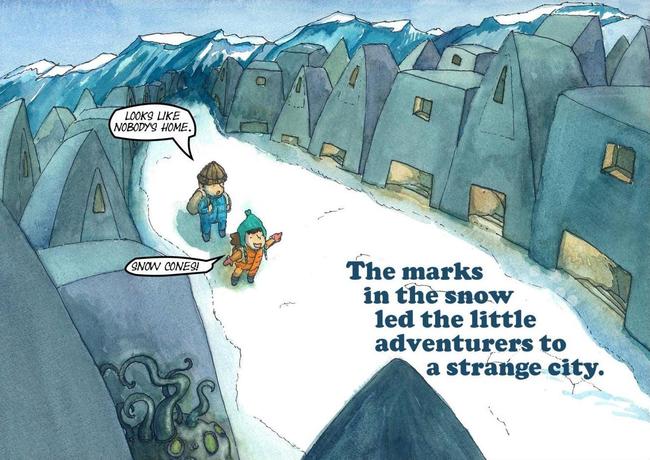 Underneath, A Picnic at the Mountains of Madness is delightful parody of At the Mountains of Madness, crammed to the gills with sly asides (written and visual) for fans of H.P. Lovecraft's classic novel.
The premise of two brave and resourceful children inadvertently intercepting a strange communiqué from H.P. Lovecraft, and being launched into a fabulous adventure in a realm of shadowy horror, is delicious. And in the hands of Baker and Sugihara it becomes something more — a simultaneously entertaining tribute, and delightful introduction, to the work of the greatest horror writer of the 20th Century.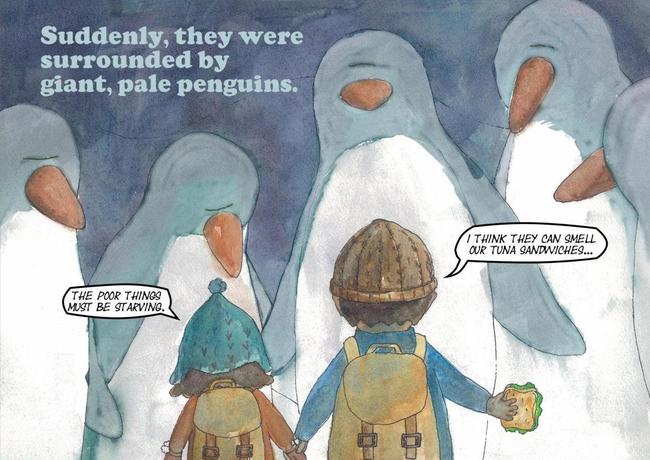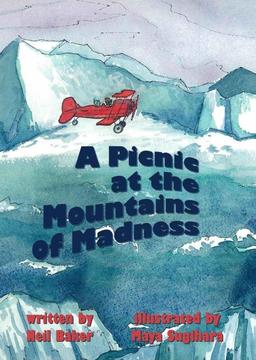 Harry and Kaylee are protected by the impenetrable literary convention that shields all children in kids books, and this make them ideal explorers in the sinister world of H.P. Lovecraft. Harry is courageous and intrepid, and Kaylee is enthusiastic and irrepressibly curious, and together they brave places where adults would quail back in terror.
A Picnic at the Mountains of Madness is exciting, original, and laugh-out-loud funny in places. It's also surprisingly evocative of the original. I closed the book with a strong desire to crack open my copy of At the Mountains of Madness, and enjoy it all over again.
Neil Baker's prose is concise and precisely on-point — crucial for a kids book — and Maya Sugihara's water colors somehow manage to reinterpret some of the most iconic horror scenes ever written as warm interludes before snack time. It's an impressive feat.
My only regret is that I didn't have A Picnic at the Mountains of Madness to share with my own children before they left home. I have no doubt that, after reading (and re-reading) it countless times, their young eyes would have been inevitably drawn towards the H.P. Lovecraft section of our family library, where they might have begun a long and satisfying acquaintance.
Or be driven to shivering night-sweats, and begging to crawl into bed with us for many a sleepless night. 50-50 either way.
A Picnic at the Mountains of Madness was published by April Moon Books on September 24, 2015. It is 40 pages in full color, priced at $11.49 in paperback and $7.49 for the digital edition. The cover is by Maya Sugihara.