Win a Copy of Carter & Lovecraft by Jonathan L. Howard
Win a Copy of Carter & Lovecraft by Jonathan L. Howard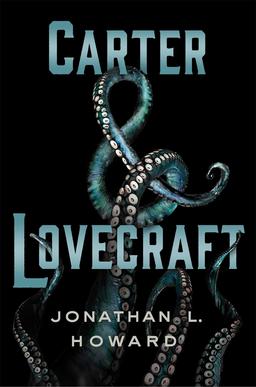 Jonathan L. Howard, author of the Kyth stories (BG 13 and 15) and the Johannes Cabal novels, is well know to Black Gate readers. We gave you a peek at his upcoming dark fantasy novel Carter and Lovecraft a few months ago.
Daniel Carter, ex-homicide detective, teams up with Emily Lovecraft, last known descendant of H.P. Lovecraft, to investigate a series of impossible deaths — and discovers the truth behind Lovecraft's fiction, and horrors that make the terrible things he witnessed chasing a serial killer years ago seem very tame, indeed.
Now, with the generous support of the book's publisher, Thomas Dunne Books, we'd like to offer you a lot more than just a peek at Carter & Lovecraft. We have a pair of advance review copies to give away to two lucky readers.
How do you enter? Just send an e-mail to john@blackgate.com with the subject "Carter & Lovecraft," and a one-sentence suggestion for the ideal Lovecraft team-up — and what dark horrors your dream team should investigate. We'll announce the winners the week before the novel is released, and present some of the best entries here.
Two winners will be drawn at random from all qualifying entries. All entries become the property of New Epoch Press. No purchase necessary. Must be 12 or older. Decisions of the judges (capricious as they may be) are final. Not valid where prohibited by law, or anywhere postage for a hefty trade paperback is more than, like, 10 bucks (practically, that means US and Canada).
Carter & Lovecraft will be published by Thomas Dunne Books on October 20, 2015. It is 320 pages, priced at $25.99 in hardcover and $12.99 for the digital edition.