Talking Over the Drowning City: An Interview with Christopher Golden, Co-Author of Joe Golem, Occult Detective
Talking Over the Drowning City: An Interview with Christopher Golden, Co-Author of Joe Golem, Occult Detective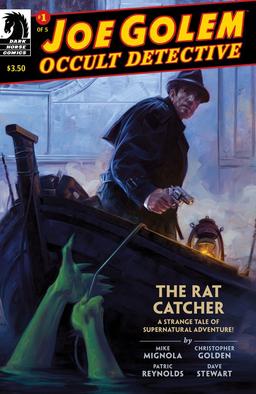 I've been e-interviewing different comics creators (indie comics guys Mirror Comics and graphic novelist-turned-TV producer Jay Odjick) as well as comic book editors (Xander Jarowey, Heather Antos, Jake Thomas, and Daniel Ketchum, all from Marvel Comics).
This time out, I wanted to chat with Christopher Golden, a best-selling author and one half of the writing team (along with Mike Mignola) on the 5-issue series Joe Golem: Occult Detective, from Dark Horse. Issue #1 comes out in November, but Dark Horse was kind enough to share an advanced view with Black Gate for this interview 🙂
Click on any of the artwork in this article for bigger versions.
---
Hey Christopher. Thanks for the chance to chat. I read a review copy of Joe Golem, Occult Detective, and really enjoyed it. I hadn't seen the world of the Drowning City before, but it was compelling.
Glad you dug it. Mike and I spent a lot of time crafting this world, making sure all the weird pieces fit, so I'm really looking forward to seeing what readers think.
How do you describe the key premise of what Joe Golem, Occult Detective is about?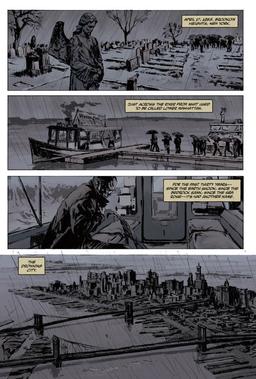 In an alternate-history 1965, the lower half of Manhattan has become a Venice style canal city, flooded under 20-30 feet of water. Joe is a fedora-wearing occult detective who looks after the terrified and hopeless when things go weird and wrong. His partner is Simon Church, a Victorian-era detective who's kept himself alive with a combination of magic and steampunk mechanisms.
Joe has no memory of his life prior to meeting Mr. Church, but he keeps having dreams and visions of a stone-and-earth monster created to hunt and kill witches in 15th century Croatia. But maybe they aren't dreams at all….
Joe Golem seems to come from two old traditions: pulp and monster stories. Both need to be modernized to affect a modern audience. What classic elements of each did you import from pulp and horror and what sorts of changes did you have to make to accommodate the tastes and expectations of modern audiences?
I disagree. I don't think the old traditions you're talking about need to be modernized to affect a modern audience. What I do think is that you need characters that are relatable to a modern audience. If you can do that — if the audience can connect with the fears and hopes and worries of your characters, and you present the story in a modern way, I think the audience will come with you.
The other thing I think you owe the audience is not to be too tied to those traditions. Maybe we're post-traditional now. We take the pieces we want, the things that serve the story, and we don't worry about whether it fits an old template. We take the things that inspire us and build something new.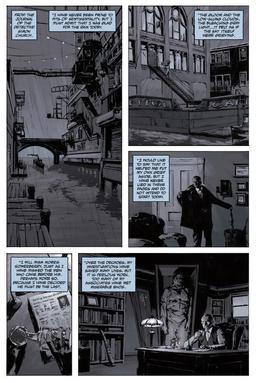 Dark Horse said that you and Mike Mignola were waiting for the right artist. What attracted you to the art of Patric Reynolds?
The key to all of this was finding an artist who could present the world of the Drowning City — the architecture, the theater marquees that are now docks, the different sorts of bridges, the oil-burning, clunking boats. The only way this story works is if the reader can really envision this world as a tangible reality, and Patric brings that to the the table.
There are a lot of visual elements here, Victorian and horrific and pulpy and a major influence from 1940s films. Those things do NOT naturally mix together, so we had to find an artist with the skill to weave them into a tapestry so that the weird things would feel just as tangibly real as the impeccable architecture renderings.
Scaring people can be tough to do. How do you approach writing horror, and was that the approach that worked for you in Joe Golem: Occult Detective?
There's definitely horror in this series, but I'm not setting out to scare you. It's not strictly a horror comic. If the characters are in situations that frighten them and you can empathize, you can be afraid for them, then hopefully you get some fear out of it.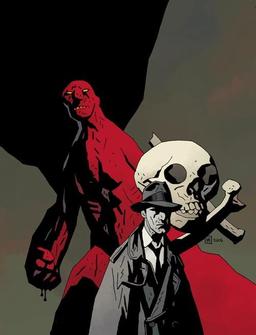 I guess that's my approach to horror in general. Douglas Winter famously said that horror is not a genre, it's an emotion.
My new novel Dead Ringers (which comes out the first week of November) is a perfect example of that approach. It's a horror novel in the sense that there are plenty of elements of the novel that are typically associated with horror. Evil doppelgängers, a spirit box, a demon, dead occultists.
But those elements are part of the genre of horror, not necessarily things that are going to elicit the emotion of horror. If you feel it, that comes from the characters and the situations you've put them in, not the trappings.
Creating can be tough just on your own, but you've found a lot of success in tie-in novels (Buffy, Sons of Anarchy, etc) and in co-authored work. How do you and Mike Mignola share creative space to write novels and comics?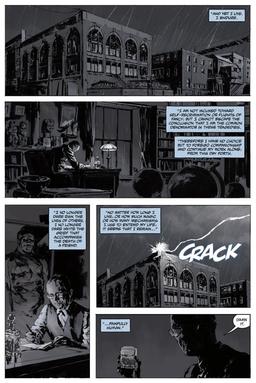 Mike and I have been working together on various projects for twenty years. He spends most of his time in the creative space inside his head, which is what you would expect for someone who's able to produce the stories and art that he does.
But we have a lot in common as far as the kinds of stories we love and with our frames of reference, including a passion for folklore, and for tearing apart the things we're interested in and seeing what happens when you put the pieces back together the way you like them instead of the way they've been put together before. It's a fairly organic relationship.
Mike is a great writer. I actually think he could write prose well but he doesn't have the patience for it, so he's always approached it as me doing something he can't quite wrap his head around. When it comes to the comics we've done together, working with him gives me a freedom to explore ideas and ways of approaching a story that I might not otherwise have.
Thanks so much for the interview. If people are interested in checking out Joe Golem, where can they go?
Comic shops can pre-order Joe Golem until October 12th, and it will be for sale on November 4th. It's a 5-issue self-contained series.
If you want to check out the novel, Joe Golem and the Drowning City, it's available for order from your finer bookstores and online, and the limited edition hardcover is still available from Dark Horse.
---
Derek Kunsken writes science fiction, fantasy and horror in Gatineau, Quebec. He just sold the Chinese rights for his most recent Asimov's Science Fiction Magazine story "Pollen from a Future Harvest", to China's SFWorld which will be his 5th time appearing in a market that reaches a million readers. He tweets from @derekkunsken (in English).