Adventures In Commitment: To Watch Beyond the Pilot?
Adventures In Commitment: To Watch Beyond the Pilot?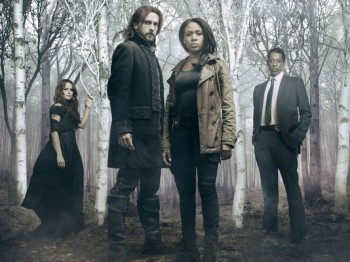 We live in a Golden Age of television. Quality work springs up every season, clamoring for our attention. Thing of it is, the hours available in any given day have not kept pace. Days on planet earth continue to mete out a mere twenty-four hours total, and I (for one) need to be sleeping for at least seven of those.
For what, then, will I give my precious time?
With books, I have a rule. If a series remains unfinished, I refuse to delve. I call this "The Robert Jordan Rule," and at present, I am busily applying it to George R.R. Martin. However, I'm feckless, and inconstant besides. I have not applied said rule to Patrick Rothfuss, and I beg you not to apply it to my own burgeoning series of Renner & Quist adventures, the latest of which, Bonesy, arrived September First.
The Robert Jordan Rule proves equally impossible to apply to television. Hardly any series is made with an end point in mind. Most simply peter out when audiences wane, budgets get slashed, or the makers finally admit they have no idea how to wrap things up (and possibly never did). What, then, to do? Does any criteria exist for what show next to watch?
To begin, we must invoke Elton John and Bernie Taupin. Take Me To the Pilot!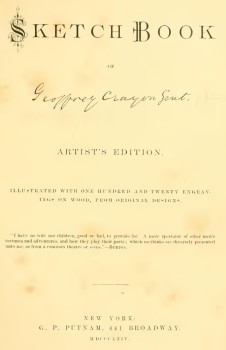 And which pilot shall we investigate? I vote for a quick peek at Sleepy Hollow, which scores out of the gate in two departments. First, it's clearly fantastical, and second, it references a chestnut of a literary classic, Washington Irving's Sketch Book (full title, The Sketch Book of Geoffrey Crayon, Gent.). Irving's best-remembered work was published in seven installments (stateside) and contained the two stories for which fantasy fans will ever be in his debt, "Rip Van Winkle" and "The Legend Of Sleepy Hollow."
So I already know that Sleepy Hollow will reference "Sleepy Hollow," but will the former live up the latter? Disney's hilarious, terrifying short film (animated) certainly does, so there's hope.
Ultimately, my take on Sleepy Hollow's pilot is much like my reaction (back in the day) to the original X-Files inaugural. The whole thing feels rushed. It's TV for the Twitter generation. The honest emotions (even in the hands of  excellent actors, including the inveterate Clancy Brown of Highlander fame) are never given time to surface, much less process. The producers all but stuff the portents of a revived Headless Horsemen down our throats, then order the traumatized cast to smile, just to be sure we know they're cute, and that they like each other.
So, no. I'm not watching this stuff. Good actors and fantasy tropes aside, I've got lawns to mow and children to raise.
But soft! The X-Files turned out to be bloody brilliant.
And at the very least, Sleepy Hollow sure is bloody.
So what do we viewers want out of a pilot?
The following, for certain:
1)   Unanswered questions.
2)   Affecting characters with unsolved problems.
3)   A hummable theme song. (Scratch that. What is this, Cheers?)
4)   A strong sense that the creative team behind the show knows what they're doing.
5)   Something more than gimmickry, i.e., artistic merit.
6)   Compelling actors.
7)   Surprising dialogue.
8)   Situations I've not seen before, yet still echo those I love best.
9)   A potential for an actual, logical end point (see The Robert Jordan Rule, above).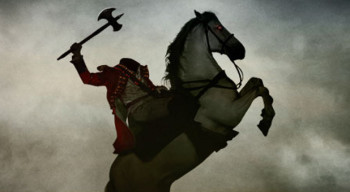 Despite my misgivings, I must admit that Sleepy Hollow scores points on most of these requirements.
Its greatest asset, other than resurrecting both Ichabod Crane and the nefarious Headless Horseman, is that even a half hour in, a potential end point has been suggested: the defeat of the horseman, together with his three fellow apocalyptic riders.
It also boasts a very fine and unexpected twist, a shift in allegiance that I, at least, never saw coming.
Number Four, however (the Creative Team Clause), is a worry, thanks to the tell-tale hurry-hurry pacing — a real suggestion that I'm being worked by a cheapskate carnie magician, one whose only genuine secret is to keep the patter fast enough to steal my wallet.
A further sore spot is the overlay of strict Bible-thumping traditionalism. Ichabod, a fictional construct, and a secular one at that, is pitted here against the entire Book Of Revelations.
This seems incongruous at best. Sure, one can argue that Sauron is a stand-in for Satan, but do we want Frodo and Co. spouting Bible quotes in the quest to defeat him?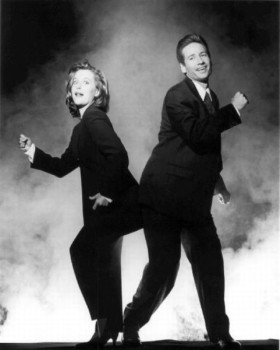 As far as wishing for a logical, satisfying conclusion, I suppose this really is asking too much. How many TV shows ended gracefully? The only one I can think of is The West Wing, where the show ran the course of an eight-year administration, and bowed out with the election of a new U.S. President. Not perfect, no, since most of the best episodes ran much earlier in the cycle, but formally elegant.
Compare to Twin Peaks or The X-Files (both of which badly overstayed their welcome) or The Sopranos, which didn't end so much as it simply picked a point at which to leave off. As for Lost, did the makers ever understand what they were busy building? I know I didn't.
So now, the verdict.
To soldier bravely on, or to sample something else?
Commence the hand-wringing!
Dither, dither.
No. Can't do it.
Tempting as Sleepy Hollow is, there simply must be something better. Youtube videos showing sneezing baby pandas, for example.
Onward.
---
Mark Rigney has published three stories in the Black Gate Online Fiction library: "The Trade," "The Find," and "The Keystone." Tangent called the tales "Reminiscent of the old sword & sorcery classics… once I started reading, I couldn't stop. I highly recommend the complete trilogy." Also available at Black Gate is his serialized novel, In the Wake Of Sister Blue. The first installment may be found HERE.
Away from Black Gate, he is the author of the supernatural quartet, The Skates, Sleeping Bear, Check-Out Time, and Bonesy, all published by Samhain and featuring his semi-dynamic duo of Renner & Quist. His short fiction has been nominated for a Pushcart Prize and has appeared in Unlikely Story, Betwixt, Black Static, The Best of the Bellevue Literary Review, Realms of Fantasy, Witness, The Beloit Fiction Journal, Talebones, Not One Of Us, Andromeda Spaceways Inflight Magazine, Lady Churchill's Rosebud Wristlet and many more. In other work, Rigney is the author of the plays Ten Red Kings, Acts of God and Bears, winner of the 2012 Panowski Playwriting Competition, as well as the non-fiction book Deaf Side Story: Deaf Sharks, Hearing Jets and a Classic American Musical (Gallaudet). Two collections of his stories (all previously published by various mags and 'zines) are available through Amazon, Flights of Fantasy, and Reality Checks. His author's page at Goodreads can be found HERE, and his website is markrigney.net.