The Perfect Prescription for Perdition: Doctors in Hell, edited by Janet Morris and Chris Morris
The Perfect Prescription for Perdition: Doctors in Hell, edited by Janet Morris and Chris Morris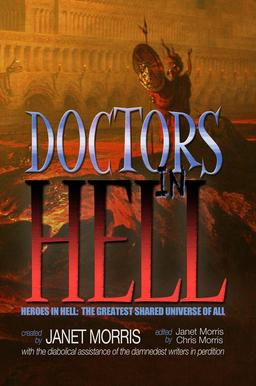 Doctors in Hell
Heroes in Hell, Volume 18
Edited by Janet Morris and Chris Morris
Perseid Press (336 pages, $19.98 in trade paperback, $7.92 digital, June 23, 2015)
Cover: Pandemonium, John Martin (1789-1854), circa 1841, oil on canvas, from private collection. Cover design by Sonja Aghabekian
Be careful to preserve your health. It is a trick of the devil, which he employs to deceive good souls, to incite them to do more than they are able, in order that they may no longer be able to do anything.
— St. Vincent De Paul
By now, many of you no doubt know of my association with Janet Morris and Perseid Press. Maybe you've read the reviews of her novels that I wrote for Black Gate, including my reviews of Lawyers in Hell, Rogues in Hell, and Dreamers in Hell. In 2014 Janet and I collaborated on an article for Black Gate, in which we discussed Poets in Hell, how I came to be involved with Hell, and how she put that volume together.
Now, for 2015, Perseid Press offers you Doctors in Hell, the 18th volume in the popular and long-running Heroes in Hell saga, created by Janet Morris back in 1986 .This year I'm going to do something similar to what Janet and I did last year: presenting a brief synopsis of each story/chapter, with the diabolical assistance of my twelve fellow Hellions — the damnedest writers in perdition, to paraphrase the text on the book's front cover. That makes 13 of us… a nice number, don't you think?
First, however, I want to share with you my take on the infernal Afterlife of Hell, as it's portrayed in the Heroes in Hell shared-universe.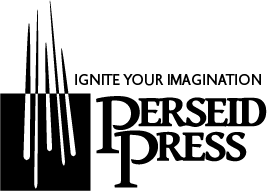 The series is often called "Bangsian fantasy," a genre of fantasy which concerns the use of famous literary or historical individuals and their interactions in the afterlife. It's named for John Kendrick Bangs (1862 –1922), an American satirist who often wrote such tales. Heroes in Hell itself is an epic series of shared-world novels where the famous and infamous throughout history all wind up together in Hell, where they virtually pick up right where they left off when still alive — but now with a diabolical twist: Hell may give you what you want and what you need, but these things are never quite what you asked for. Hell is not what you'd expect, so always expect the unexpected. Things are broken in Hell, things malfunction, and there's always a grand touch of irony to everything that happens. Hell gives and Hell takes away, and in Hell the Damned get just what they deserve. There is comedy and tragedy in this eternal and infernal arena of Lost Souls, where human drama is played out across a wide spectrum of such literary genres that include heroic fantasy, horror, action-adventure, political thrillers, westerns, science fiction, and even romance. Each individual story in each book reads like a chapter in a novel, and each story/chapter bears the unique touch and personality of its author.
The premise of the series is based on the tradition that 613 is the number of mitzvoth or commandments in the Torah, which began in the 3rd century CE when Rabbi Simlai mentioned it in a sermon that is recorded in Talmud Makkot 23b. Our series of novels begins with the 613 original commandments, binding on every living soul, and ignorance is no excuse: break just one little commandment and you go to Hell. So almost everybody who was anybody broke some commandment or other while on earth, and now here they are, sometimes in a part of Hell where they belong, sometimes in an area of Hell where they don't. The Damned come from across the length and breadth of time and history to interact, to scheme and plot, and even go adventuring — all the while suffering the torments of a well-deserved damnation. The worst and best from all of time make the same mistakes in Hell that got them there in the first place: character is destiny, in life Topside and in the Afterlife of the underverse, as well. You could read these books in order, in any order, or without having read any of the previous volumes in the series. In Hell, Time is meaningless, so it doesn't matter which book you begin with: start anywhere, for the cohesion in each volume makes it stand alone. You can read Hell forward or backward or upside down: Hell is still Hell. It still unsettles minds and makes hearts skip beats. The Damned get the Hell they deserve. Expect what will be, nothing less, and nothing more. This is not your mommy's world of fantasy: this is Hell, and tonight we dine on gore, tonight we feast on souls.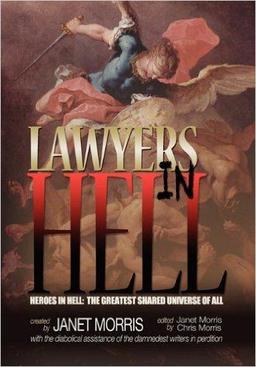 Now, as to what's going on in Doctors in Hell…
For all the horrors and torments that Satan has unleashed upon the Damned, the Almighty has decided that he's been too lenient on them, and so to Hell were sent Erra, the Babylonian plague god, and his henchmen, the Seven Sibitti, to spread plague and terror, to wreak havoc and further punishment throughout the underverse. Erra then stirs the pit by adding his own little brand of mayhem, maleficence, and malefic maladies to the mix. The result is that pestilential misery runs amok in Hell, lost souls wail in even more torment, doctors raise their fees, and snake-oil salesmen make a killing selling all sorts of bootlegged versions of vaccines and so-called remedies for the plagues sweeping across and through all levels and circles of Hell. But the damned must suffer, and the Devil is furious about Erra and his enforcers being sent from Heaven to prove that Hell is insufficiently hellish. And since death in Hell for all lost souls is only fleeting, followed by a horrifying turn in the Mortuary where they are worked on by the Undertaker prior to being reassigned, torment and suffering are eternal.
There is no escaping Hell. And don't bother telling Hell's doctors where it hurts, they won't care. They have their own problems.
Ah, but Satan has a plan. Satan always has a plan. It's a purge that may be even more terrible than anything cooked up by Erra. Satan, you see, has always held to the belief that Mankind is worthy of neither salvation nor damnation, and deserves only oblivion: total obliteration into nothingness. His Satanic Majesty has been trying to prove his point to Heaven and the Big Man Upstairs for ages upon ages, and this argument is what landed him in Hell in the first place. The Devil has always insisted that modern souls in Hell — called the New Dead, roughly anyone born Anno Domini — are so vicious, self-centered, hubristic and morally bankrupt that they would punish themselves and each other, if given a chance, more horribly and thoroughly than Hell's bureaucracy could ever contrive to do. This leads to a bet between Satan and the angel Altos, who wants to prove the New Dead worthy of salvation — or at least deserving of leniency, to show themselves no worse than their predecessors or successors.
This brings us to the first story, The Wager, by Janet Morris and Chris Morris, wherein Altos, Hell's only volunteer angel, has been sent from Above to effect Satan's rehabilitation, a daunting task. Altos and Satan wager on the outcome of a battle between 20th and 21st century militarists who, Satan says, "will combat one another in battles fought exclusively by volunteers: armies manned by voyeurs of violence who find vicarious thrills reading of heroes who never were, fighting villains who never could be. If we hold this war and nobody comes, or the doctors of the damned heal the wounded and save the plague-ridden, then, Altos, you will win, and I shall soften my heart unto the New Dead and forestall the purge you know I am readying."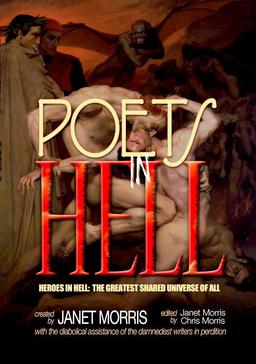 Chris Morris follows this up with The Cure, where Satan orders John Milton: "Tell Marlowe you have learned the difference between oblivion, impossible in my domain, and obliteration, which a soul can claim, be he brave enough: obliteration — complete and sweet: Not only 'not to be,' but to be expunged as if he'd never been at all. This will make an end to his playwriting and poetry, and an end to his affair with Shakespeare." So Milton, horrified at what he hears next, must infect Christopher Marlowe with the knowledge of this cure.
Next up is Andrew Paul Weston's tale, Grim: Satan demands a purging laxative to clear the bowels of the underworld of the dross that has accumulated over the centuries, and turns to the doctors for assistance. However, it appears our infernal physicians are hell-bent on fomenting rebellion. Forced to act, His Satanic Majesty turns to his Chief of Surgical Strikes and cure-all remedy — Daemon Grim — to wield the scalpel of injustice… and wield it he does.
In The Right Man for the Job, Deborah Koren's story, we learn that the only thing worse than having Wyatt Earp gunning for you is having Wyatt Earp and plague victims after you. Bat Masterson joins forces with Dr. Henry Porter, the only surviving surgeon from the Little Big Horn, in order to stay alive.
The main premise of Nancy Asire's Memory is the plague that's struck hell and Napoleon's memories of dealing with plague during his Egyptian campaign. The ramifications of these memories color his actions when dealing with the threat to those he cares about and shows the response of his friends in the face of potential disaster.
R.E. Hinkle's story is What Price Oblivion? In this, he writes of 19th Century confidence man Charles "Doc" Baggs, who abhorred violence in life, but finds himself in death forced to be the thing he loathes the most, so much so that even oblivion is preferable to the monstrosity he has become. But when he encounters another doomed soul in worse torment than his own, who deserves that oblivion more than Baggs himself craves it, he finds himself tempted to take action. Can there be good deeds, even in Hell?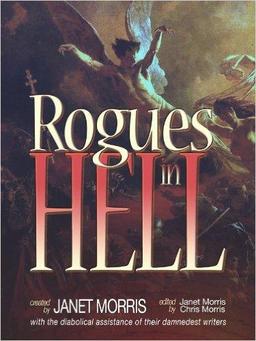 Richard Groller's In the Shadowlands picks up where his previous story, ("Island Out of Time") left off. Houdini's brief escape from Hell results in him returning to Hell with an unwitting passenger: a living lawyer, not yet a member of the damnable dead. His self-assigned mission is now to return the lawyer to the land of the living before it is too late.
In Matthew Kirshenblatt's Let Us Kill the Spirit of Gravity, a fallen angel awaits and a Beast awakens as Lilith, the first wife of Adam, and the philosopher Friedrich Nietzsche come to an unlikely accord.
Pavlovian Slip, by Bill Snider, is up next. In Hell, one would expect that psychologists would be in their place; the variety, the divergences of human experience, the interactions, the very grist of individual will and the exercise thereof. But, for Ivan Pavlov and Sigmund Freud, there can be no joy of discovery, there can only be the persistence of existence, in Hellish accord. When Ivan and his demonic horde of Grumbles join with Sigmund… what kinds of insanity are likely to happen?
My own story, Hell on a Technicality, continues the misadventures of Doctor Victor Frankenstein who, with the assistance of Quasimodo, concocts a plague vaccine that has some unforeseen and diabolical side effects. Meanwhile, Galatea and Frankenstein's Monster visit a panel of so-called experts to find out if they have or don't have souls — and if they don't, can they get out of Hell on a technicality?
In Michael H. Hanson's Convalescence, Nurse Calamity Jane, with the help of her Sinchester Rifle, protects Satan's final outpost, The St. Rictus Nursing Home, from the all-encompassing plagues sweeping across Hell.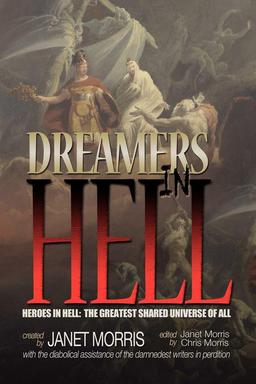 Paul Freeman's Hell Noon deals with the plagues sweeping through hell, corrupting souls already suffering the harshest torments, and a group of gamblers holed up in a saloon on the outskirts of the Dead Plains. Doc Holliday leads the motley crew of damned souls as they seek to sit out the spreading contagion. But hell holds no place to hide from Satan's punishments, least of all for a gambling man seeking to con the lord of all evil.
In The Judas Book, by Jack William Finley, Lobotomist Dr. Walter Freeman thinks he's got a loophole to free himself from Hell. Judas Iscariot thinks he's got Hell's news bestseller, and Frank Nitti thinks they are both a pain in his ass worthy of Hell.
Now we come to the end of it all with Writer's Block, by Janet Morris and Chris Morris. This time out, Shakespeare insists on taking Christopher Marlowe to the most infamous witch doctors in hell, where Marlowe begs their aid to find his lost Muse: "Can you help us? Spin a spell? Weave a charm? Vex a potion? Hex an enemy? Do any magics such as your sign outside boasts you can?"
"I can. I'll give ye a push toward destiny," cackles one bristly hag.
And the witch doctors do just that.
Oh, wait! We're not quite finished yet. As a special treat, there's A Moment of Clarity, a wonderful excerpt from Andrew Paul Weston's forthcoming novel, Hell Bound.
So there we are, Doctors in Hell, where the doctor is always wrong, sinners never win, misery runs amok, and Hell's damned get their just deserts . . . eternally. I hope you join our Company of 13 Hellions on a journey through all the pits, circles and levels of Hell, where not only doctors, but explorers, warriors, playwrights, lawyers, rogues, dreamers, and poets become an unlikely band of heroes — and anti-heroes — in Hell.
---
Joe Bonadonna's last review for us was Milton J. Davis' saga Changa's Safari.