Future Treasures: A Knight of the Seven Kingdoms by George R. R. Martin
Future Treasures: A Knight of the Seven Kingdoms by George R. R. Martin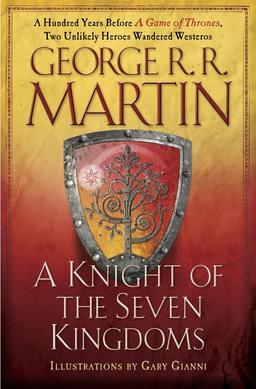 Many of George R. R. Martin's legions of fans are unaware that, parallel to the epic storyline of A Game of Thrones, Martin has been quietly telling another tale of Westeros, featuring two unlikely wandering heroes. The story has unfolded in a series of novellas published in anthologies Martin and Gardner Dozois have edited over the past few years, and now at long last the stories are being collected in a deluxe volume, heavily illustrated by Gary Gianni, to be published in hardcover by Bantam Books next month.
Taking place nearly a century before the events of A Game of Thrones, A Knight of the Seven Kingdoms compiles the first three official prequel novellas to George R. R. Martin's ongoing masterwork, A Song of Ice and Fire. These never-before-collected adventures recount an age when the Targaryen line still holds the Iron Throne, and the memory of the last dragon has not yet passed from living consciousness.

Before Tyrion Lannister and Podrick Payne, there was Dunk and Egg. A young, naïve but ultimately courageous hedge knight, Ser Duncan the Tall towers above his rivals — in stature if not experience. Tagging along is his diminutive squire, a boy called Egg — whose true name (hidden from all he and Dunk encounter) is Aegon Targaryen. Though more improbable heroes may not be found in all of Westeros, great destinies lay ahead for these two… as do powerful foes, royal intrigue, and outrageous exploits.

Featuring more than 160 all-new illustrations by Gary Gianni, A Knight of the Seven Kingdoms is a must-have collection that proves chivalry isn't dead — yet.
Here's what GRRM said about the book on his blog back on February 25th.
Circle October 6 on your calendar.

My friends at Bantam have just informed me that will be the day that A Knight of the Seven Kingdoms in released in English, collecting all three of my "Dunk & Egg" novellas — "The Hedge Knight," "The Sworn Sword," and "The Mystery Knight" — between one set of covers for the first time.

Many of you, of course, will have read the adventures of Ser Duncan the Tall and his squire Egg in their original appearances in Legends, Legends II, and Warriors. But A Knight of the Seven Kingdoms will have a lot more than the three stories. We wanted this to be an illustrated book, so we went to the amazing Gary Gianni and asked him to do some art for us, thinking perhaps we could include seven or eight interior illustrations. Gary turned us down. He loved the stories, he said, but he'd only do it if he could illustrate the entire book, with art on virtually every page.

We said yes, of course, and Gary has been drawing for the better part of two years. Most fantasy fans know Gianni's artwork from his work on Prince Valiant, on the Wandering Star limited editions of Solomon Kane and Bran Mak Morn, and of course for his stunning 2014 Ice & Fire calendar, but we think A Knight of the Seven Kingdoms may be his best work to date.
A Knight of the Seven Kingdoms Bantam will be published by Bantam Books on October 6, 2015. It is 368 pages, priced at $30 in hardcover and $14.99 for the digital version.
See all of our reports on the best in upcoming fantasy here.