A Proposal: An Award for SF Storytelling
A Proposal: An Award for SF Storytelling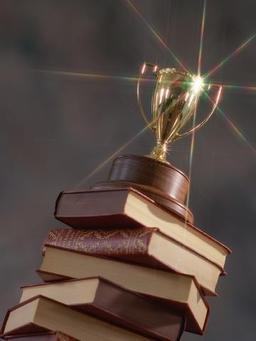 One thing that's been a constant in the back-and-forth over the Hugos has been the refrain from the folks who think there's nothing wrong with them as they stand: "Why don't you create an award for stuff you like?" Comments on this very blog have raised that point, and at least one commenter meant it in all seriousness.
This grates on me a bit. In one sense, to create a new award sounds like an admission of defeat, of an inability to make an award that's supposed to represent all of fandom really do that. In another sense, though, it's a way to ensure that at least one set of awards for SF/F represent what it is truly about: the story above all else.
I've developed a proposal for just that: a series of awards to celebrate and commemorate the SF/F storyteller's art. It's modeled after the Hugos, with two major changes: a panel of judges evaluates the nominees to ensure that they are indeed good SF/F stories, and can reject a limited number of them; and the pool of eligible voters is based on a web of trust starting with the signers of the proposal. All voting and nominating is done automatically, on the Web.
I've tried and failed to come up with a unique name for the awards. My first choice was the Heinleins, after the greatest storyteller in SF, but that was taken. Next, I thought I'd use the name of one of Heinlein's characters who was a great storyteller, Noisy Rhysling, but that was taken as well. Rather than thrash around the question, I decided to punt and let others suggest names.
The actual proposal-cum-manifesto is after the jump.
The (insert name here) Awards
We the undersigned believe that those who recognize achievement in science fiction and fantasy (SF/F) have lost sight of the core question to be answered when evaluating a work in the genre: "Does it tell a good story?"
Therefore, we propose a new series of awards, to be named The (insert name here) Awards for Storytelling in Science Fiction and Fantasy, or the (insert name here) Awards for short.
The (insert name here) Awards will be granted as determined by SF/F fandom as a whole through a nomination, qualification, and election process managed initially by a committee of volunteers from across fandom. A Foundation shall be established and obtain recognition from the US Internal Revenue Service as a nonprofit corporation under the provisions of section 501(c)(3) of the Internal Revenue Code, and the Foundation's Board of Directors shall assume management of the Awards once it has done so.
The criterion for selection is simple: Does the work in question tell a good SF/F story? This is the focus of the (insert name here) Awards, and voters are encouraged to consider works exclusively on that basis. The Judging Committee will use the quality of SF/F storytelling as their sole criterion. Other awards exist to honor works for other qualities.
The Mechanics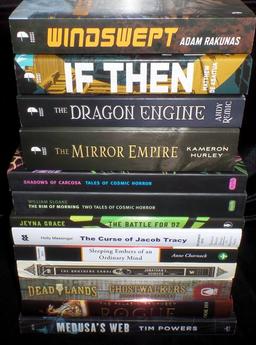 All works of SF/F that meet the definition of the category and were first published in the preceding calendar year are eligible. For the purposes of this provision, "first published" means first made available for public consumption, with or without charge, through any medium including bookstores, broadcast media, Internet sites, or any other means of distribution. Self-published works that sell less than 1000 copies and are subsequently published by a commercial publisher are eligible for consideration as though they had not previously been published. The Foundation's Board of Directors may grant and publicize exceptions to these criteria in extraordinary circumstances.
The following categories are defined:
Best Novel – Written SF/F stories of 50,000 words or more in length.
Best Novella – Written SF/F stories between 5,000 and 50,000 words in length.
Best Short Story – Written SF/F stories 5,000 words in length or shorter.
Best Young Adult Story – Written SF/F stories of any length intended to be accessible to and enjoyed by SF/F fans under 18 years of age.
Best Dramatic Presentation, Long Form – Any SF/F story intended to be performed for an audience of over 90 minutes in length.
Best Dramatic Presentation, Short Form – Any SF/F story intended to be performed for an audience in 90 minutes or less.
Best Graphic Story – Works of graphic art, with or without accompanying text, that tell an SF/F story.
Best Related Work – Any nonfiction or fiction work that is not itself a work of SF/F storytelling, but serves to advance the SF/F storyteller's art.
To minimize voter confusion, the nominating and voting processes are intended to track as closely as possible those defined by the World Science Fiction Society for the Hugo Awards, as modified by the proposals adopted at the Business Meeting at Sasquan in 2015.
Works are nominated by ballots collected from eligible voters. Each voter may submit one ballot with up to four nominees in each category. A total of six nominees will be chosen by a process formally known as Single Divisible Vote and informally as the E Pluribus Hugo proposal. Briefly, each ballot counts as one vote in each category, divided equally among all of the nominations for that category still in consideration. At each stage, the point totals are summed, the two candidates with the lowest point totals are taken, and the one with the fewest number of first-place choices is eliminated. Ballots voting for the eliminated candidate are reevaluated as though that candidate had never been nominated, and the tally begins again. This process is repeated until six candidates remain, at which time those six become the nominees.
The nominees are then considered by the Judging Committee. The judges shall evaluate each work solely by its storytelling. The judges may disqualify any work they find to have an emphasis on other than telling a good SF/F story. They may disqualify no more than three nominees in any category. The disqualified nominees will be replaced by reprocessing the nominating ballots from the beginning as though those nominees had never been submitted; the judges may not disqualify the replacement nominees. This power is expected to be used very sparingly, as the awards are intended to reflect the choices of fandom at large.
Once the nominees are selected and judged, they will be voted on by the Single Transferable Vote method (also known as the Australian Ballot). Unlike the Hugo Awards, there is no provision for No Award. The winners will be given their awards at a public ceremony.
After the ceremony, all ballots, both nominating and voting, shall be made readily available in a form that permits automated processing to check and analyze the results. Any personally identifying information shall first be removed.
Eligible Voters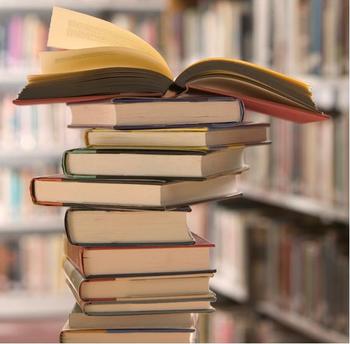 To become an eligible voter for the (insert name here) Awards, a person must be vouched for by one or more existing eligible voters. This is defined as having a trust level of 1 or greater. When first registering to vote, a person's trust level is 0. An existing eligible voter whose trust level is 3 or greater may raise or lower the trust level of up to three other people by 1 each, and this number rises by 1 with each additional trust level until a maximum of a trust level of 10 is reached. The undersigned, as well as prior recipients of a (insert name here) Award and current and past members of the Foundation Board of Directors and Judging Committee, may raise or lower the trust level of any person by 1. A voter may not raise the trust level of anyone who raised his own, nor of anyone in the chain of trust leading back to those holding unlimited trusting privileges.
[Added 2015-09-13 09:40 CDT:] This trust metric is intended solely to ensure that those voting for the Awards are who they say they are, and that each person only casts one vote. Any person is welcome to nominate and vote, regardless of any political beliefs they may hold. [/addition]
All registration and trust level processing shall be done automatically by the (insert name here) Award website. All records of trust levels being raised or lowered shall be retained for a period to be determined by the Foundation Board of Directors; this period is intended to be limited only by practical methods of data storage.
The Judging Committee
The Judging Committee shall consist of no more than five members. They shall be chosen by the Foundation Board of Directors, and selected for their knowledge of the fields of science fiction and fantasy and their commitment to uphold the ideals of the (insert name here) Awards. They may serve as long as they and the Foundation Board of Directors wish.
The Foundation Board of Directors
The Foundation shall have a Board of Directors of at least the minimum number required by the laws of the state of incorporation for a nonprofit 501(c)(3) corporation. Any officers as may be required by law shall be chosen by the Board annually from within its membership. The initial Directors shall be elected by the undersigned. After the Foundation has been in existence for three years, Directors shall be elected, one third of the Board's membership every year, to serve three-year terms by those eligible to vote for the (insert name here) Awards.
The Rationale
The rationale for the (insert name here) Awards is simple. Over time, the Hugo voters have considered other factors than the most fundamental when evaluating a work. They have chosen works based on their political emphasis, or the race or nationality of the author, or other criteria aside from that which defines SF/F. Attempts to turn the Hugo Awards back to the foundations of SF/F have been met with derision and outright hatred. Despite their previous claims to the contrary, the Hugo Awards voters and others now say that the Hugos represent the World Science Fiction Society's choices, not those of fandom at large.
The (insert name here) Awards are intended to redress this situation, and give all of fandom a means of influencing an award that represents them. Those arguing that the Hugo Awards rightly belong to the membership of the WSFS have said that those who believe that there should be awards truly representing all of fandom should start their own awards program. We the undersigned choose to take up this challenge. (to be rewritten)
---
Jay Maynard rose to Internet fame in 2004 for daring to show how he made a skin-tight Masquerade costume inspired by the movie TRON, but he's been an SF fan for much longer than that. He works as a software developer, and lives in Fairmont, Minnesota with a roommate and upwards of 70 computers (they've both lost count).