The Public Life of Sherlock Holmes: Solar Pons – Who Needs a Hard Boiled Detective?
The Public Life of Sherlock Holmes: Solar Pons – Who Needs a Hard Boiled Detective?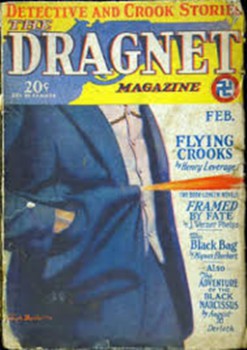 Solar Pons has already made several appearances here in The Public Life of Sherlock Holmes. And previously, I wrote that Rex Stout's Nero Wolfe is my favorite detective series of them all. So naturally, I found a way to link them together into one post. Barely.
Now, August Derleth was a born-and-raised Wisconsin boy, enamored with Sir Arthur Conan Doyle's tales of the great Sherlock Holmes. He wasn't much different than an awful lot of American youths in the nineteen twenties.
Except, the enterprising Derleth wrote to the author and asked if there would be any more stories. Doyle, not the friendliest person in regards to his meal ticket, did have the courtesy to send back a reply in the Fall of 1928,  saying that he was finished with Holmes.
Not discouraged at all, the nineteen year-old University of Wisconsin student made a note on his calendar, 'In re: Sherlock Holmes', as a reminder to write a story in imitation of Doyle's creation. The date is lost in the mists of time, but August Derleth did in fact sit down and produce "The Adventure of the Black Narcissus" in one afternoon, starring Solar Pons and Dr. Lyndon Parker.
It appeared in the February, 1929 edition of Dragnet and Derleth would produce over seventy more tales before passing away in 1973. British author Basil Copper added over two-dozen more Pons stories with the blessing of Derleth's Estate.
Derleth's Pons stories received praise and support from noted Holmes fans like Edgar Wallace, Vincent Starrett, Anthony Boucher and the Frederic Dannay, one-half of Ellery Queen. And it's safe to say that some of today's Sherlock Holmes readers are familiar with and enjoy Solar Pons.
However, while I am modern day champion of him, I know that Pons is not a major character in the history of detective literature, nor are the books to be found at your local bookstore, or easily purchased at Amazon (though efforts are being made!) But one unique aspect of the series that I admire is that Derleth was going against type.
As I stated in my essay, Hard Boiled Holmes, "The era of British detective fiction between the two World Wars is known as The Golden Age. This was the time of the country cozy and the locked room mystery." Sherlock Holmes and Arthur Morrison were replaced by Lord Peter Wimsey and Miss Marple.
In America, Caroll John Daly, Raoul Whitfield, Dashiell Hammett and others were countering with the hard boiled school, in style, far more than just an ocean away from the British mystery story.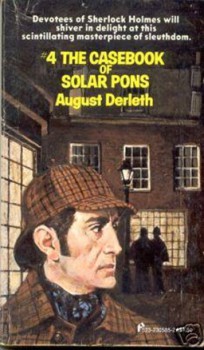 But Derleth chose to create a 'new' detective that wasn't a part of either school. Because of his love for the Sherlock Holmes stories, he spent the next fortyish years periodically writing stories that, while set in a London where cars had replaced hansom cabs, immediately called to mind 221B Baker Street and all that went with it.
The start of the hard boiled school can be definitely traced to April and May of 1923 when Black Mask contained Carrol John Daly stories featuring, first, Three Gun Terry Mack and then the longer-lasting Race Williams. By the time Solar Pons made his first appearance, a fellow named Dashiell Hammett had published almost three dozen Continental Op stories in Black Mask. Heck, Sam Spade and Solar Pons both came into print in 1929. Hard to picture them solving a case together! Although, I'm always looking for Pons pastiche ideas…
In 1934, Rex Stout introduced Nero Wolfe and Archie Goodwin, a pair that blended the hard boiled private eye with the armchair genius best personified by Mycroft Holmes. Stout was a well known Sherlockian and the Holmes stories exerted a great influence on the Wolfe books, which remain popular today.
However, Stout was astute enough to know that pulp magazines set the style of American detective fiction and Wolfe and Goodwin still read very much like contemporary mysteries, not throwbacks to a gas lit London.
But Derleth continued to write new Pons tales while the British Golden Age came to an end. Pulp magazines fell by the wayside, yet Solar Pons just kept detecting along. Pons was a hobby that Derleth indulged in out of affection for his boyhood idol, Sherlock Holmes. He wasn't compelled to create a tough private eye or a gentleman thief to meet the demands of mystery readers.
Brett Halliday's Michael Shayne; Raymond Chandler's Philip Marlowe; Mickey Spillane's Mike Hammer; John D. MacDonald's Travis McGee; Ross MacDonald's Lew Archer: these are just a few of the popular detectives that American readers gobbled up while August Derleth kept writing about Sherlock Holmes' successor.
In 1971, the year that Derleth died, the Edgar Award for Best (Mystery) Novel went to The Laughing Policeman, by Maj Slowall and Per Wahloo. A Martin Beck tale, it is continents away from Solar Pons.
Solar Pons was a return to the earlier days of detective fiction at a time when his peers had left that era behind. Fortunately, August Derleth was a fine writer and the Holmes fan that has not yet discovered Solar Pons has a treasure chest ready to be opened.
Other Pons posts here at Black Gate:
Meet Solar Pons
The Science Fictional Solar Pons
Why Solar Pons?
The Dorak Affair
The Case of the Copyrighted Detective
The Solar Pons – Fu Manchu Connection by William Patrick Maynard
And SolarPons.com is the only website dedicated to 'The Sherlock Holmes of Praed Street.'
---
You can read Bob Byrne's 'The Public Life of Sherlock Holmes' column here at Black Gate every Monday morning.
He founded www.SolarPons.com, the only website dedicated to the 'Sherlock Holmes of Praed Street' and blogs about Holmes and other mystery matters at Almost Holmes.
His "The Adventure of the Parson's Son" is included in the largest collection of new Sherlock Holmes stories ever published.