Discovering Robert E. Howard: Rob Roehm – Tragic Things
Discovering Robert E. Howard: Rob Roehm – Tragic Things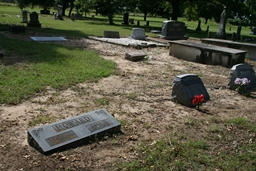 We've had over a dozen posts in our 'Discovering Robert E. Howard' series here at Black Gate, but we haven't had a single post yet about Howard himself. Oops. Rob Roehm, Featured Attendee at the 2014 REH Days and Director of Publications for the REH Foundation, fixes that hole for us. As you can see from the first paragraph, the story of Robert E. Howard's aunts and uncles is a sad one. Take it away, Rob!
---
In his February 27, 1944 letter to E. Hoffmann Price, Dr. Isaac M. Howard briefly describes the state of the Howard family: "Mr. Price, the most tragic things have come to me: 2 bros., 3 sisters all dead, one sister was burned to death, one bro. killed, his body mangled beyond description by a railroad train. My wife died after a terrible lingering sickness, my only child going at the same time, leaving me alone of my father's family."
While fans of the doctor's son, Robert E. Howard, are aware of the June 1936 events that deprived Dr. Howard of his immediate family, the fate of his brothers and sisters is also interesting, and is indeed full of "tragic things."
Isaac M. Howard was the last son of William Benjamin (1827-1888) and Louisa Elizabeth Henry Howard (1835-1916). Born in 1872, he either didn't know about or chose not to mention to E. Hoffmann Price three other siblings, all of whom had died at very young ages, thus the total number of Howard siblings was nine, not six.
Of all the children of William and Louisa, only Mary Elizabeth, later called "Aunt Betty" by her nieces, was born in Mississippi, on November 27, 1857; all the rest were born in Arkansas. The following year, December 18, 1858, James H. Howard was born. He was followed by Martha Rebecca in 1860 and David N. N. in 1862—both of these children lived less than five months.
On June 2, 1864, daughter Willie Price arrived; followed in 1866 by another son, David Terrell. Alphonso Taylor was born in 1869 and then Louisa apparently took a break. Her next child, Isaac Mordecai, was not born until April 1, 1872. Alphonso died six months after Isaac's first birthday in 1873, just two months before the birth of the youngest Howard child, Susan Aimee, on December 21, 1873.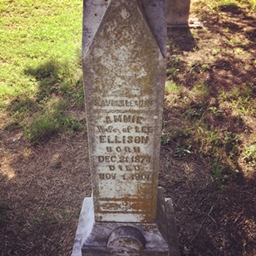 Living in close proximity to the Henry family, which had a few prosperous merchants and doctors, William Benjamin Howard is recorded on the 1860, 1870, and 1880 Censuses as a farmer. The 1860 and 1870 forms have columns to record Real Estate and Personal Estate values: the earlier Census is blank under real estate and records "500" under personal; ten years later, Howard's real estate is valued at "800" and his personal assets at "100."
The same Census sets his father-in-law, James Henry's values at "2,000" and "4,000." The 1880 Census reveals that William Benjamin Howard was "Maimed, Crippled, Bedridden, or otherwise disabled."
Following the 1884 death of James Henry, the Howards picked up and moved south. In his biography of Robert E. Howard, Dark Valley Destiny, sci-fi grandmaster L. Sprague de Camp has this:
"The stable organization of the Howard family was disrupted by the death of James Henry in 1884. Perhaps on the strength of their inheritance, the Howards decided to move to Texas; but before they could complete their plans, William Benjamin Howard himself was stricken and died. Eliza Howard, determined to carry out her husband's wishes, sold her property—fine timberland—for fifty cents an acre, and with her children headed west."
"In 1885 she located on a farm in Limestone County, between Dallas and Austin, near Waco. Mrs. Howard and her daughters, Annie [sic: Aimee] and Willie, may have traveled to Texas on the railroad; but Dave and Isaac brought the family goods overland in a covered wagon with a group of other immigrants."
In light of recent findings, much of this appears to be incorrect. There was another son still in the picture, James H. Howard, who was several years older than brothers Dave and Isaac. James died in 1887 and is buried in an unmarked grave at the Mount Antioch Cemetery in Texas. Also, Robert E. Howard told H. P. Lovecraft that his grandfather hadn't died in 1885, but rather had moved to Texas, information that he no doubt learned from his father, Isaac.
And Isaac's mother filled out a pension form that states the death of William occurred "near Mt. Calm, Texas" in 1889 (the family Bible has it as 1888). Despite all of this, the family does appear to have landed in Limestone County, Texas, where farming commenced. It is also there that all of the children were married, with the exception of Isaac M.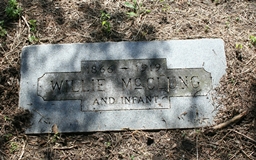 In 1889, Mary Elizabeth "Betty" Howard married Samuel Ruyle, the son of a prosperous landowner. In 1893, Willie Price married William Oscar McClung and relocated to Indian Territory. That same year, David Terrell married Fanny Esther Wortham, the daughter of a country doctor. In 1894, the baby of the family, Susan Aimee married Samuel Lee Ellison, a local farmer with deep roots in the area.
According to some of these couples' children, Isaac M. Howard was not content on the family farm in Limestone County and decided, instead, to practice medicine. Where he received his training is a mystery, but he was approved by the Medical Board of Examiners in April 1899 and appears to have left Limestone County immediately, as he filed his new credentials in adjoining Freestone County on July 20, 1899, and by May 30, 1901, he was in distant Montague County, near Indian Territory.
While the young Doctor Howard was exploring the state, back in Limestone County, things weren't going so good. On October 25, 1901, Susan Aimee Howard Ellison gave birth to her second child, Emmett Howard Ellison. On November 1st, she was dead. It is tempting to cite complications from childbirth as the cause, as no records or accounts of her death have been located. Emmett didn't survive a year.
On December 7, 1906, Samuel Ruyle passed away. His wife Betty and son Solomon moved to nearby Mount Calm, just over the line in Hill County, to live with her mother. One of her nieces, Fanny Dell Adamson McClung, told de Camp what happened next in a 1978 letter: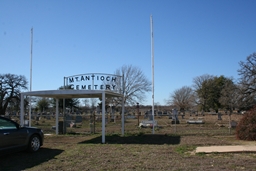 Aunt Betty died a tragic death.  She and her son, Sol, with her mother lived together.  It seems that she was in her nightclothes and they caught fire.  Her son wrapped his mother in a quilt to put out the flames, carried her outside.  When the quilt was removed, her skin and even her hair came off.  She had burned to death, January 14, 1908.  She was buried in Mt. Antioch Cemetery, [near] Mt. Calm, Texas.  After Aunt Betty's death, Grandma Howard and Sol went to live with Aunt Fannie and Uncle Dave Howard.
The two remaining Howard kids—Willie Price Howard McClung and David Terrell Howard—appear to have had a bigger impact on Isaac Howard's life than the rest of his siblings. More needs to be said than the present writing intends, but the barebones are presented below.
After marrying William Oscar McClung, Willie Price had two children: one died after 36 hours and was buried in the family plot at Mount Antioch in 1894; the second died in 1899 of diphtheria, before turning five, and is buried in Oklahoma City. On November 12, 1897, Clarence Manly McClung was born, and on February 15, 1900, he had a sister: Fannie Dell McClung.
Dr. Howard spent some time with the McClungs circa 1901 and, after starting a family of his own, visited them near Crystal City, Texas, around 1909. Following the 1912 death of William Oscar, the McClungs returned to the Limestone County area. Willie died there in 1919 and was interred with her firstborn child.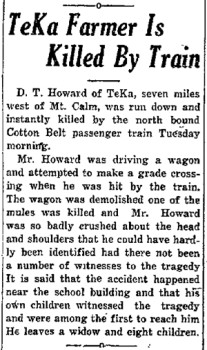 David Terrell Howard became the man of the house following the death of his brother, James. After marrying Fannie Wortham, the pair produced 12 children—starting with Jack Huston Howard in 1894, and ending with Nelda Varue in 1919—all of whom lived to adulthood. The family seems to have bounced around a bit in and around the northwest corner of Limestone County, in the communities of Prairie Hill, Mount Antioch, Mount Calm, Delia, and TeKa (just over the line in McLennan County), and it is there that D. T. Howard met his fate.
It is unclear how close Dr. Howard's family was to the Howards of Limestone and vicinity. By the time he settled in Cross Plains, there were more than a dozen nieces and nephews living near Waco. There is an item in the December 12, 1924 edition of the Cross Plains Review, "Dr. Howard went to Waco Friday to be with his niece, who is in the Baptist Sanatarium there," but little else.
Robert E. Howard mentions several cousins in his correspondence, but almost all are too vague to identify, if they even existed—some may have been invented to prove a point or provide an example. Even in the de Camp interviews stored at the Harry Ransom Center in Austin, these nieces and nephews say that they never saw Hester or Robert, and their Uncle Isaac only rarely.
Prior posts in our 'Discovering Robert E. Howard' series:
REH Goes Hard Boiled by Bob Byrne
The Fists of Robert E. Howard by Paul Bishop
2015 Howard Days by Damon Sasser
Solomon Kane by Frank Schindiler
REH in the Comics – Beyond Barbarians by Bobby Derie
Rogues in the House by Wally Conger
By Crom – Are Conan Pastiches Official? by Bob Byrne
The Worldbuilding of REH by Jeffrey Shanks
Re-reading 'The Phoenix on the Sword" by Howard Andrew Jones & Bill Ward
Ramblings on REH by Bob Byrne
Pigeons From Hell by Don Herron
El Borak by David Hardy
Re-reading "The Tower of the Elephant" by Howard Andrew Jones and Bill Ward
And we're not nearly done yet!
---
Rob Roehm is the Director of Publications for the Robert E. Howard Foundation and has edited several works for the Foundation, including the three-volume Collected Letters and Collected Poetry, as well as authoring Howard's Haunts.
You can read Bob Byrne's 'The Public Life of Sherlock Holmes' column here at Black Gate every Monday morning.
He founded www.SolarPons.com, the only website dedicated to the 'Sherlock Holmes of Praed Street' and blogs about Holmes and other mystery matters at Almost Holmes.
His "The Adventure of the Parson's Son" is included in the largest collection of new Sherlock Holmes stories ever published.