I Voted For the Hugos
I Voted For the Hugos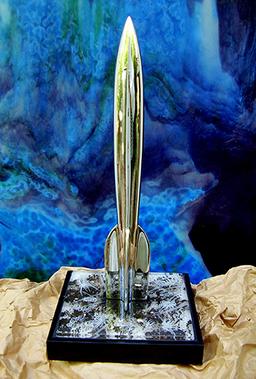 Yesterday, I cast my vote for the 2015 Hugo awards.
It was my first time voting for the Hugos (yay!). But I've never been nominated for a Hugo Award before either, so this is pretty much the year for milestones all around. For the record, here's what I ranked in first place in each category:
Best Novel – The Goblin Emperor by Katherine Addison (Tor Books)
Best Novella – No Award
Best Novelette – "The Day the World Turned Upside Down" by Thomas Olde Heuvelt (Lightspeed, April 2014)
Best Short Story – No Award
Best Related Work – No Award
Best Graphic Story – Ms. Marvel Volume 1: No Normal (Marvel Comics)
Best Dramatic Presentation (Long Form) – Edge of Tomorrow
Best Dramatic Presentation (Short Form) – Orphan Black: "By Means Which Have Never Yet Been Tried"
Best Professional Editor (Short Form) – No Award
Best Professional Editor (Long Form) – No Award
Best Professional Artist – Julie Dillon
Best Semiprozine – Beneath Ceaseless Skies, edited by Scott H. Andrews
Best Fanzine – Tangent Online, edited by Dave Truesdale
Best Fancast – Galactic Suburbia Podcast
Best Fan Writer – Laura J. Mixon
Best Fan Artist – No vote cast
The John W. Campbell Award – Wesley Chu
In my vote preparation, I was greatly aided by Deidre Saoirse Moen's Puppy Free Hugo Award Voter's Guide, which conveniently whittled down the ballot to only those candidates not on the Sad Puppy or Rabid Puppy ballots (for those of you new to all this Puppy business, there's a handy summary here).

Mind you, I must admit I didn't strictly follow Ms. Moen's guidelines. For Best Fanzine (the category Black Gate was also nominated in), the Puppy Free Guide lists Journey Planet as the only untainted candidate. However, I'm a big fan of Tangent Online, and I'd enjoy seeing Dave Truesdale get a Hugo — even a tainted one.
Dave and I have had our disagreements in the past, but Tangent Online is an invaluable site, and Dave has been a tireless promoter of short fiction (and indeed the entire genre) for decades, and I didn't want this Puppy business to get in the way of a well-deserved Hugo for Dave and his entire team.
Of course, there are folks who disregarded Ms. Moen's form in its entirety, and who diligently read the entire short fiction ballot in preparation for voting. For those who felt compelled to do so, I salute you.
I did not feel compelled to so do. Because I feel, rather strongly, that this is in an illegitimate ballot.
I've explained my rationale elsewhere, and I won't rehash all that again, but in short — regardless of how the voting goes, the Puppies have made it abundantly clear that their primary goal is to have their ballot accepted. Having the bulk of fandom acknowledge their ballot as legitimate, and having their nominees read and voted on, paves the way for future Hugo ballots to be decided the same way: through the Puppies aggressive form of slate voting, which I feel drowns out far too much worthy fiction in favor of the Puppies extremely narrow selection process (dictated almost entirely by two individuals).
Or to put it another way: Any slate in which Vox Day puts eleven works from his own tiny publishing house on the Hugo ballot — and nominates himself for two Hugos — will have a hard time convincing me that it is anything other than a naked Hugo grab, poorly masquerading as a reactionary literary movement.
So overall, I kept my ballot pretty much puppy free. Which meant that I couldn't even list Black Gate in first place for the Best Fanzine category, despite the fact that I'm the founder and editor. Which was sort of a bummer. But, as I explained when we attempted to withdraw from Hugo consideration back in April:
My larger concern is with the integrity of the Hugos. Giving Hugos to members of the Rabid Puppies slate would be a tacit acceptance of slate voting as a legitimate way to award Hugos, and I feel this would permanently tarnish an award that has done an enormous amount to promote and celebrate some of the finest SF and fantasy this field has ever seen.

The strongest argument the Puppies can muster is that this shouldn't matter, because there are very deserving candidates on the award ballot this year, and denying them a Hugo award without the regard they deserve is wrong.

The strongest argument I can muster is that I believe that Black Gate is a superb website, the product of thousands of hours of dedicated effort from dozens of the top writers in the field every single month, and if there's even the slightest chance that giving it a Hugo would in any way diminish the reputation of the Awards, we, as an organization and as a team, categorically reject any involvement in that effort.
Not everyone agrees with me, of course. And that's okay. George R.R. Martin even publicly wagged his finger at me for advocating a "No Award" approach for those categories thoroughly dominated by the Puppies.
Black Gate is advocating the nuclear option: vote NO AWARD… I understand his reasoning, but once more, I disagree. I will vote NO AWARD only in those categories where I find nothing in the category worthy of a Hugo. If I think a book or story or editor IS worthy of a Hugo, I'm going to vote to award one.

The Hugos can withstand a few NO AWARDs, in categories where all the nominees are crap. They can NOT withstand an entire evening without a single rocket being presented, where one envelope after another is ripped open and NO AWARD is announced, again and again and again.
I understand George's concern. For a lot of folks, it just doesn't sit right with them to vote "No Award" without reading and evaluating all the nominees fairly — regardless of how they got on the ballot.
I respect that opinion. If you've been following all the Hugo discussion over the past few months (and there's no shame if you haven't, believe me), there's been no shortage of folks who dutifully read the entire short fiction ballot (that portion of the ballot that is nearly 100% Puppy-dictated) and gave the nominees careful consideration. There's plenty of online commentary to choose from, but here's a quick sample:
Rich Horton – The 2015 Hugo Shortlist, Short Fiction: A Review
Charlotte Ashley – Clavis Aurea #30: 2015 Hugo Awards edition (Short Fiction) (in Apex #74)
I've been watching the drama unfold, and from what I've seen Rich Horton's response is fairly typical:
Having gone through the entire list, I'm annoyed again. The problem is, simply, that very few really good stories got nominated. I really want the Hugos to celebrate greatness, or at least "very-goodness."

Undoubtedly many past Hugos come short of that, but at least they try. There are plenty of stories that, in my opinion, fit the parameters the Sad Puppies seem to want: bedrock Sfnal themes, solid and intriguing plots, lack of preaching, lack of emphasis on good writing at the expense of "story values"… I might not sign up for all those things, but I can sure understand the desire for them – but why not nominate more stories that really qualify?…

To me, it's particularly distressing to see such worthy – and tremendously original, and strongly Science-Fictional – stories as "Schools of Clay," "Sadness," and "The Hand is Quicker –" get ignored.
In short, the Puppy slate just doesn't measure up. Not much to tempt me to abandon my principled stand against slate voting, then.
I've listened to lots of Puppies over the last few months, and made good faith efforts to understand their grievances (and they do have very real grievances). I've had it explained to me (many times) that my principled decision to vote "No Award" in the face of blatant slate voting, without reading all the nominees, is "a slap in the face" to the Puppies.
I'm sorry to all those who feel that way — and I do understand that there are those who genuinely feel betrayed and hurt by my decision. But, as I've explained before, here's the thing about principled actions: I'm called upon to do them, regardless of how they make you feel.
One thing I would like to state publicly is that a huge portion of the criticism aimed at the Puppies over the last few months has focused on their so-called pro-male and pro-white agenda. As those who've taken the time to closely read the ballot have pointed out, there really isn't any such thing. The Puppy ballot is actually fairly diverse, all things considered.
The Puppies have reacted extremely negatively towards all the reactionary press aimed their way, and I don't blame them. There's plenty of legit reasons to critique them; we don't need to start making crap up.
The last few months has been a remarkably dynamic and exciting time for fandom. The Sad Puppies and Rabid Puppies accomplished something absolutely incredible: joining together to make a resounding statement about the current state of science fiction awards, and forcing the entire industry to sit up and take notice. They have, without question, been the single largest story in fandom this year.
Unfortunately, the subsequent discussion has been a Public Relations disaster for the Puppies. When the eyes of the world were upon them (and while they were admittedly being unfairly criticized by people who misunderstood what they were really about), the Puppies responded by relentlessly going on the attack, hurling bombs at "SJWs," liberals, secret cartels controlling the Hugos, and (especially, and rather senselessly) Tor, the publisher that has tirelessly promoted and sold many of the authors they championed.
In short, four months ago the Puppies grabbed the microphone and stood on stage in front of the entire industry. They seized the genre by the throat, and had a golden opportunity to make their point. And instead, they simply proved that they had nothing of any real value to say.
Today, the Sad Puppies are already seen as a spent force. Irrelevant, misguided, and not particularly very interesting.
Perhaps I'll be be proven wrong, and when the Hugo Winners are announced at Sasquan in Spokane, Washington, on August 22, the Puppies will sweep again, just as they swept the nominations.
But I don't think so. I think the result will be quite the opposite, and the Puppies will be swept aside in a wave of NO AWARDs. When that happens, I'm sure there will be plenty of dark muttering about "next year." But by then, the microphone will have been turned off, and the audience will be long gone. The Puppies are part of history; they just don't know it.
You can still vote for the Hugos, until midnight tonight (Friday July 31, 2015, 11:59 PM Pacific time). All is takes is $40 to register as a supporting member of Sasquan, the 2015 Worldcon, and you can vote online. The registration page is here, and the Hugo voting page is here.