The Worst AD&D Spell Of All Time
The Worst AD&D Spell Of All Time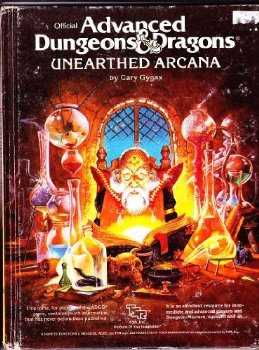 So there we stood, surrounded. Demons in all directions, converging fast – and we're not talking garden variety patsies. Even for our major league party, the future looked bleak, bloody, and painful. On the plus side, we had our pizza in place, our dice at the ready. Beers and sodas hovered with popped caps and bated breath, anticipating action.
"Initiative!" cried the DM.
We each rolled. One of the demons, which just happened to moonlight as a spell-caster, moved first — and what did that pipsqueak no-good blackguard cheat of a demon cast our way?
Chain Lightning.
At fifteenth level.
Two hours later, with the pizza cold and stiff, the beers stale and the sodas flat, we finally finished adjudicating the effects of that single spell. We were in shock, and grumbling to beat the band. The DM, equally weary and perplexed, said, "Okay. Still first round. Who gets to take the next action?"
That I no longer recall, but this I know: we won the battle, and the demons lost. So did Chain Lightning. We made a solemn pledge that very day to never again allow that spell to eclipse the glory of our triumphant campaigning. Banned it was, all but ripped from the pages of the rulebook. And good riddance, too.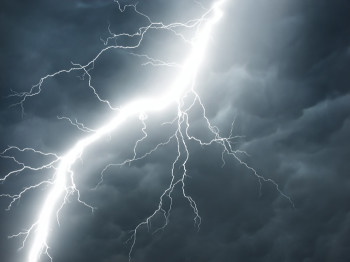 Chain Lightning first appeared in Unearthed Arcana back in 1985. Gary Gygax (who else) received author's credit. As for Chain Lightning itself, it's a sixth-level magic-user spell, and the full write-up may be found on page fifty-nine. Top right, you can't miss it, especially since the spell description takes up easily four-fifths of the page.
Why is it so hard to use, in-game? Let's allow the text to speak for itself:
In addition, after striking its primary target, the bolt arcs to the nearest other object, be it animal, vegetable, or mineral. This chain of striking continues from one object to another… the chain keeps building up as many "links" (including the initial target) as the spell caster has levels.
In effect, this single spell re-cast itself (in our particular combat) fifteen times.
Then — worse by far! — the bolt had to be re-directed. Fairly. But randomly.
If memory serves, we were a party of seven that day, and we'd arrived (via teleportation) in a tightly packed knot. Once that lightning bolt hit us, it proceeded to ricochet through our party like — well, like a lightning bolt ricocheting through a tightly packed knot of flabbergasted adventurers.
Each time the bolt touched down, a saving throw had to be figured out and rolled. Damage then had to be assessed, but not only to the character struck. Magical (and some non-magical) items worn or carried by each affected character also had to be considered — primarily if the character missed their save, true, but those failed saves happened, believe me, and more than once.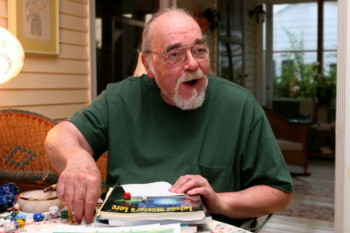 Perhaps this doesn't sound like much, but in reality (in game reality) this took far too long to sort out. Two hours, in fact, as I've already mentioned, and let's face it, two hours for a single combat action is one point nine hours too long for any spell or attack.
Thus the ban, all but carved in stone like a latent eleventh commandment, "Thou shalt not cast Chain Lightning. If you do, you shall be expelled from the cosmos and turned into a pink nixie."
Perhaps you, gentle reader, had a similar experience with this pernicious, if well intentioned, disaster of a spell?
Or possibly you have your own particular spell bias, a necromantic, clerical, or other magick that simply makes you rip out your nose hair for ever having allowed it to darken a single moment of your gaming life?
If so, please do share. I do love a good horror story.
Onward.
---
Mark Rigney has published three stories in the Black Gate Online Fiction library: "The Trade," "The Find," and "The Keystone." Tangent called the tales "Reminiscent of the old sword & sorcery classics… once I started reading, I couldn't stop. I highly recommend the complete trilogy." Also available at Black Gate is his serialized novel, In the Wake Of Sister Blue. The first installment may be found HERE.
Away from Black Gate, he is the author of the supernatural quartet, The Skates, Sleeping Bear, Check-Out Time, and Bonesy, all published by Samhain and featuring his semi-dynamic duo of Renner & Quist. His short fiction has been nominated for a Pushcart Prize and has appeared in Unlikely Story, Betwixt, Black Static, The Best of the Bellevue Literary Review, Realms of Fantasy, Witness, The Beloit Fiction Journal, Talebones, Not One Of Us, Andromeda Spaceways Inflight Magazine, Lady Churchill's Rosebud Wristlet and many more. In other work, Rigney is the author of the plays Ten Red Kings, Acts of God and Bears, winner of the 2012 Panowski Playwriting Competition, as well as the non-fiction book Deaf Side Story: Deaf Sharks, Hearing Jets and a Classic American Musical (Gallaudet). Two collections of his stories (all previously published by various mags and 'zines) are available through Amazon, Flights of Fantasy, and Reality Checks. His author's page at Goodreads can be found HERE, and his website is markrigney.net.