The Public Life of Sherlock Holmes: By Crom – Are Conan Pastiches Official?
The Public Life of Sherlock Holmes: By Crom – Are Conan Pastiches Official?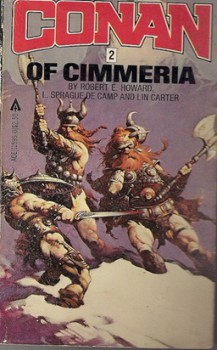 Today's post is actually about Robert E. Howard's Conan, but (in a stunning surprise) it's got some Sherlock Holmes at the foundation. No, Conan never met the great detective…
Hopefully you've been checking in on our summer series, Discovering Robert E. Howard. There are plenty more posts coming, so stay tuned. While I very much like Howard and his works, I came late to his stories and I'm certainly no expert.
There is one area I've found…curious, which relates to the "official" status that seems to be accorded to the authorized pastiches written since Howard's death. It's quite different in the Holmes world.
There are sixty official Sherlock Holmes tales. Period. Fifty-six short stories and four novels (more novellas, really), all penned by Sir Arthur Conan Doyle and published during his lifetime. There are two Holmes short-shorts, "How Watson Learned the Trick" and "The Field Bazaar" and there is no disputing that they were written by Doyle. But they are not included (by anyone, I believe) in the official count.
You, oh enlightened one, know that the Doyle Estate tried to include a sixty-first story, found among ACD's papers by a researcher, but it turned out to have been written by Arthur Whitaker.
To quote myself, from my first Solar Pons post here at Black Gate:
Parodies are stories that poke fun at Holmes. But the more serious Holmes tales, those that attempt to portray Sir Arthur Conan Doyle's detective to varying levels, are called pastiches. Just about the earliest 'serious' attempt at a Holmes copy was by Vincent Starrett, who wrote "The Adventure of the Unique Hamlet" in 1920.
Doyle's son Adrian, sitting at his father's very desk, produced The Exploits of Sherlock Holmes (half of the stories were co-written with John Dickson Carr, who would quit mid-project).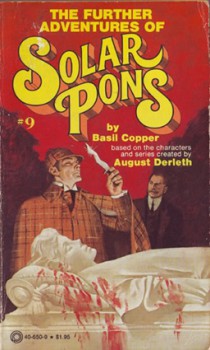 But other than the Doyle family itself, no one every argued that these tales should have expanded the Canon. Holmes fans can enjoy uncounted tales by other authors and the Solar Pons stories by August Derleth, but barring an extremely unlikely discovery (a real one, not like this), the official count stands at sixty.
Basil Copper was authorized by the Derleth Estate to write more Solar Pons tales after Derleth passed away.  And they are widely approved of by Pons fans, but they're supplemental to, not part of, the Pontine Canon.
A similar situation exists with Nero Wolfe, Rex Stout's corpulent detective. Robert Goldsborough has written ten novels of Wolfe and Archie Goodwin, with the Stout Estate's full permission. But they certainly aren't considered official Corpus (the term for Stout's original stories).
Ok: there's the groundwork. Yet in the case of Robert E. Howard's Conan, the most famous sword slinging barbarian of them all, we find that the official pastiches, written by a variety of authors, are accorded equal stature to Howard's originals.
P. Schuyler Miller and John D. Clark created a timeline of Conan's life which Howard himself said was pretty much correct only a few months before he killed himself in 1936. That chronology, of course, only dealt with the stories, written by Howard, published up to that time.
The Miller/Clark timeline would be revised and later expanded by L. Sprague de Camp (what didn't he revise?) and Lin Carter. It would incorporate Howard stories published after his death as well as pastiches.
Wheel of Time's Robert Jordan would produce a chronology, with pastiches, including his own. William Galen Gray's chronology includes all the original Howard stories and all pastiches through the entire Tor series (more on those in a bit).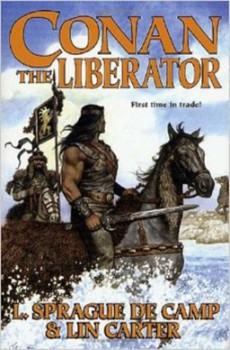 The point (finally, a point!) is that the chronologies can be viewed as providing a foundation for those who hold the pastiches equal to Howard, and also for those who eschew these later stories by other authors and discard them.
I'm not going to get into the history of pastiches from different publishers (Lancer/Ace, Bantam, et al) and authors (Karl Edward Wagner, Andrew Offutt, etc). That's a multi-post effort right there.
I'll over simplify a bit and say that L. Sprague de Camp, by controlling the Lancer/Ace and Bantam books from Conan (#1) through Conan the Liberator (#14) mixed stories written by de Camp, by de Camp and Lin Carter, by one or both from fragments written by Robert E. Howard (and with a couple late additions by Byron Nyberg) with Howard's originals ("edited" by de Camp) and put all of them on a par. Huh: that wasn't a simple sentence, was it?
He put them in his revised chronological order and inserted short intros to each, linking them to the prior story. I rather like these short links. While I myself hold all non-Howard originals to be pastiches and not authoritative Conan tales, I think the general perceived baseline among non-purists is that the stories in the Lancer/Ace series are the 'official' Conan tales.
Stop yelling: I think that assertion can at least be argued to be valid, though it's certainly not conclusive. But going a step further, the powers that be which control the Conan copyright would seem to have us also include the Tor Originals as "official." And I think that's ludicrous.
From 1982 through 2003, eight authors (though primarily four) cranked out 43 new Conan novels for Tor. At two per year, the quality varied wildly, as you can imagine. John M. Roberts' Conan the Rogue is an homage to Dashiell Hammett's Red Harvest and one of my favorite Conan books. Steve Perry's Conan the Indomitable is one of the worst fantasy books I've ever read (even though it is a direct sequel to Perry's Conan the Defiant, which I liked).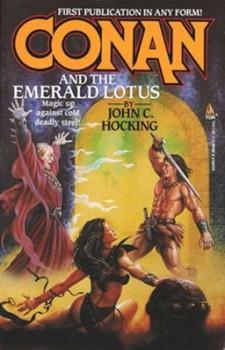 But I cannot remotely conceive of validly including this Tor series with Howard's originals in any kind of 'Conan Canon.' A similar attempt in the Sherlockian world would lead to deerstalker-wearing Sherlockians storming the publisher's headquarters, smashing windows with magnifying glasses.
I was introduced to Conan through the first volume of the Lancer/Ace series and have most of it, though it was Del Rey's The Coming of Conan that really started me on the path to Conan fandom.
I don't think de Camp or Carter wrote Conan as well as Howard by any measure, but I enjoy a significant number of their stories; and as I already mentioned, the linking pieces. And since we can now read Howard's originals without changes made by others (prominently, de Camp), which wasn't always the case, I don't mind much that de Camp tinkered with the creator's works.
De Camp took a Howard fragment and fleshed it out into the short story, "The Hall of the Dead." Both men have co-author credit and it's not a bad story. But there is none of Howard's fast paced, wordsmithing in the tale. Yet it's right there as the third Conan story in that first Lancer volume (right behind Howard's The Tower of the Elephant).
Among Doyle's papers was found the plot outline for a never-written story. In 1947, Robert Cutter expanded it into "The Adventure of the Tall Man." I don't believe ANYONE has ever counted this an official part of the Canon. I would venture to say it's a small number of Holmes fans that have ever even heard of it, let alone read it.
The Conan copyright is tightly held these days (you've already read about the Holmes copyright situation, naturally) and if the voice of Crom decrees that the Tor tales are official, then they are official. But while I enjoy some pastiches more than others, I consider none of them Conanonical (I made up a new term!). Only Howard's original stories are official Conan.
As I said, I'm far from expert in this topic and I'd appreciate comments that help tell the story better.
While this is a 'The Public Life of Sherlock Holmes post, it's just one of more than a dozen coming in Black Gate's 'Discovering Robert E. Howard' series this summer! Here are the ones so far:
REH Goes Hard Boiled by Bob Byrne
The Fists of Robert E. Howard by Paul Bishop
2015 Howard Days by Damon Sasser
Solomon Kane by Frank Schindiler
REH in the Comics – Beyond Barbarians by Bobby Derie
Rogues in the House by Wally Conger
---
You can read Bob Byrne's 'The Public Life of Sherlock Holmes' column here at Black Gate every Monday morning.
He founded www.SolarPons.com, the only website dedicated to the 'Sherlock Holmes of Praed Street' and blogs about Holmes and other mystery matters at Almost Holmes.
His "The Adventure of the Parson's Son" is included in the largest collection of new Sherlock Holmes stories ever published.