Enough, Part I
Enough, Part I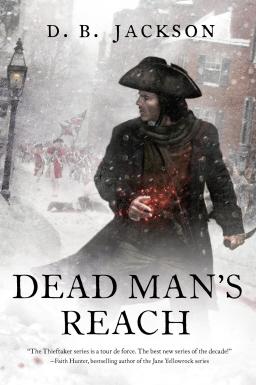 For weeks now, I have debated back and forth about this post, and even as I write it and contemplate submitting it to Black Gate, I remain ambivalent about whether or not I should. I have kept silent throughout the spring and summer, watching as the genre I love tears itself apart, and I haven't known what to do. I still don't.
I have two original, novel-length releases coming this summer. Dead Man's Reach, due out on July 21, is the fourth book in my Thieftaker Chronicles, a historical urban fantasy series I write for Tor Books under the name D.B. Jackson. His Father's Eyes, which drops on August 4, is the second book in The Case Files of Justis Fearsson, a contemporary urban fantasy that I write for Baen Books under my own name, David B. Coe.
Put another way, I have two books coming out this summer from different publishers, in different series, under different names. And, I should add, I'm thrilled by this. As any author writing these days knows, busy is good; I'm happy to say that I'm as busy as I've ever been.
But I am writing for Tor and Baen, the two houses at the center of the Sad/Rabid Puppy controversy that has ravaged science fiction and fantasy over the past several months. I knew going in to my contract with Baen (the most recent book contract I've signed) that I might be putting myself in an awkward position. I've been writing for Tor for nearly twenty years, covering four series and a total of sixteen novels. I'm new to Baen, but have known the editors there for years, and was delighted when presented with the chance to work with them. I can speak to the strengths of both houses, and have done so recently.
Politically, I'm more in tune with the culture at Tor than the one at Baen. But in that regard I join a large group of wonderful, left-leaning writers who publish with Baen, including, among others, Eric Flint, Mercedes Lackey, and Steve Miller and Sharon Lee. The folks at Baen treat all of their writers well, and as long as we meet our deadlines, write good books, and promote the hell out of them, they don't give a damn about our politics. Which is precisely as it should be. And Tor, which publishes John Wright as well as John Scalzi, does exactly the same.
Still, writing for both publishers sometimes feels a bit like ghosting for Bill O'Reilly and Bernie Sanders at the same time. And as a writer for both Tor and Baen, I have been reluctant to take sides publicly in this fight. Let me rephrase that to be more accurate: I have been afraid to take sides. I don't want blowback from either camp. But I also am tired of keeping silent, and anyone who knows me knows that I seldom shy from offering an opinion.
I will not address any of the personal issues that have come up in the back and forth over the Hugos nomination fight. I am not interested in rekindling a flame war that has already done too much damage. I will address issues regarding the Hugos. I understand that people on both sides will say that this matter is about far more than "just awards," but the fact is the Hugos have been the battleground on which this fight has been waged.
I've read Hugo winners — not all of them, but many — going back close to twenty years. I've found some to be amazing, even mind-expanding, and I've felt that some were no better or worse than other novels I've read (or even written). Awards like the Hugo recognize quality, but they don't define it. They are one form of recognition, of acknowledgment, but they are by no means the final arbiter of a novel's (or a story's) success or failure.
Reading a book is a subjective endeavor. We all bring different emotions and intellect to the books we read, and our own perceptions color the reading experience nearly as much as the author's words. My wife and I have read books and experienced them in entirely different ways. I might think one is the best thing I've read in years; she might hate it.
Which one of us is right? What do our opinions say about the book? To which the answers are "Neither and both," and "Probably nothing at all." Reading is, to my mind, an interactive experience between author and reader. Every person who reads a novel is going to have a different experience with that story, with those characters, in that setting. Don't believe me? Spend a little time reading Amazon reviews…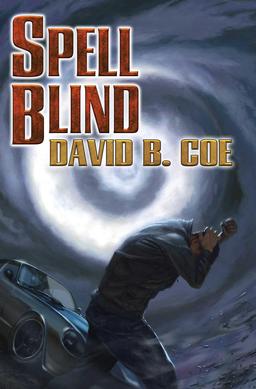 My point is this: Awards have their place. And just as music has the Grammys, the Billboards, the AMAs, and acting has the Oscars, the Golden Globes, the SAGs, we in publishing have ours. But they are not at all what our industry ought to be about. That reader-author dialectic I was just discussing — that's our bread and butter. We authors reach every reader in a slightly different manner. Some people we entertain, some we tick off, some we touch in ways both profound and unexpected. And every now and then, we change a life forever. Each connection is unique. The sum of them can be overwhelmingly powerful.  That's what makes the written word so amazing, so transcendent. That is, I guarantee you, what drew 99% of the writers you've heard of into the business in the first place.
We create characters, settings, narratives. We tell stories for a living, because we love making shit up. We love it so much that we just have to do it. And then we have to run out and tell people: "Hey, look what I did! Look what I've created! You REALLY need to read this!"
We, the professionals in speculative fiction, are allowing a controversy over awards to hurt this genre we adore, and to taint an institution that has been part of science fiction and fantasy for sixty years. Yes, again, I understand that to those steeped in the details of the fight, it's about deeper issues. But to the outside world, it appears as though we're fighting over awards. The more nuanced issues are lost on much of the general public. As a result, we who are blessed with the opportunity to write stories for a living, are creating a narrative that makes all of us look foolish and petty and small.
And it's time to stop.
I'll be back in two weeks time to say a bit more about this. In the meantime, the comments are open. Feel free to savage me.
---
David B. Coe/D.B. Jackson is the award-winning author of eighteen fantasy novels. Under the name D.B. Jackson, he writes the Thieftaker Chronicles, a historical urban fantasy from Tor Books that includes Thieftaker, Thieves' Quarry, A Plunder of Souls, and, the newest volume, Dead Man's Reach, which will be released tomorrow, July 21. Under his own name, he writes The Case Files of Justis Fearsson, a contemporary urban fantasy from Baen Books. The first volume, Spell Blind, debuted in January 2015. The newest book in the series, His Father's Eyes, comes out on August 4. He lives on the Cumberland Plateau with his wife and two daughters. They're all smarter and prettier than he is, but they keep him around because he makes a mean vegetarian fajita. When he's not writing he likes to hike, play guitar, and stalk the perfect image with his camera.
DavidBCoe.com
davidbcoe.com/blog
dbjackson-author.com
www.facebook.com/david.b.coe
twitter.com/DavidBCoe
www.amazon.com/author/davidbcoe