Future Treasures: The Complete Kane by Karl Edward Wagner
Future Treasures: The Complete Kane by Karl Edward Wagner

Karl Edward Wagner's Kane is one of the greatest sword & sorcery heroes of all time. Reading him today is fairly problematic, however — most of his appearances were in small press magazines like Midnight Sun, which are almost impossible to find. Warner Paperback Library published the complete stories of Kane in five volumes in paperback between 1973 and 1978, and these slender books are highly sought by collectors.
Death Angel's Shadow (June 1973) — Collection
Bloodstone (March 1975)
Dark Crusade (December 1976)
Darkness Weaves (January 1978)
Night Winds (August 1978) — Collection, World Fantasy Award nominee
Night Shade briefly returned the entire series to print in two volumes, Gods in Darkness (2002), collecting all three novels, and Midnight Sun (2003), which gathered all the short stories, but those sold out quickly and have been out of print for over a decade. Now Centipede Press is reprinting all five Warner volumes in hardcover editions, with new art, rare photos, and printed endpapers. All five are scheduled to be released on October 15.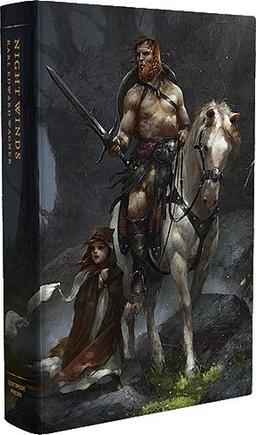 Here's the description from the website:
Kane, the mystic swordsman — an immortal, flame-haired sorcerer-warrior, cursed by an insane elder god to walk the Earth until eventually destroyed by the violence that he himself created.

Created by award-winning author and editor Karl Edward Wagner while he was still attending medical school, the most exciting and intelligent sword & sorcery series ever written is finally given the showcase it deserves with these stunning new illustrated editions from Centipede Press.

This handsome set of five hardcovers in a cloth slipcase includes the three main Kane novels — Dark Crusade, Bloodstone, and Darkness Weaves, along with the two volumes of short fiction — Death Angel's Shadow and Night Winds — you finally have a chance to own meticulously proofread texts, with the short stories presented in the long-desired chronological order, with all of the poems, fragments, and later stories.

Each book has a handsome photograph of Karl Edward Wagner (some never published) from the period, and each book also reprints the original Warner Bros paperback edition cover so you have, finally, the complete Kane, presented the way the author intended, with each book individually illustrated.
Covers for the new versions are by Tom Kidd, Patrick J. Jones, Les Edwards, Boco, and Grant Griffin.
All five volumes are priced at $60; Barnes & Noble and Amazon are already listing the books, with pre-order prices at around $40-$5 each. Centipede Press has a pre-order special of all five volumes for just $150, a considerable savings. There is also a signed, slipcased edition limited to 300 copies, that ships in September. It is priced at $350.
See complete details at the Centipede website.
Centipede Press has previously published a deluxe two-volume collection of Karl Edward Wagner's horror stories, The Best Horror Stories of Karl Edward Wagner, Volume 1: Where the Summer Ends, and Volume 2: Walk on the Wild Side, in 2012.
Our previous coverage of Kane includes:
Death Angel's Shadow by Fletcher Vredenburgh
Bloody Battles, Espionage, Dark and Beautiful Prose, & Lovecraftian Horror: A Review of Karl Edward Wagner's Dark Crusade by Connor Gormley
Seductive Sorceress Queens, Decadent Civilizations, and Moon-lit Brawls: A Review of Bloodstone by Connor Gormley
"How Many Psychiatrists Does it Take to Change a Genre?" Karl Edward Wagner in Fantasy 55 by John O'Neill
Night Winds by Fletcher Vredenburgh
In a Lonely Place: The Weird Horror of Karl Edward Wagner by G. Winston Hyatt
Enjoying the Unique Character of Karl Edward Wagner's Dark Crusade by Brian Murphy
Fiction Excerpt: "The Dark Muse" by Karl Edward Wagner
See all of our coverage of the best in upcoming fantasy here.